Guest Picks: Suzani for Kids
The suzani textile pattern is now making its way into children's decor. It has an ethnic vibe that can be translated into traditional, eclectic and modern interiors suitable for both boys and girls.
— Andrika from Nursery Notations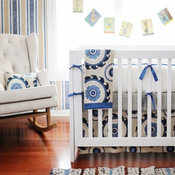 $472.00
I love the bold blues in this set. It's perfect for a nursery that also has to double as a guest room.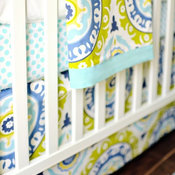 Indigo Summer Baby Bedding
$438.00
I like this set because it has bold color, yet it has the flexibility of working for either a boy's or a girl's nursery.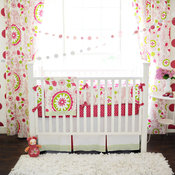 $510.00
This is a fresh take on the classic color combo of pink and green for a girl. I like this because it has a hint of prep with an adventurous spirit.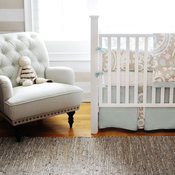 Picket Fence Baby Bedding
$484.00
You really can't go wrong with this set. It is gender neutral, serene and usable in any decor (depending on what style of furniture you pair it with).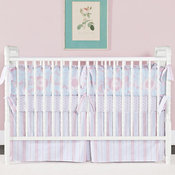 Daisy Three Piece Crib Set
Annette Tatum has created a suzani pattern that still looks childish and nursery appropriate. Combining turquoise and coral is always a winning combination, and the subdued tone of this set is perfect for a baby.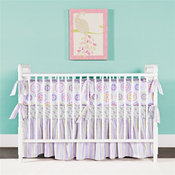 Little House Crib Bedding Set, Suzani Lavender
$350.00
The colors in this lavender set are so pretty and versatile. As you can see from this photo, they even look pretty in a blue room. If you are looking for a lavender crib set for your girl, this is the best one out there.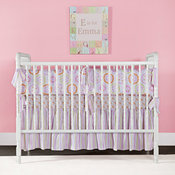 Little House Crib Bedding Set, Suzani Pink
$350.00
This delicate, small-scale suzani crib set is very sweet and playful. The combination of colors gives you many starting points for accessorizing.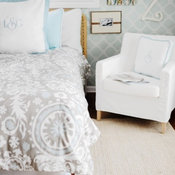 This soft color palette actually works for a guest room or your daughter's room. It's a nice set that does not look overly childish.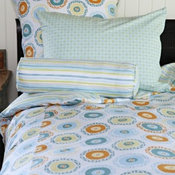 Suzani Orange Kids Bedding Collection
$256.00
This suzani bedding set is wonderful for the tomboy who does not like pink yet still wants a feminine touch in her room. It's sophisticated yet sweet.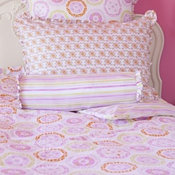 Suzani Pink Kids Bedding Collection
$256.00
Pink and orange are successfully paired together again in this bedding set. The suzani pattern is subdued yet successfully incorporated into this design.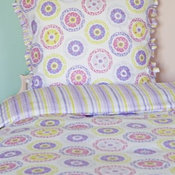 Suzani Lavender Kids Bedding Collection
$256.00
I'm seeing lavender more and more in children's bedding, and I love the color. Lavender is usually always paired with green, but I like it how this set pairs it with yellow and pink instead for an unexpected twist.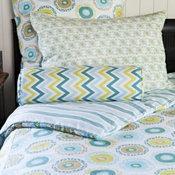 Suzani Teal Kids Bedding Collection
$256.00
This set works for either a boy or a girl. Yes, the suzani print is a stylized flower, but pair it with a chevron pattern and blue and yellow, and it would be a stellar set for a twins' shared bedroom.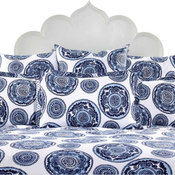 $70.00
This is an appropriate suzani pattern for boys. John Robshaw has done it again!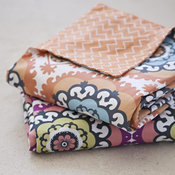 Mediterranean Duvet Covers
This suzani duvet is a graphic take on the traditional pattern. The deep bold colors make it perfect for a teen bedroom.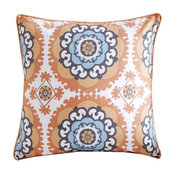 With Tangerine Tango being the 2012 Pantone Color of the Year, you can't go wrong with adding orange into your decor. Orange and blue might be one of my favorite color combinations, and this pillow blends the colors so well.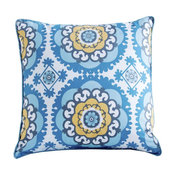 Medallion Peacock Accent Pillow
A suzani pattern in a traditional color combination of blue and gold makes this a fabulous throw pillow for a Mediterranean-inspired home.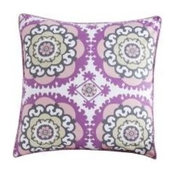 Medallion Purple Accent Pillow
Every teen girl likes purple. Throw this pillow onto her bed for a pop of pattern, and she will be happy. It is also sophisticated enough to take her to college.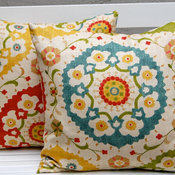 Richloom Cornwall Garden Throw Pillow Cushion Covers by Festive Home Decor
$50.00
I'd toss this throw pillow onto a glider or rocker to help give an eclectic vibe to a nursery. The primary color combination works well for a boy or girl.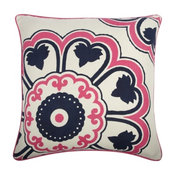 Thomas Paul Fragments Suzani Pillow, Ink
$115.00
This is a fun interpretation of suzani. I like the oversize scale of the print in the preppy color combination of pink and navy.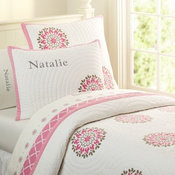 Dahlia Medallion Quilted Bedding
$36.50
Even Pottery Barn is jumping on the suzani bandwagon. I actually really like this duvet because it is mostly white, so the suzani patterns actually look more like large floral bursts.
$122.00
I like the affordable price point and the subtle, nursery-appropriate colors of this rug.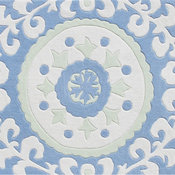 $122.00
Blue nurseries for girls are so chic and unexpected. This suzani rug helps add a feminine flair to any room needing a blue accent.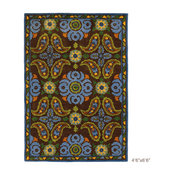 Company C Wool Rug Jasmine Mink
$545.00
The deep and bold colors in this suzani rug are the perfect inspiration for your child's room. Paint the walls Wedgewood blue, add orange accents and white furniture, and you have a fabulous design!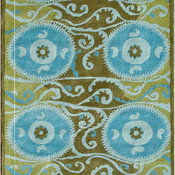 $865.00
I want this rug not only for my child's room, but for my own room as well! I love the pattern and color combinations.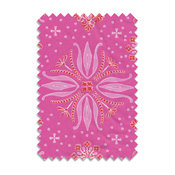 This fabric is perfect for the girl who loves pink and adventure! I'd use it for a bumper and crib skirt.Next: Using Suzanis in Your Decor