Guest Picks: Operation: Organization
Starting every new year, I always get into an organization mood. There's just something about starting off the new year fresh. These are some of my favorite products to help you do just that — and some that I desperately need myself!
— Bryn from
Bryn Alexandra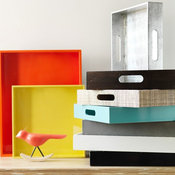 Small Rectangle Lacquer Trays
$39.00
Trays are the best way to corral items. I keep one on my ottoman for magazines, remotes, candles, and I even use it as a place to put a glass. West Elm makes the best trays, and these come in almost any color.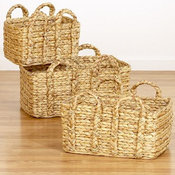 Keira Braided Handle Baskets
$19.99
These are some of my all-time favorite baskets. They are so good looking, and the handles are pretty functional. I have two in my house: one at the base of my stairs to put shoes in and the other to hold magazines. They'd be great for kids toys, too.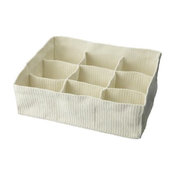 Komplement Storage with Compartments
This piece could really be used anywhere and for anything: in your dresser, under your bathroom sink, or even in a kitchen drawer. And it's much better looking than a plastic Tupperware-like divider.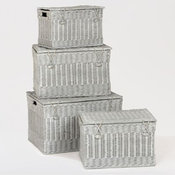 $24.99
If you want storage to hide something (let's face it, kid's toys aren't usually the prettiest), then these gray baskets with lids are great. I love the unexpected yet neutral color.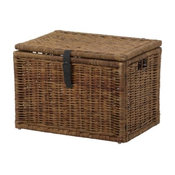 This is another favorite basket/trunk of mine. It's inexpensive and really good looking. You could even use it as a coffee table in a small space.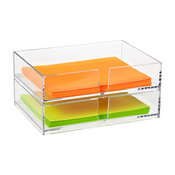 Stacking Acrylic Letter Holder
$19.99
If you're like me and you have a pile of stuff on your kitchen counter, this would be a nice way to hold it all.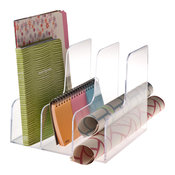 $24.99
I love anything made out of acrylic or lucite. I love this organizer; it's so versatile. You could really use it for anything.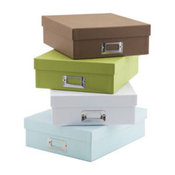 See Jane Work Basic Letter Box
$10.00
I use boxes like these for important documents. I have them labeled house, pet, car, etc. for easy access.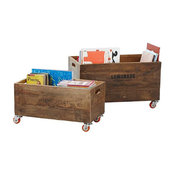 $88.00
I love this rolling, vintage-looking crate! It'd be so perfect in a little boy's room.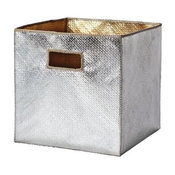 $28.00
I love this glitzy bin. It'd look great tucked into a bookcase or on the lower shelf of a coffee table.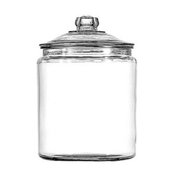 Anchor Hocking Heritage Hill 2-Gal Jar with Lid
This is a totally versatile jar that could be used in either a kitchen or an office, or both.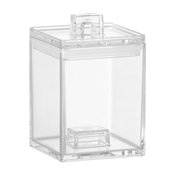 $3.95
These little Clear Stackers are so cute. I could see 3 of them stacked up holding stamps, paper clips and binder clips. Or you could use one for bobby pins in your bathroom.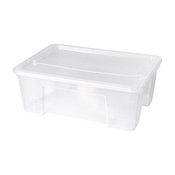 I use these inexpensive plastic storage boxes for my house stuff. I have one each for painting supplies, furniture supplies (sand paper, etc.), light bulbs, screws, my drill, etc. It's nice to know exactly where everything is.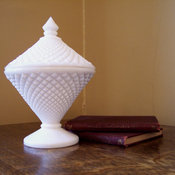 Milk Glass Covered Candy Dish by Sherwood Vintage
$25.00
Little antique dishes are my favorite storage pieces. I have a collection of five on my dresser that holds all my jewelry.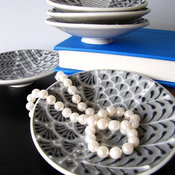 Single Small Grey Dish by Cynthia Vardhan Ceramics
$25.00
I also like to store jewelry and things on small open dishes. These are very beautiful and handmade.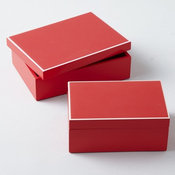 Set of Two Red Covered Boxes
$40.00
Decorative boxes are great to have around the house. They are pretty, and you can store random not-so-pretty things, like remotes, etc., in them.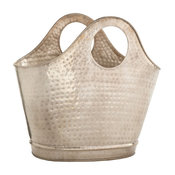 Silver-Plated Magazine Holder
If you're anything like me, you probably have some magazines laying by your bed. This would be a great solution for that problem.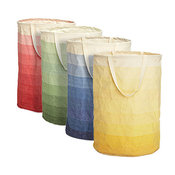 Horizon Round Crunch Can by Umbra
$19.99
I love these ombre-esque crunch bags from The Container Store. They make laundry a little more fun!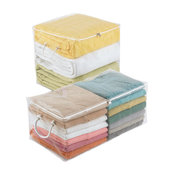 Clear PEVA Storage Chests
$7.99
My linen closet is on my own organization to-do list. I would love some of these bags to hold extra bedding and towels.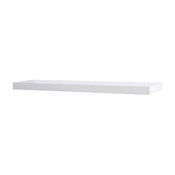 I have very little storage in my master bathroom, so I am going to install 3 of these simple shelves for baskets and bins. I'll store things I don't need every day, and then keep the rest under the sink.Next: A Stylishly Organized Desk