Guest Picks: 20 Unique Prints for Babies and Kids
Ever since I found out I was pregnant, I knew I wanted Jack's nursery to be unique and different. One of the first things I knew I wanted was original, not mass-produced, art. Now that I'm working on his playroom, I've kept the same philosophy. Below are some of my favorite prints by independent artists that would make the perfect addition to any child's nursery, bedroom or playroom.
— Maria Fe from Layers of Meaning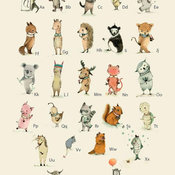 Alphabet Poster, Plenty of Animals from A to Z by Holli
$20.00
Created by Argentinian artist Paola Zakimi, this alphabet print features adorable baby animals. I love how these fun animals will be able to teach any child to learn the ABCs.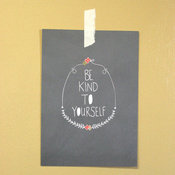 Be Kind To Yourself Art Print 2 by My Little Buffalo Design
$15.00
I love art that carries a message and a meaning. This "Be Kind To Yourself" print is the perfect example of art that can teach. It's simple and to the point; it's the perfect message for a growing child.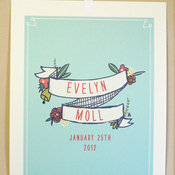 Birth Announcement Wall Art by My Little Buffalo Design
$18.00
In my opinion, birth announcements all tend to look the same. This print breaks the norm. It's the perfect way to remember your child's birth forever.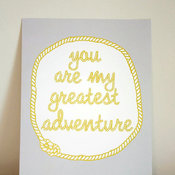 You Are My Greatest Adventure Print by Gus & Lula
$22.00
When my son was born, I realized that my life had truly begun. This gray and yellow (my favorite color combination) print describes how I feel every day. He is definitively my greatest and happiest adventure.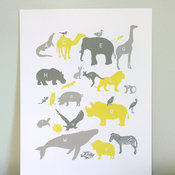 Alphabet Animals Print in Grays and Yellow by Gus & Lula
$22.00
My husband is a huge animal lover. He and I knew we wanted to incorporate as many of them as possible in our son's nursery and playroom. This alphabet print features, once again, my favorite color combination and some amazing animal silhouettes.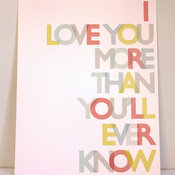 Love You More Print in Primary Colors by Gus & Lula
$18.00
It's true: you don't know how much you will love a child until you actually have one. It's hard to express and describe how much love there is inside of me for my son. This Gus and Lula print says it best.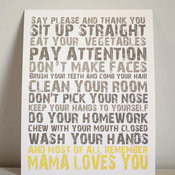 Mama Loves You by Gus & Lula
$22.00
Good manners are very important in my home. My husband and I intend to teach our children to be polite, respectful and grateful. This print reminds kids of the things they must and must not do while also reminding them of the most important thing of all: a mother's love.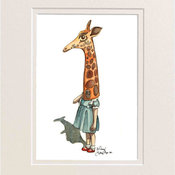 Eames Toy Illustration by Paper Fashion
$20.00
This watercolor-and-ink print was inspired by an Allan Grant photo of the legendary designer Charles Eames's wearable toys. Every time I look at it I can't help but smile. I'm almost certain that any child would have the same reaction.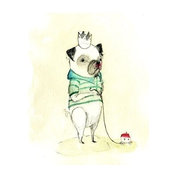 PUG Eduardo Print by Holli
$20.00
Here is another adorable print by Paola Zakimi. A pug wearing a crown and a T-shirt? Sign me up!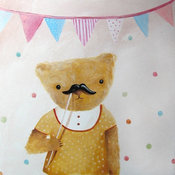 Moustache on a Stick Portrait on Canvas by Inameliart on Etsy
$79.00
Who doesn't like a teddy bear with a mustache? Both sweet and funny, I would love to add this print to a future nursery.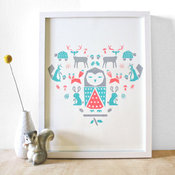 Owl Friends Screenprint Poster Nursery Art by Sass&Peril
$30.00
I'm absolutely in love with the color palette of this Owl Friends Screenprint. The turquoise, peach and gray go together perfectly. This modern illustration would be the perfect addition to Jack's playroom.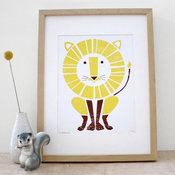 Lion Screenprint Nursery Art by Sass&Peril
$17.50
Another recent favorite of mine is this modern-with-a-vintage-twist take on the king of the jungle.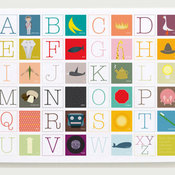 Now I Know my ABC's Nursery Wall Art by Modern POP
$120.00
This large print offers a modern twist on the traditional ABCs poster. The pops of color and mid-century influence match the decor in Jack's playroom perfectly.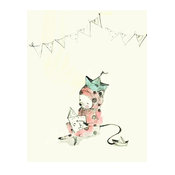 $20.00
Another personal favorite of mine by artist Paola Zakimi is this lovely bear in a costume. It would be the perfect addition to a baby girl's or baby boy's nursery.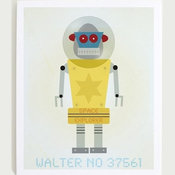 Robot Walter No 37561 Wall Art by Modern POP
$25.00
What little boy doesn't love robots? If it's any indication of his early love of electronics, my son will love this print.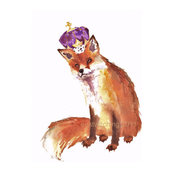 Nursery Fox Print, King of Fox Hollow by Eastwitching
$16.00
Alison Fennell is one of my favorite artists right now. This King of Fox Hollow print is one of two that are currently displayed in my son's nursery.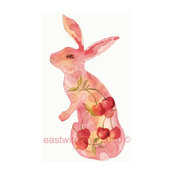 VALENTINE Pink Cherry Bunny Fine Art Print by Eastwitching
$16.00
If my husband and I are lucky enough to have another child, and the baby is a girl, I would love to include this sweet Pink Cherry Bunny print in her nursery. It's definitively unlike any other print I've seen around.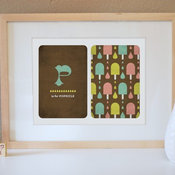 P is for Popsicle Alphabet Art Print by Paper Fingers
$15.00
Another great way to teach children the alphabet is by using letter prints. This print would be a great gift for parents-to-be. I would personalize this gift by selecting a letter that matches the baby's first or last name.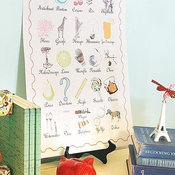 Limited Edition Bibitty French Alphabet Poster by Bibitty
$38.00
My family lives in a bilingual home, and if you are interested in teaching your children a new language, it's never too early to start. This French alphabet print is not only chic and delicate, but educational as well!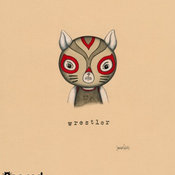 Cat Wrestler Original Art by Noosed Kitty
$95.00
This original illustration is the perfect way for your child to own a genuine piece of art. This wrestler kitty is both adorable and funny.Next: Guest Picks: Baby Your Walls