Guest Picks: 20 Must Haves for a Modern Playroom
Inspired by my love of modern design, I've been slowly working on my son's playroom. This month I'm sharing some key pieces that would fit perfectly in his space.
— Maria Fe From Layers of Meaning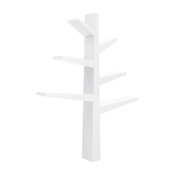 Spruce Tree Bookcase, White
$199.00
Babyletto makes some of my favorite pieces of furniture for babies and kids. This bookcase is both whimsical and modern. It's designed with growing toddlers in mind, since it can be firmly secured to the wall.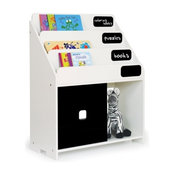 Pkolino Playful Bookshelf, White
$119.00
Pkolino is a personal favorite brand for contemporary children's furniture. This bookshelf/storage combo is ideal for a small playroom. My son could read, draw on the chalkboard door and tabs, and store toys in the lower compartment — all in one functional unit.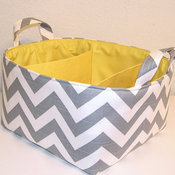 Chevron Gray/White Zig Zag, Yellow Accent Diaper Caddy By Treasured Totes
$45.00
I'm a huge fan of handmade products and personalization. I adore the color palette of this organizer. Not only can it be used as a diaper caddy, but it can serve as a toy or book carrier.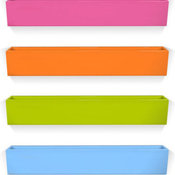 Book Bound By Jennifer Delonge
$59.00
I love pops of colors around a child's room. These unique bookshelves come in a variety of colors and are perfect for showcasing your little one's special books.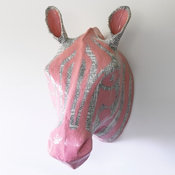 Zebra Petal Papier-Mâché Head
$76.00
In my home we are huge animal fans and we try to incorporate them as much as we can into our decor. This handmade Zebra trophy is adorable and unique and no animals were harmed in its making!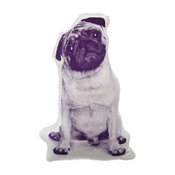 Areaware Pug Mini Cushion
$40.00
Areaware's graphic, mini cushion collection features an array of adorable animals and this pug is my favorite. I think it's asking your family to adopt him — how can you possibly say no?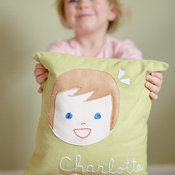 Personalized Pillow, Girl Or Boy, Pillow Cover Plus Insert By Olliegraphic
$59.00
What better way to make your child feel special than by personalizing his or her room. This pillow allows you to create a character to the liking of your child. These are so cute, I might have to create one that resembles me!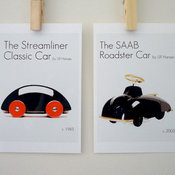 Art Prints, Toys for Boys By Ulf Hanses, By Sacred And Profane
$14.50
I recently ordered this pair of prints featuring toy cars by modern designer Ulf Hanses. While the actual toys might not be in our budget right now, the wallet-friendly prints certainly are.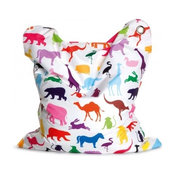 Sitting Bull Mini Fashion Bull, Happy Zoo
$208.00
Currently, my son can't sit still for more than a few seconds at a time. When the time comes, this oversized pillow will be the ideal spot for story time.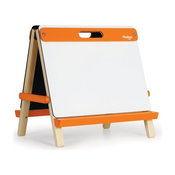 Pkolino Tabletop Art Easel, Orange
$69.00
Ever since I was a little girl, I've always loved to draw and paint and I'm hoping my son will as well. This tabletop easel by Pkolino features a whiteboard and a chalkboard. It's the perfect travel companion as it folds and comes with a top handle.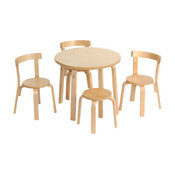 Svan Play With Me Toddler Table And Chairs
$199.95
Most child-sized tables and chairs I've seen lately are not parent friendly. When I found this toddler table and chair set, I was excited to learn that it was sturdy enough for me and my husband to use.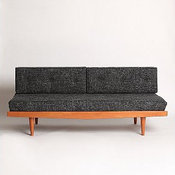 $479.00
It seems like it was only yesterday that my son was learning how to walk, and now he can't stop climbing on the furniture. We currently have this midcentury sofa in his playroom. It's low enough for him to climb on and off of and its daybed-type design is so comfortable!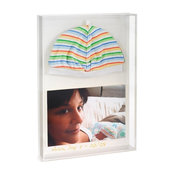 Custom Modern Shadow Box, Medium By ReFormedArtCubes on Etsy
$125.00
I'm a huge fan of acrylic; my Ghost chair is still one of my favorite purchases ever. This very modern take on the traditional shadow box is simple, but beautiful.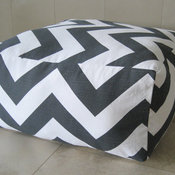 Large Pouf Floor Pillow, Charcoal/White by Aletafae
$125.00
When looking for pieces for my child's playroom, I like to buy items that can be versatile. This pouf can be used as a floor pillow in a playroom, but can also serve a coffee table with a tray on top or a stylish pet bed.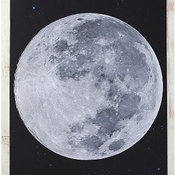 Trompe L'Oeil Floor Mat, Moon
$159.00
I love home accessories that make a statement and this trompe l'oeil moon rug does just that. It features a foam rubber backing, ideal to absorb spills and messes.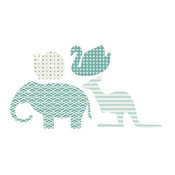 Gio Animals Brigade Sky Wall Decals
$50.00
Children grow so fast and tastes change so quickly! Wall decals are a perfect way to add a personal touch to any room without committing fully. I love the different patterns included in this set.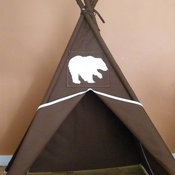 Grizzly Silhouette Teepee with Window By Buckle James
$145.00
We currently have a tipi in our son's nursery. He loves hiding in it and he even drinks his milk inside of it. It's the perfect make-believe spot!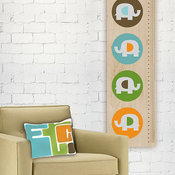 EleFUNt Modern Growth/Height Chart By Giraffesnstuff
$32.00
Kids grow so fast, don't they? What better way to mark important growing milestones that with this modern growth chart? I particularly like that this chart is printed on banner material, so it's easy to keep clean.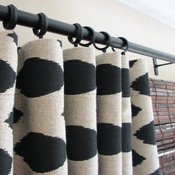 Decorative Designer Custom Curtains By CastleCreekDesigns
$160.00
Curtains are a simple but powerful way to transform a room. This set of graphic ikat curtains will complete any room.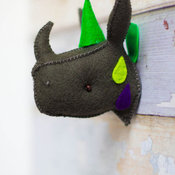 Rhino Head Mount Plush Animal Trophy By PlanetFur
$30.00
How adorable is this rhino trophy? I love this whimsical interpretation of a very traditional object. Next: Dreamy Clean Kids' Rooms