10 Artful Powder Rooms
Decorating your powder room may not be high on your to-do list, as it likely isn't a room you spend a lot of time in. Yet because guests see it, you shouldn't ignore it either. Instead of adding a few random pieces of wall art and calling it a day, be deliberate in your execution and tie in your personal style. Here are some ideas to get you started.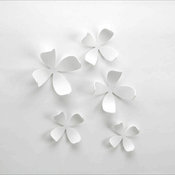 $19.99
Have some fun creating the perfect wall-flower display.