10 Artful Powder Rooms
Decorating your powder room may not be high on your to-do list, as it likely isn't a room you spend a lot of time in. Yet because guests see it, you shouldn't ignore it either. Instead of adding a few random pieces of wall art and calling it a day, be deliberate in your execution and tie in your personal style. Here are some ideas to get you started.
Create a focal wall. Treat the powder room wall like a large blank canvas. If you fill up most of one wall with multiple artworks in a grid, the collection will have the visual impact of one larger piece.
Create a French country vibe. Gather rustic pieces, vintage signs and prints into unique vignettes.
Turn the space into a photo gallery. Display black and white photos from your travels in frames of the same size and finish. Matching white mats keep them looking bright and crisp.
Mix complementary finishes. Use a framed piece of artwork on one wall and carry the same tone to the other wall through more sculptural pieces.
Bring in bird prints. They're wonderfully harmonious in a powder room and work well with soft colors, such as sky blue paint.
Go big. A big print on a canvas will create an immediate wow moment.
Freshen with florals. Floral artwork can leave a bathroom feeling fresh and soft. Go large for a more powerful feel and pick up on the wall color for a soothing look.
Add a bright spot. If you have dark walls, bright artwork offers a stunning contrast.
Add another dimension. Three-dimensional art keeps a powder room creative and interesting. These abstract blooms are easy to install: They're simply flat thumbtacks you push into the wall with your fingers. The flower has a magnet that attaches to the thumbtack.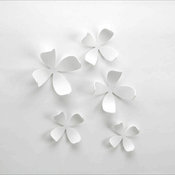 $19.99
Have some fun creating the perfect wall-flower display.
Frame postcards. They're the perfect size for framing and look great in a group.Browse thousands of photos of powder roomsMore:10 Jewel-Box Powder RoomsGetting Artsy in the Bathroom10 Design Strategies for Art Lovers