Smart Bathroom Investment: Low-Flow Toilet
It may not be the most glamorous way to spend your money, but installing a low-flow toilet makes good money sense. Over time this single renovation can add up to one of the most financial and ecological investments you can make in the bathroom.
A brief history of toilets. Once upon a time, toilets used 7 gallons of water per flush (g/f). But a growing social movement toward ecology conservation changed that."California first led the nation to adopt 3.5 g/f toilets, and eventually down to 1.6 g/f," explains San Francisco architect Thayer Hopkins. "Over a decade ago, the issue of low-flow toilets was a tough discussion to have with clients here in the Bay Area. It wasn't that they weren't on board with water conservation, it was just that toilet manufacturers were slower to come around with engineering to match. Retrofits were difficult, yielding intermittent success and lots of noise."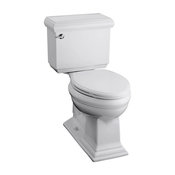 Kohler Memoirs® 2-Piece Elongated Toilet
$294.68
Today, low-flow toilets are much easier to acquire and install with big brands like Toto, Porcher, Kohler, American Standard and many more offering water saving options with many, if not all, of their toilet styles.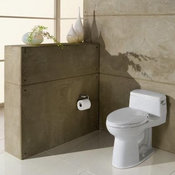 Toto, a pioneer in water conservation technology, takes things further with a new toilet, the Aquia Dual Flush, which uses only 0.9 g/f. But let's be clear, this is not an advertisement for any specific low-flow toilet. You'll have to decide what works and looks best in your own bathroom.Thankfully, manufacturers are doing their part to continuously roll out stylish low-flow models.
1. Short-term payoff. Saving water, like any conservation effort, feels like the right thing to do. And your local municipalities want to encourage you to do more of it. Though, their motivation is not just to help you feel good about your efforts; they've got a limited supply of water to work with. "Statistics show that the availability of fresh water is depleting," explains Hopkins. "This has a direct effect on the ability to create hydroelectric power."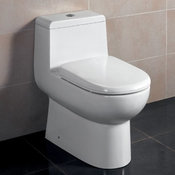 Antila 1-piece Dual Flush Toilet with Soft Close Seat
$429.00
For this reason, many municipalities are encouraging residents to save as much water as possible by offering rebates on low-flow toilets.Check with your city and country about specific rebate opportunities.
Low-flow toilets can also help resale value, especially in locations where population growth is on the rise and the issue of conservation is on homebuyers' minds. "Over the last 10 years," says Hopkins, "I've witnessed the change in attitude regarding low-flow water features. First it was all about the cost. Now the importance has shifted to conservation."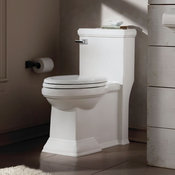 American Standard Town Square FloWise RH Elongated 1-Piece Toilet
For every eco-friendly feature you can entice eco-minded homebuyers with, your chances of selling your home for a better price go up.