Guest Picks: Retro Space Age
The mid-20th century was a time of optimism about the future. Movie theaters featured films about space travel and life on distant planets, and magazines and retailers offered bright futuristic designs that were a streamlined contrast to the more ornate surroundings consumers grew up with. Travel back to the future with these retro and retro-inspired pieces that show positive visions of the shape of things to come.
— Lori from automatism
$1,023.50
Sitting in the Ball chair by Eero Aarnio is like being in your own little space capsule — but one in which your bowl of snacks doesn't float into the air.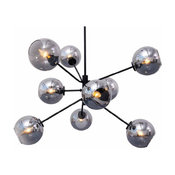 Smoky 9-Arm Atomic Pendant
$425.00
The perfect lighting fixture for the space-age home, this Smoky Atomic pendant from Black Rooster Decor will give any room a groovy midcentury modern vibe.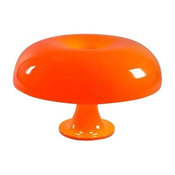 Artemide Nesso Table Lamp, Orange
$480.00
The Nesso table lamp by Artemide is just like having your own friendly little UFO illuminating your living room.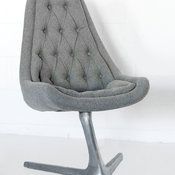 Sculpta "Star Trek" Chairs, 1966, Set of 2
$2,500.00
Designed in 1966, Chromcraft's iconic Sculpta chair not only looks space-age, but also appeared on two episodes of the Star Trek series (in its original black vinyl). This pair has been reupholstered in a heather gray cotton/wool blend for a softer take on the forward-looking design.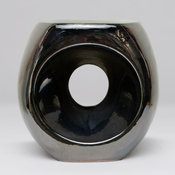 As much sculpture as furniture, the Black Pearl table/stool from Black Rooster Decor is a great way to add instant style to a tiny space.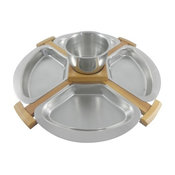 $199.00
Looking rather like a flying saucer, this lazy Susan is just the thing to serve company reconstituted space food (or crudités and dip if you prefer).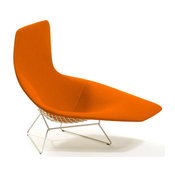 Knoll Bertoia Asymmetric Upholstered Chaise, Hourglass Tangerine
$7,373.00
Lounge in atomic-age style while watching your fave sci-fi movie in the Bertoia asymmetric upholstered chaise from Knoll.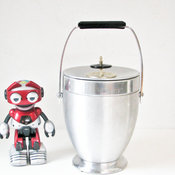 Atomic Ice Bucket by Bee Jay Kay
$36.00
Anything called the "Atomic Ice Bucket" is A-OK by me. It's perfect for keeping a bottle or two chilled nicely while you work out your space coordinates.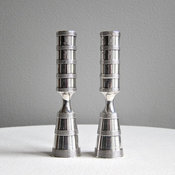 Pair of Dansk Silver-Plated Brass Candlesticks by Barking Sands Vintage
$245.00
A stunning pair of Dansk silver-plated brass candlesticks designed in the 1960s by Jens Quistgaard is utter retro coolness for your dining room table.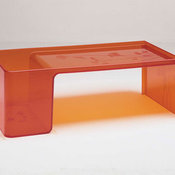 Kartell Transparent Usame Table, Orange
$315.00
Whether you command an office or a space ship, get that work done in style at the Transparent Usame table from Kartell.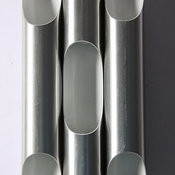 Modernist Dutch Raak Fuga Light by 1001 Vintage
$325.00
Add instant space-age cool to any wall with this vintage 1960s Raak Fuga lamp, designed by Maija Liisa Komulainen for Raak Amsterdam. It's retro rocket cool.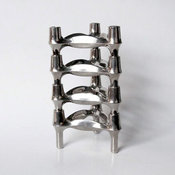 Vintage Atomic-Age Candleholders BMF by 1001 Vintage, Set of 4
$88.00
Looking like an example of architecture from another planet, this vintage set of four 1960s candleholders will add a little otherworldly style to your home.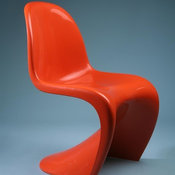 Chairs Designed by Verner Panton for Herman Miller, Set of 4
$3,773.88
This set of four chairs, designed by Vernor Panton for Herman Miller, would transform the most mundane lunch into an intergalactic dining experience.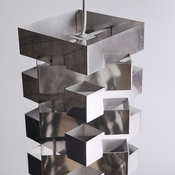 Modernist Dutch Pendant Anvia by 1001 Vintage on Etsy
$185.00
A 1970s modernist Dutch pendant light by Anvia looks like it's something you'd find in the engine room of a spaceship.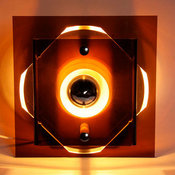 Space-Age Wall Lamp by 1001 Vintage
$120.00
This amazing vintage 1960s wall lamp is just like having HAL from 2001: A Space Odyssey in your very own living room. Whether that's a good thing or not, I leave up to you.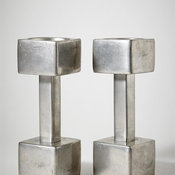 Candlesticks Designed by Astrid Fog for Just Andersen, Set of 2
$3,720.00
Designed in the 1960s by Astrid Fog for Danish company Just Andersen, this pair of pewter candlesticks will add space-age style to any table.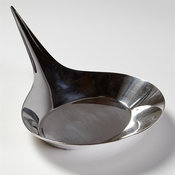 Dish with Handle Designed by Erik Dragsted
$1,442.00
Looking like it's built for speed, this lovely dish designed by Erik Dragsted in the mid 1950s will add a little zip to any meal.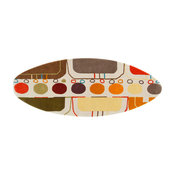 Surf Malibu Mediterraneo Hand-Tufted Wool Rug
$435.00
Add a little retro cool to your floor with the Surf Malibu Mediterraneo hand-tufted wool rug from 2Modern.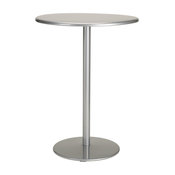 Boulevard Bar-Height Table
Utterly pure in its simplicity, the Boulevard bar table is the perfect spot to sip your Pan-Galactic Gargle Blaster.Next: Out-of-This-World Decorating: Space Age Style for Today