Guest Picks: Design Trend: Flamingos
Pink flamingos — with their elegant shapes, rich textures and bright color palettes ranging from coral to hot pink — have been popping up more and more in home decor. Think twice, however, before placing flamingos all over your home. Theme looks can easily be overdone and
quickly
become cheesy (think animal prints). Use items featuring flamingos sparingly and strategically.
Here's a roundup of stylish home decor products featuring those chic pink birds with hooked black bills.
— Cristin from Simplified Bee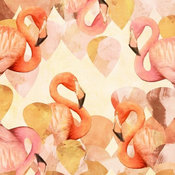 $38.49
Images of "Flamingo Mingle" by Nancy Ramirez have been flooding the internet. And you can see why: It's gorgeous!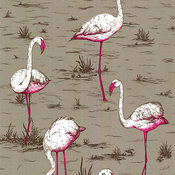 Flamingos Wallpaper, Grey / Neon
GBP 62.00
Wallpaper is another way homeowners are showing their love for flamingos. Here, Cole & Son's "Flamingos" wallpaper features gray background with neon pink flamingos.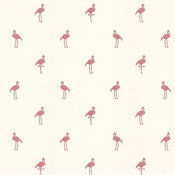 Brewster 144-59643 Destinations by The Shore Flamingo Wallpaper, Pink
$51.47
This retro-chic wallpaper showcases whimsical pink flamingos on a white background.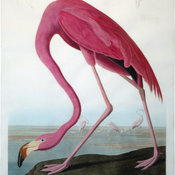 John James Audubon's "American Flamingo"
Although on trend, John James Audubon's "American Flamingo" is a classic.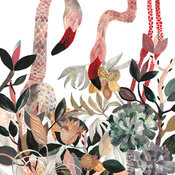 Two Flamingos Large Archival Print by United Thread
$40.00
The detail in this archival print called "Two Flamingos" is outstanding. I love it!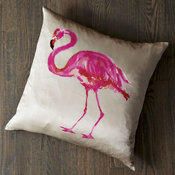 $39.00
A pink flamingo throw pillow is a great way to to stay on trend without breaking the bank.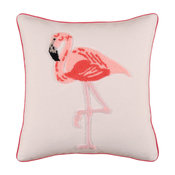 Hooked Wool Flamingo Pillow
$50.00
This hooked-wool flamingo pillow would work well in a coastal home among nautical decor.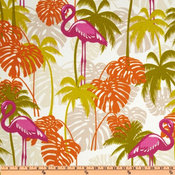 Richloom Solarium Outdoor Plume Citron Fabric
$8.98
Richloom's Solarium Outdoor Plume Citron fabric incorporates orange and green with flamingo pink. It's perfect for throw pillows, window treatments or seat cushions.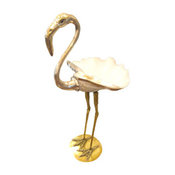 Brass Flamingo Sculpture with Seashell Body
Figurines and sculptures are a great way to add a touch of the flamingo trend to your decor without going overboard.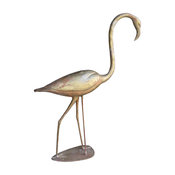 1940s Sculpture of a Pink Flamingo
This large-scale, vintage flamingo sculpture would make quite the statement in a home.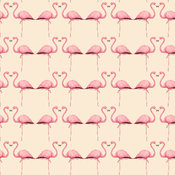 $17.50
This lovebird flamingo fabric is fresh and playful.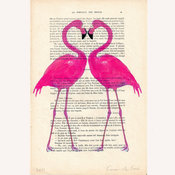 Flamingo Heart by Coco de Paris
$10.00
I love the combination of flamingos and the famous 1920s Parisian magazine "La Petit Illustration."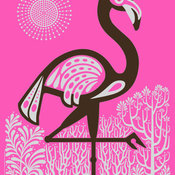 This flamingo poster would add a modern touch, bright color and whimsy to any space.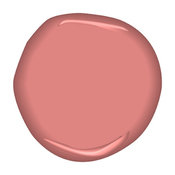 Pink Flamingo CSP-1175 Paint
Benjamin Moore's Pink Flamingo paint is just the right shade to capture your love for flamingos.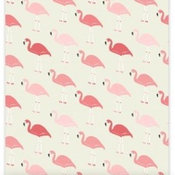 $155.85
I love this flamingo wallpaper for a little girl's room.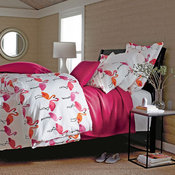 Flamingo Percale Comforter Cover
$24.00
Here's some sweet bedding featuring this trendy bird.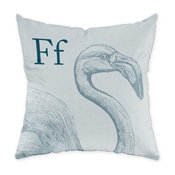 Flamingo, Blue Grey Throw Pillow
$49.00
If pink just doesn't coordinate with your decor, this flamingo pillow in blue-gray just might do the trick!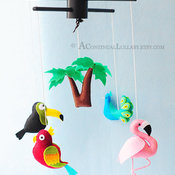 Jungle Birds Mobile No. 1 by A Continual Lullaby
$88.00
A flamingo makes the cut in this darling Jungle Birds Mobile for a baby's nursery.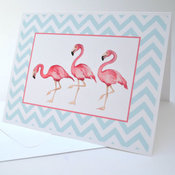 Flamingo & Chevron Notecard Set by Shorely Chic
$18.50
This card combines two hot trends: flamingos and chevron.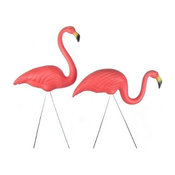 $3.99
And for the patio, these are the classic, retro yard flamingos made popular in the 1950s. They're so fun!Next: 15 Rooms to Tickle You Pink