Guest Picks: Reading Nook Favorites
Summer's the perfect time to get lost in a good book, and I love the idea of creating a cozy little haven for kids and grown-ups to read. Here are my product picks for a serene and inviting reading nook. I hope this provides some inspiration for you and your little readers!
— Elaina from Fun Finds for Mom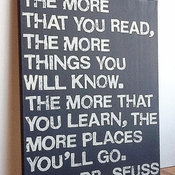 16X20 Canvas Sign by Epiphany's Corner
$35.00
I love Dr. Seuss quotes — such wisdom and truth.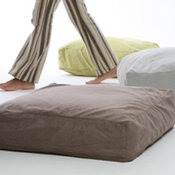 Square Lounger, Solid 1998
$180.00
Beanbags are the ultimate reading companions. I have some of these Eazy Bean bags, and the kids love plopping on them with a good book.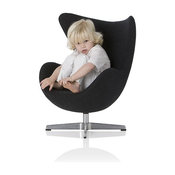 $585.00
A kid-size egg chair makes for a cozy little cocoon.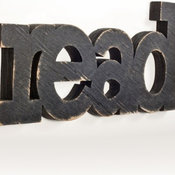 Read Sign Made From Recycled Wood by Oh Dier
$42.00
I'm a big fan of the wood signs made by Oh Dier, so I was happy to see they make a "read" sign. It's recycled, hand-cut and hand-painted. They also have a scripty version in white.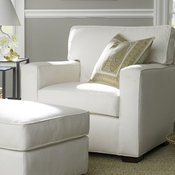 PB Square Upholstered Armchair
$849.00
We have a similar chair and ottoman in our living room that we all refer to as "The Reading Chair." Now that the kids are five and eight, it's a bit of a squish for all three of us to cuddle up with a book, but we still do it!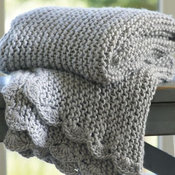 $99.00
I asked my son what he'd like to have in his ultimate reading nook, and the first thing he said was a blanket! This one looks extra snuggly.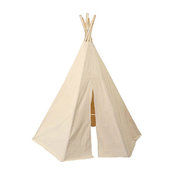 Six-Foot Great Plains Tepee by Dexton Kids
$149.95
I'd love to get one of these for the kids and string up some twinkle lights for a magical hideaway.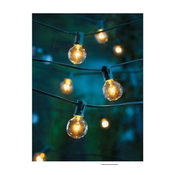 Clear Globe String Lights Set of 25 G40 Bulbs Indoor/ Outdoor
$41.50
Here are those lights I'd like to string up on the tipi, or around any reading area. They're so pretty.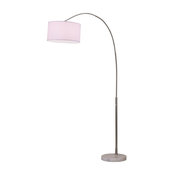 Nova Lighting Float Arc Floor Lamp
$449.99
A good reading spot needs plenty of light. This arc floor lamp looks like it would do the trick!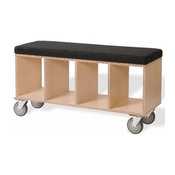 Bench Box with Casters - Upholstered Seat
$999.00
Make your own window seat with this rolling cart that works as both a bench and a bookshelf.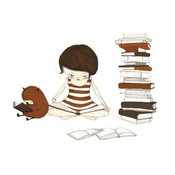 The Reader Illustration by Majali
$19.96
This little "reader" print, by Swedish illustrator Majali, would be a sweet addition to a reading space.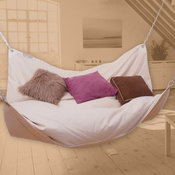 Le Beanock Large Flatpack
$641.48
A beanbag hammock! Technically, a "beanock." I absolutely love this — I wonder if I could fit in the whole family?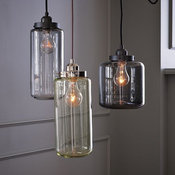 $99.00
I love these hanging pendants and think they would look amazing alongside the hanging books I've seen on several blogs lately.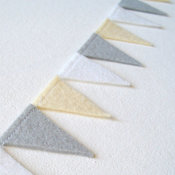 Gray White Pale Yellow Pennant Banner Garland by Live Delightfully
$15.00
I'm a bit of a nut for garlands. This felt one would add some flair to any reading nook.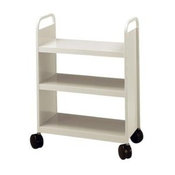 Virco Library Book Truck With Three Flat Shelves
$366.99
It's not all about being cozy; you need a place to stash the books, too. This metal bookshelf has casters, so you or your little librarians can move it around as needed.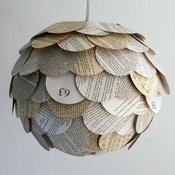 Artichoke Mixed Book Page Pendant Light by Zipper 8 Lighting
$75.00
If there's no electrical socket near your nook, you can plug in this pendant light made from books!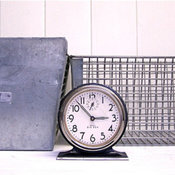 Vintage Metal Gym Locker Basket by Circle Creek Home
$28.00
If space is limited, then these bins and baskets could take the place of a bookshelf.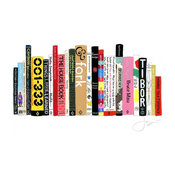 $275.00
Have a custom painting made of your ideal bookshelf.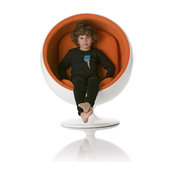 $695.00
Here's a cozy pod-like chair for the little ones to enjoy some reading solitude.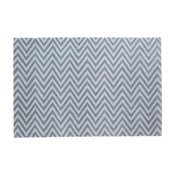 Kids Gray Chevron Cotton Rug
$199.00
I can just picture my daughter lying on this rug on her tummy, feet up, chin propped on her hands, lost in a good fairytale.Next: Cuddly Nooks for Every Room