Guest Picks: Bring Your Love for Chinoiserie Outdoors
Carry your love for chinoiserie onto your patio, garden, deck, rooftop garden or balcony with these great chinoiserie outdoor picks.
— Beth from Chinoiserie Chic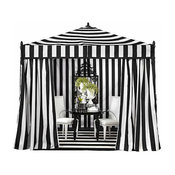 $699.00
Wouldn't this striped garden pavilion be an amazing way to entertain? Check out the black pagoda mirror that's inside.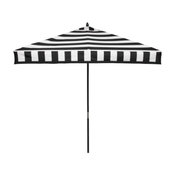 Contemporary Outdoor Umbrellas
A striped umbrella is great for that Hollywood Regency look.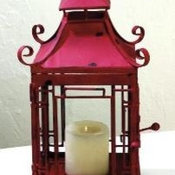 Distressed Red Pagoda Lantern by The Well Appointed House
$125.00
This red pagoda lantern would add great chinoiserie style to your patio.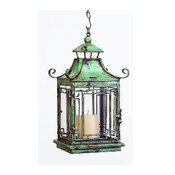 Distressed Blue Pagoda Lantern by The Well Appointed House
$140.00
A blue pagoda hanging lantern would be a very elegant choice for your outdoor space.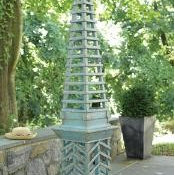 Antique Topiary Garden Obelisk in Green by The Well Appointed House
$680.00
This garden obelisk stands 87-inches high and reminds me of a pagoda. It would make a very impressive addition to the garden.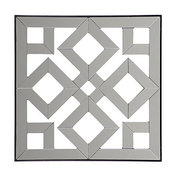 Contemporary Wall Mirrors
$39.95
Mirrors are wonderful in the garden; hang this one in a protected spot.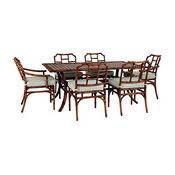 Galante 7-Piece Dining Set by Ballard Designs
$2,299.00
This Galante dining set captures the look of bamboo in carefree aluminum.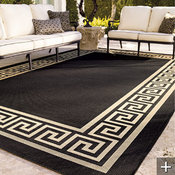 Greek Key Outdoor Rug by Frontgate
$125.00
Add a Greek key outdoor rug to your patio for an elegant and classic touch.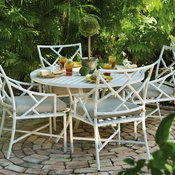 Caicos Five-Piece Dining Set by Home Decorators Collection
$1,499.00
This wonderful faux bamboo dining set has Chinese Chippendale style for your outdoor living.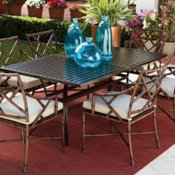 Caicos Seven-Piece Dining Set by Home Decorators Collection
$1,999.00
The Chinese Chippendale style and the look of the bamboo make this a very chic outdoor dining set.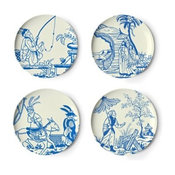 Thomas Paul Hong Kong Garden Dinner Plate Set by Amazon
$28.00
These very stylish Hong Kong Garden melamine dinner plates are great for dining alfresco. I have these and love them.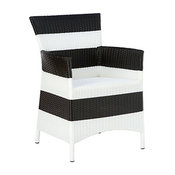 $228.00
This black and white outdoor wicker chair is very Hollywood Regency.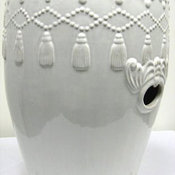 Hanging Tassels White Garden Ceramic Stool by Overstock
$93.99
Garden stools are great to use as extra outdoor seating or as side tables.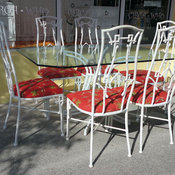 Faux Bamboo Greek Key Patio Set by Circa Who
$1,200.00
Fabulous vintage Greek key patio set — I love this!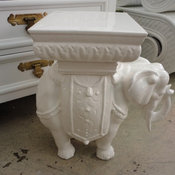 Elephant Garden Seat by Circa Who
$375.00
An elephant garden seat is a whimsical and fun choice.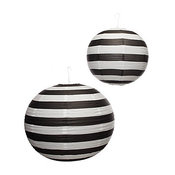 Paper Lanterns, Black And White Stripe by Z Gallerie
$12.95
These striped paper lanterns would be perfect for an outdoor party.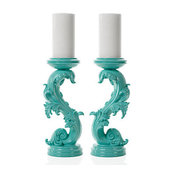 Transitional Candleholders
$19.95
Aquamarine Draper pillar candle holders are a chic way to light up the night.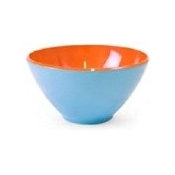 Jonathan Adler Positano Melamine Bowl by Sands Point Shop
$9.00
I love the orange and blue on this Jonathan Adler melamine bowl.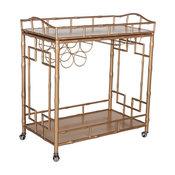 The Sedgewick Bar Cart, Gold
$515.00
This fabulous vintage-inspired faux bamboo bar cart is available in gold or silver.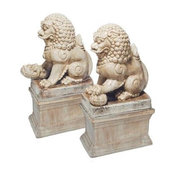 Pair of White Crackle Glazed Lions by Mecox Gardens
$1,075.00
Outdoor foo dogs would be an incredible finishing touch!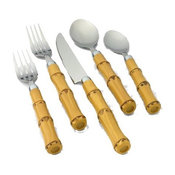 Home Bamboo 20-pc. Flatware Set by Target
$20.99
Faux bamboo flatware is stylish and a great look for outdoor dining.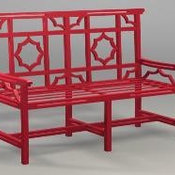 Wrought Iron Mandarin Bench Settee by The Well Appointed House
$2,750.00
This red wrought iron mandarin bench would be the focal point of any garden and is available in many colors.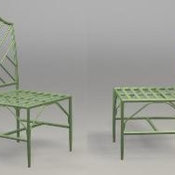 Chinese Chippendale Side Chair by The Well Appointed House
$1,063.00
These Chinese Chippendale side chairs for the patio are available in wrought iron or aluminum and in 15 colors.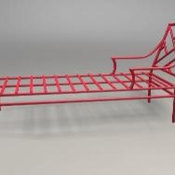 Chinese Chippendale Chaise Lounge by The Well Appointed House
$2,418.00
This Chinese Chippendale chaise lounge is fabulous — I would add black and white striped Sunbrella cushions.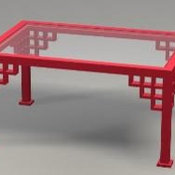 Manchester Chippendale Coffee Table by The Well Appointed House
$2,073.00
A super elegant Chinese Chippendale coffee table for a very stylish outdoor space.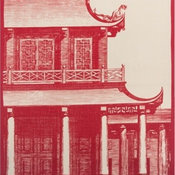 Beijing Tea Towel in Cherry by Thomas Paul
$22.00
These Thomas Paul pagoda tea towels would make fabulous napkins for outdoor dining.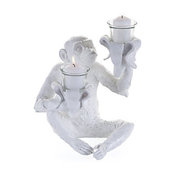 Ling Double Votive Holder by Z Gallerie
$19.95
Fabulous monkey votive holders for both fun and function.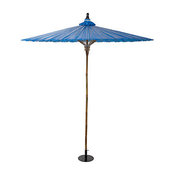 Chiang Mai Umbrella by Z Gallerie
$99.95
This blue Chiang Mai umbrella is at a great price, is made of oil cloth, and has a very retro look. I love the bamboo pole and interior.Next: 9 Elements of Asian Style