Guest Picks: Pillows for the Chinoiserie Chic Home
A pillow is such a fabulous and easy way to add chinoiserie chic charm and style to your home. Whether on a sofa, bed, chair or chaise, or in the living room, family room, bedroom or nursery, I'm sure you can find a spot for one of these!
— Beth from Chinoiserie Chic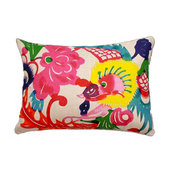 $165.00
This colorful dragon pillow is 100 percent linen and 100 percent fabulous. It's so perfect for this Chinese Year of the Dragon.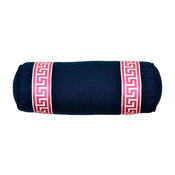 Navy Greek Key Bolster Pillow
$115.00
This bolster pillow is navy blue linen with pink and white Greek key trim. I have this pillow in my living room on a pale blue ghost chair.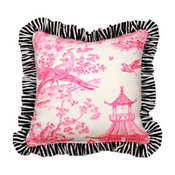 Ruffled Chinoiserie Pillow
$75.00
A pillow with pink chinoiserie print and a black and white striped ruffle trim would be so lovely in a girl's nursery or bedroom.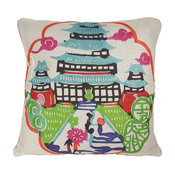 Colorful Pagoda Pillow, Blue
$165.00
Pagodas are the essence of chinoiserie style, and this pillow is 100-percent linen with luscious colors.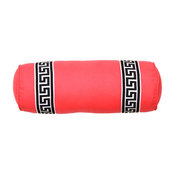 Coral Greek Key Bolster Pillow
$115.00
Tony Duquette once said that the color coral was his neutral. It is a color I adore. It looks so fabulous with the black and white Greek key trim.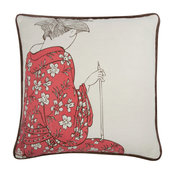 Yokohama Geisha 16 Pillow
$98.00
Based on Japanese woodblock prints, the geisha pillow from Thomas Paul is ideal for a modern space.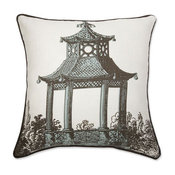 $110.00
A pagoda garden pavilion is featured on this elegant and neutral linen pillow from Thomas Paul.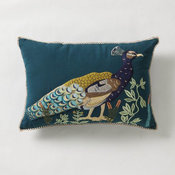 Iridescent Plumage Pillow
$128.00
A beautifully embroidered peacock pillow is quite chic and elegant.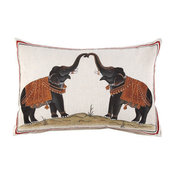 Two Elephants Decorative Pillow
$140.00
If you follow my blog, Chinoiserie Chic, you know that my blog header has two elephants similar to those on this John Robshaw pillow.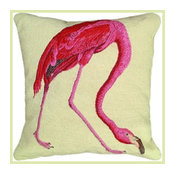 Pink Flamingo Needlepoint Pillow, Audubon
$160.00
Here is a needlepoint pink flamingo Audobon pillow for that Palm Beach, preppy, chinoiserie style.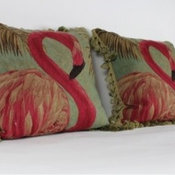 Flamingo Aubusson Wool Pillow
$495.00
This is a truly stunning Aubusson flamingo pillow that's perfect for adding a very luxurious touch.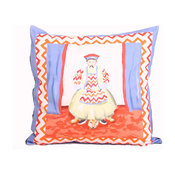 $215.00
I have a pair of these wonderful Chinese Emperor Pillows from Dana Gibson myself!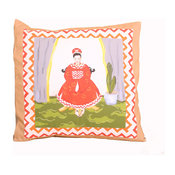 $215.00
The Dana Gibson Empress Pillow in tan has such a great look. My pair is the focal point of my sun room.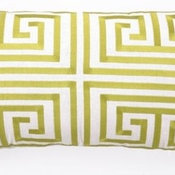 Trina Turk Lime Greek Key Embroidered Pillow
$110.00
Greek key in lime green by Tina Turk is a must for the chinoiserie home.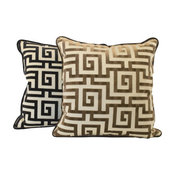 $450.00
These stunning velvet and silk Greek key pillows are for a very elegant living room.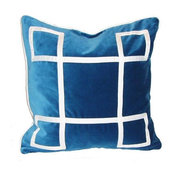 Dark Aqua Velvet Regency PIllow
$175.00
You have to check out all the colors of these Jill Sorensen Greek key pillows; they are absolutely delicious.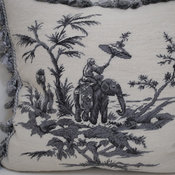 Home Needlepoint Pillow P37
$155.00
This wonderful limited-edition needlepoint pillow of a monkey riding an elephant is so darling!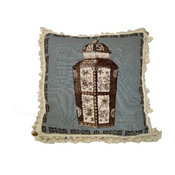 $180.00
Perfect for the traditionally luxe chinoiserie home is this lovely needlepoint pillow with a brown ginger jar on a blue background.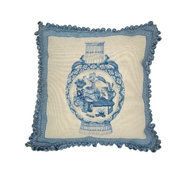 $185.00
For the fan of blue and white chinoiserie, here is a stunning ginger jar needlepoint pillow.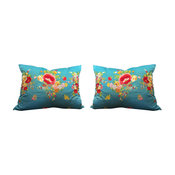 Pr.Vintage Chinoise Pillows
This is an incredible pair of antique, 19th-century, French chinoiserie pillows.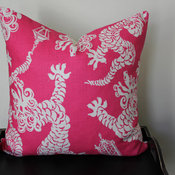 Tail Lights, Daiquiri Lilly Pulitzer for Lee Jofa Cushion Cover by Aurelia
$40.00
This Lilly Pulitzer fabric Tail Lights is a favorite of mine with its Chinese dragon. I especially like this hot pink and white colorway — imagine it on a white sofa.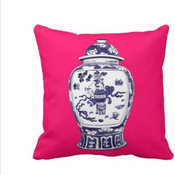 GINGER JAR PILLOW, Fuschia by Annechovie
$63.50
I adore the colors of this classic blue and white Chinese ginger jar on a gorgeous fuchsia background.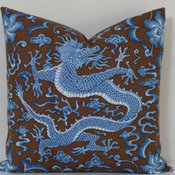 Scalamandre Chi En Dragon Designer Pillow Cover by Pillow Talk and More
$90.00
This one has one of my favorite chinoiserie fabrics, Scalamandre's Chi En Dragon, in a very sophisticated brown and blue colorway.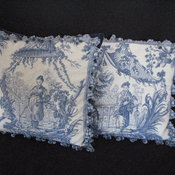 Pair Of Tapestery Pillows by 44Park Vintage
$145.00
A beautiful pair of blue and white needlepoint pillows with a Chinese man and woman under a pagoda is so classic.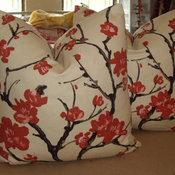 FLOWERING CHINESE QUINCE Pillows by Walsh Designs
$225.00
This pair of pillows comes in an iconic chinoiserie fabric, Clarence House's Flowering Quince.Next: How to Master the Throw Pillow Mix