Guest Picks: The Chinoiserie Chic Office
The summer is over and everyone is back to work and school. But no worries — I have some great ideas to help you turn your workspace, whether at home or in an office, into a fun and colorful spot filled with chinoiserie chic flair. Regardless of your budget, these picks will bring a smile to your face as you toil away.
— Beth from Chinoiserie Chic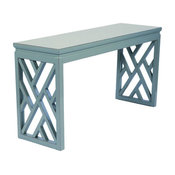 Chinese Chippendale Writing Desk
$1,198.00
I'm crazy about this Chinese Chippendale lattice desk! It is also available in several color options.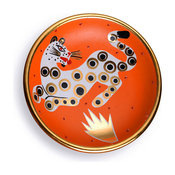 Orange Leopard Small Dish
$120.00
Wouldn't your paper clips be ecstatic to live in this iconic leopard dish by Waylande Gregory?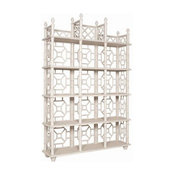 $2,585.00
This chinoiserie fretwork étagère would be the most incredible addition to any workspace.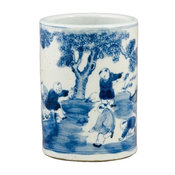 Blue and White Small Vase With Figures
$45.00
This is the perfect chinoiserie piece to hold your pencils and pens in style.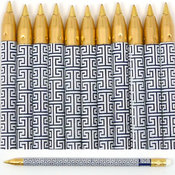 Sandy Cay Pattern Pens, Navy
$23.00
Navy Greek key pens are such a chic touch, and with this set of 14, you'll never again be left looking for a pen.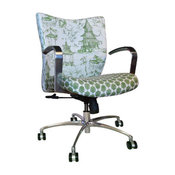 Chinoiserie Pagoda Desk Chair
$609.00
A desk chair upholstered in green pagodas? This is so fun!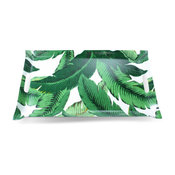 $75.00
This palm leaf tray is so Palm Beach chic. It would make a great desk inbox organizer.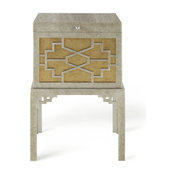 $485.00
This fretwork file box is an ideal way to add chinoiserie glamour — and great functionality — to your office.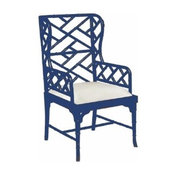 Chinese Chippendale Wing Chair
$729.00
Available in 40 different color finishes, this Chinese Chippendale wing chair would make a perfect office chair.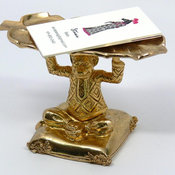 Hand-Sculpted LV the Monkey Holding Palm Leaf Tray
$168.00
I have this fabulous brass monkey with a palm leaf tray on my desk holding my business cards, and I love it!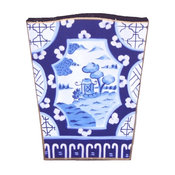 Canton in Blue Wastebasket, Blue
$105.00
Are you a fan of blue and white? This chinoiserie toile wastebasket is a great choice.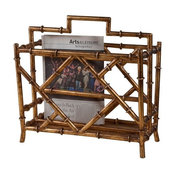 Chinese Chippendale Magazine Holder
$219.00
This classic Chinese Chippendale magazine rack in faux bamboo is so elegant.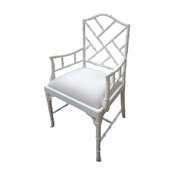 Charlotte Chippendale Dining Armchair, White Painted Finish
$498.00
Chinese Chippendale chairs are such a good choice fwor your office. They're iconic, elegant and timeless.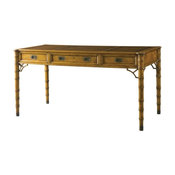 $1,659.00
This faux bamboo Regency-style desk is so sophisticated. It is available in seven finish options.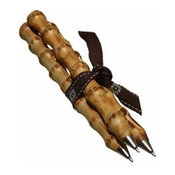 $15.00
How about a set of three bamboo pens for the well-appointed desk?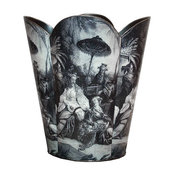 Chinoiserie Decoupage Wastepaper Basket - Marye-Kelley
$116.00
Here's a very elegant and sophisticated black and white chinoiserie toile wastebasket for your office.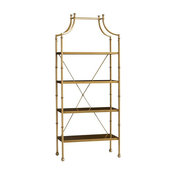 $599.00
This sensational pagoda étagère is available for an amazing price.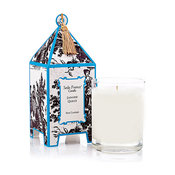 Seda France Japanese Quince Toile Pagoda Candle
$34.50
Every desk needs a candle, and this Japanese Quince one by Seda France is my personal favorite.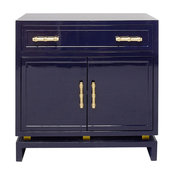 Cabinet With Gold Leaf Bamboo Hardware, Navy
$1,852.35
This navy lacquered cabinet with golden bamboo handles would be a great piece for holding files and supplies.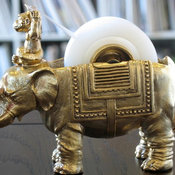 Hand-Sculpted Ling the Elephant and Monkey Tape Dispenser
$188.00
Here's another fantastic piece from iomoi. It's an elephant and a monkey and a tape dispenser!Next: 7 Ways to Make Your Home Office Work Better for You