Guest Picks: Coastal Cool
For most of my life, I have lived close to the beach in Southern California. I love everything about the coastal vibe. There is just something so refreshing about a nautical color scheme and great beach accents. Whether you are near the coast or miles away, summertime is the best time of year to get your coastal vibe on. Here are my top picks for kicking up your patio, deck or porch with a cool and coastal vibe.
— Courtney from A Thoughtful Place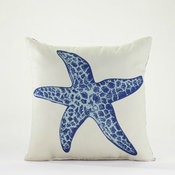 $24.99
Nothing says summertime like a touch of the beach. This is an easy way to add that look to an outdoor patio or balcony.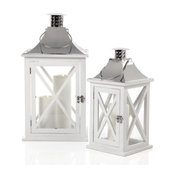 $49.95
Lanterns are an amazing way to bring the coastal vibe to your space. Whether you use real or faux candles, they are a darling way to light up your front porch or add ambiance to an outdoor seating area.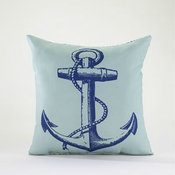 $24.99
Anchors aweigh! I love the nod to the nautical in this darling pillow. And you can't beat the price.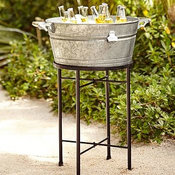 Rivet Galvanized Metal Party Bucket
I am a huge fan of drink stands. I use one at each party that I throw, and this galvanized version is a classic and a huge nod to the beach. I love how relaxed and casual it feels.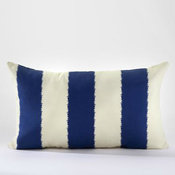 Limoges Ikat Stripe Lumbar Throw Pillow
$26.99
There is no question that I am crazy for stripes. I love them in every room, but they are especially appropriate in a beach vibe. The blue and white is classic and will freshen up any space, indoor or out.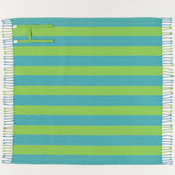 Blue and Green Stripe Rio Picnic Blanket
$24.99
Who is ready for an outdoor picnic? This is sure to set the scene for a beach-like atmosphere. I would actually drape this blanket over my outdoor table as a tablecloth and pair it with bold pillows and a fun tablescape. This is one of my favorite items.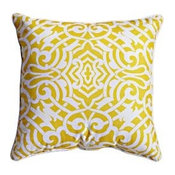 Contemporary Outdoor Cushions And Pillows
$20.00
This graphic Pavilion Pillow will add sunshine to your deck or patio. Pair it with navy and you will immediately have a classic beach feel.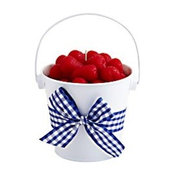 $16.00
Oh, yes — a raspberry candle tin! I love this. It's a darling piece for an outdoor side table or the center of your buffet.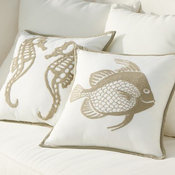 Sea-Life Embroidered Outdoor Pillows
$39.50
These are simply beautiful. I would use them inside on a white slipcovered couch or on my outdoor furniture. They not only add coastal character, but great texture as well.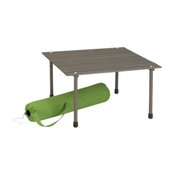 $59.95
If you are headed down to the beach, this is the perfect table to take. I have one and use it all the time. The legs come off, and it actually rolls up to fit in a bag. It's great for summertime picnics, beach outings and concerts in the park.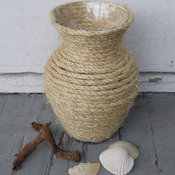 Beachy Nautical Roped Vase by Stalking the Wild Snark
$21.50
This is such a sweet way to add a nautical feel to your space. The rope adds just enough charm and texture. You could fill it with flowers or leave it just as is.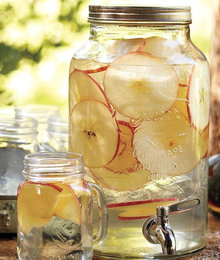 ;
Fill this up with a signature cocktail or flavored water, and you have a refreshing drink to enjoy all day long. I fill mine with water and fresh strawberries and allow the kiddos to help themselves throughout the day.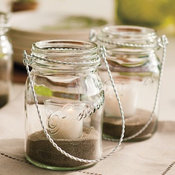 $7.50
These are a go-to item for any coastal scene. They are so easy to hang from a tree and instantly make your guests feel welcome and special. Their simplicity is what really adds to their charm.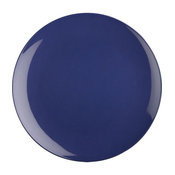 Andros Blue Melamine Dinner Plate
$4.95
I am in love with this rich cobalt blue plate. It looks adorable when paired with anything nautical. I especially love using plates without pattern so that the food really pops.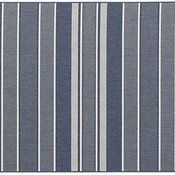 $19.95
This beautiful striped rug is beckoning me to the beach. Pair it with a great patio set or couch, and you are on your way to a coastal chic vibe. The stripes make it easy to work with because it will look great paired with any fun pillow.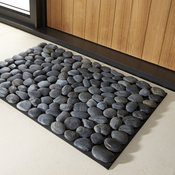 $44.95
This Pebble Mat reminds me of the outdoor fun that comes with growing up near the beach. It's a great way to bring texture to your space.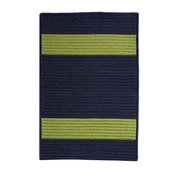 Cafe Milano Area Rug, Navy
$79.00
This is another great rug to set the scene for a nautical and beach feel. I love the stripes, and the classic combination of green and blue never goes out of style.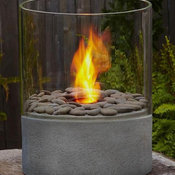 $95.00
If you want to add a little warmth and ambiance to your coastal space, this will do the trick. It's such a wonderful addition to your summer outdoor patio.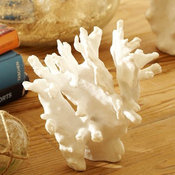 $24.50
Coral is here to stay. It's an easy way to add the beach vibe either indoors or out. I may use this atop a stack of books in my living room but pull it outside to use when entertaining. It's a great and easy accent.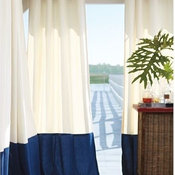 $79.00
Can you hang drapes on your patio or from your porch? If so, these are a classic nod to the coastal charm that will make everyone feel cool and welcome. Paired with wicker and lots of texture, they really are a statement piece for summer.Next: So Your Style Is: Coastal