Guest Picks: Working With Whites
I'm a big fan of color. It creates lots of interest in interior spaces, but working with colors can be challenging. On the other end of the spectrum is the calm, simple aesthetic that comes from an all-white space. Whites can make a small room feel bigger and a dark room feel lighter. I've pulled together 20 products that are perfect for bringing some of that bright white decorating power to your home.
— Kate from DomestiKated Life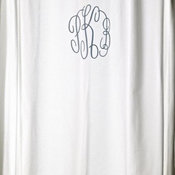 Monogrammed Shower Curtain
$55.00
Whites work so well in the bathroom, and I think a crisp white shower curtain gives a very spa-like look to a space.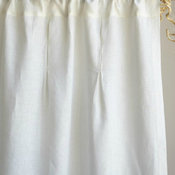 Eileen Fisher Pintucked Curtain Panels
$118.00
Try hanging white linen curtains high in a small, dark room to give it a big, airy feel.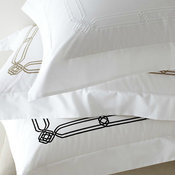 Frette Saffo Embroidered Percale Bedding
$80.00
White linens are a staple. Use these Frette Safo linens in a guest room to give the space a hotel-like feel.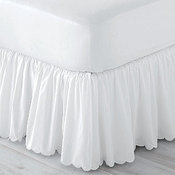 $29.00
Even if your bedding isn't white, a simple white bedskirt is a great base for a clean bedding approach.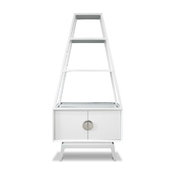 Claude Etagere And Two Door Storage Set
$1,795.00
This piece has major architectural interest, so it works best in this plain white shade that lets the shape stand out.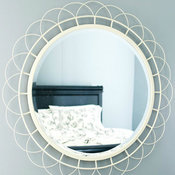 $248.00
Try layering for contrast. This white mirror pops against a darker paint color on the wall.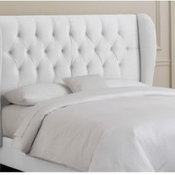 Tufted Wingback Upholstered Headboard, Velvet White
$499.99
Another way to get the hotel-like feel in a bedroom is with an upholstered headboard. I love this tufted white version.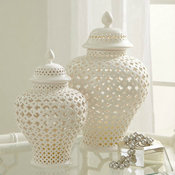 $68.00
The white color of these decorative vases lets the negative space in the design shine.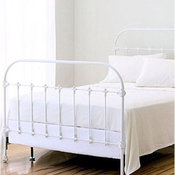 $438.00
The shape, material and color of this bed all scream "classic."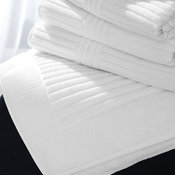 $10.00
White towels are easy to clean and maintain, and they give the bathroom a neat and modern look.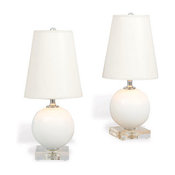 Jenny Mini Ball Lamp, White
$210.00
These vintage lamps in a matte white finish would look great against contrasting dark wood or painted walls.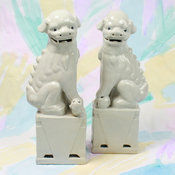 $82.00
White foo dogs are just bright enough to pop against books and bookshelf walls.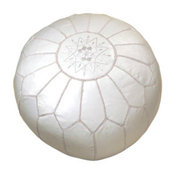 White Moroccan Leather Pouf
$285.00
To add a bohemian flair to your space, consider white Morrocan poufs. Use them as extra seating and decorative accents.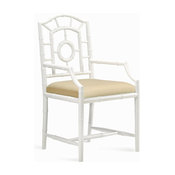 Bungalow 5 Chloe Armchair, White
$738.00
The white finish on these gorgeous dining chairs lets the detail of the backs stand out.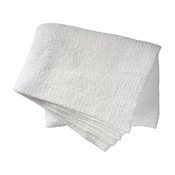 Kashwere Solid Throw, White
$134.00
A white throw can give a beach-like vibe to your bedding.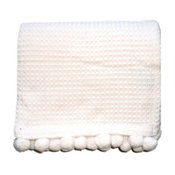 $52.00
For a more casual and playful white throw, I like this pom-pom-trimmed version.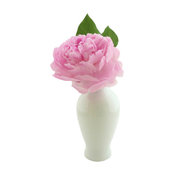 Traditional Mini Vase, White
$16.00
I love the idea of collecting white vases of all shapes and sizes and clustering them together for a bigger impact.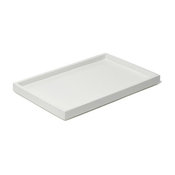 $28.00
A white lacquer tray is perfect for making appetizers or decorative accessories pop against the bright finish.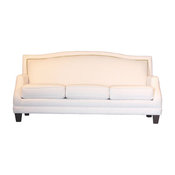 $995.00
A white couch is a beautiful choice — if you don't have kids! I love this apartment-sized version by Society Social.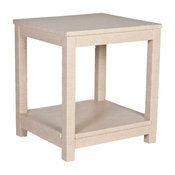 The Draper End Table, Natural Ostrich
$289.00
White faux ostrich gives this table a mega-luxurious look.Next: White Appliances Find the Limelight