Guest Picks: Decorating With Shades of Blue
I love the fresh and bright shades of blue. Contrary to old wives' tales, decorating a room in blue doesn't mean it will feel cold — it can feel decidedly warm and inviting. There are some gorgeous shades of blue in paint, wallpaper, furniture and accessories, and here are some of my top picks to inspire you to pick blue!
— Rachel from Fresh Design Blog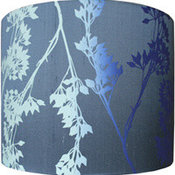 Clarissa Hulse Buds Midnight/Rainbow Drum Lampshade
GBP 82.00
This gorgeous silk lampshade by Clarissa Hulse comes in lovely shades of cobalt and pale blue.

Contemporary Paints And Stains
This is a great mid-deep-blue wall paint.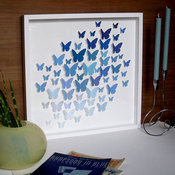 $496.62
This blue butterfly artwork is so effective — it looks like the butterflies are in flight. It uses a full color palette too, so it will go well in many a blue-themed room.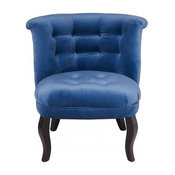 $620.93
This wonderfully luxurious velvet chair is available in several shades of blue.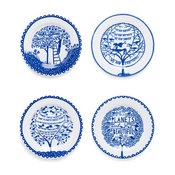 Living A Foodie-tale Plate Set
$45.99
These ceramic plates by designer Rob Ryan (a favorite of mine) are based on his intricate papercut designs. They look lovely out on display in a room.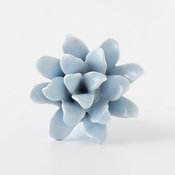 $12.00
I love how furniture can be given a fresh new look by changing the handles. Here's a lovely blue flower knob that would look great on a chest of drawers.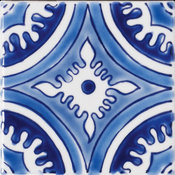 GBP 3.25
Perfect for use in a kitchen or bathroom, these gorgeous blue and white tiles are decorated by hand in Tunisia.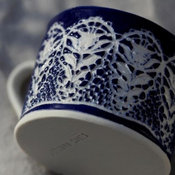 GBP 28.00
There are lots of lovely blue ceramics available, but this porcelain cup that features a French lace design is really unusual.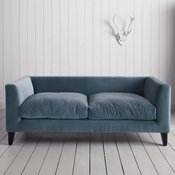 Snooze Velvet Sofa, Cornflower Blue
GBP 1,895.00
I love the name of this sofa, "Snooze," and its moody blue color. The velvet gives it a luxurious feel, and it's one you'll want to snuggle up on.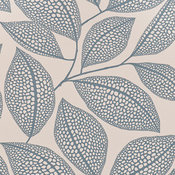 Pebble Leaf Wallpaper, Boathouse Blue
GBP 59.99
I'm a fan of MissPrint designs, both their wallpaper and fabric, and I love this blue Pebble Leaf wallpaper.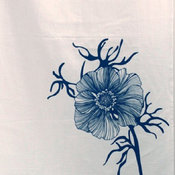 Sea Flower Tea Towel, Blue
$20.35
I love accessorizing in the kitchen using tea towels. This one has a lovely blue floral design.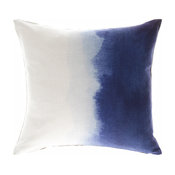 GBP 70.00
Ombré effects are on trend, and this blue and white cushion would go well in a blue-themed living room or bedroom.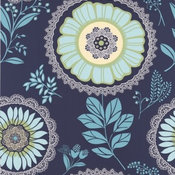 Amy Butler Lacework Wallpaper, Navy Blue
GBP 30.00
This stunning Lacework wallpaper by Amy Butler incorporates several shades of blue in an eye-catching design.

I love this shade of warm light blue paint.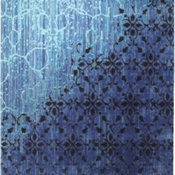 GBP 239.00
Shades of blue can be added to a room with a rug. It can be a good way of adding color to a neutral room scheme.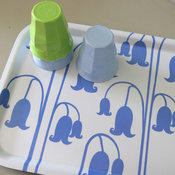 GBP 16.00
I would love to have this pretty bluebell tray for my kitchen.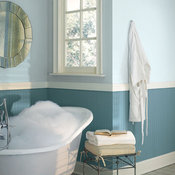 This paint color is lovely. Pair it with a light blue (as shown) to create fresh, blue and airy spaces.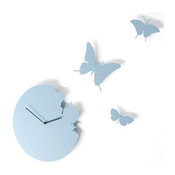 Diamantini & Domeniconi Butterfly Clock, Sky Blue
GBP 140.00
I love the contemporary feel of this clock design, with the butterflies in flight around it. This one is in a lovely sky blue color.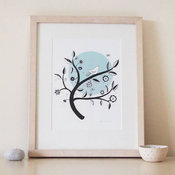 $33.10
This is a lovely blue moon print by designer Mary Kilvert. Do check out her sheep designs too, as they're also fabulous.More: How to Pick the Right Blue Paint