Guest Picks: Decorating With Maps and Geography
Most people are so proud of the countries and states that they live in, so why not use that love to decorate the home as well? Whether it be a simple throw pillow, a wall mural marking the places you've been or personalized wall art, there's something for everyone to showcase their roots. Maps can also be great learning tools for kids.
— Christine from Everyday Mama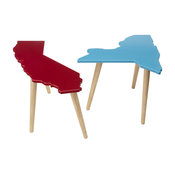 $200.00
Show where you're from with these state-shaped tables.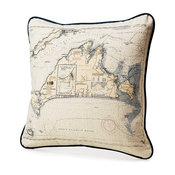 $100.00
This map pillow is perfect for a study or den.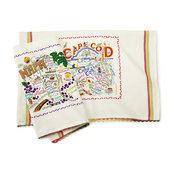 $20.00
Dish towels that showcase a special location would make great hostess gifts.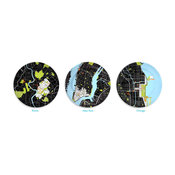 $50.00
City plates are great for a casual get-together.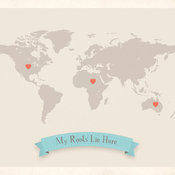 Roots World Map Customized Print, Gray by My Roots
$50.00
Showcase your roots with hearts to mark where you're from.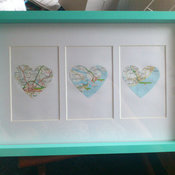 Personalised Map Gift by Holdsworth's Handmade Gifts
GBP 14.00
Customize these with locations that are close to your heart: birthplace, hometown, college town, etc.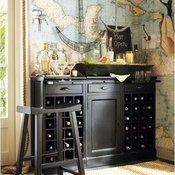 $129.00
This map decal is so cool for a corner wall. Add stickers to highlight places you've been or want to visit.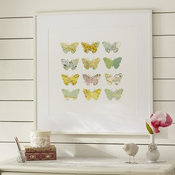 $99.00
These map butterflies are great for the girls!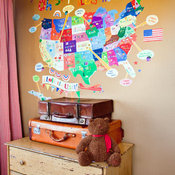 Oh Say Can You See Peel and Place Wall Mural
$109.00
This is such a bright and fun way to learn about the country.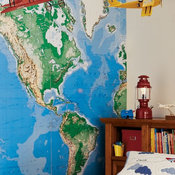 $199.00
World travelers can find delight in this Jumbo World Map mural. It would be fun for the whole family in a living room or great for the adventurer in a bedroom.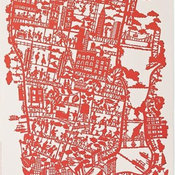 $55.00
You'll never get lost in NYC again!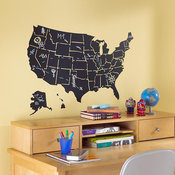 My Chalkboard, 'Tis of Thee Decal
$89.00
Put the states in order and write what you like about them. This is a great idea for learning and loving each state.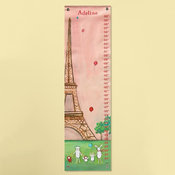 We're in Paris Growth Chart
$59.00
You can be as tall as the Eiffel Tower!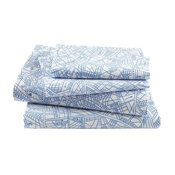 Boys Sheets: Transportation Sheet Set in Sheet Sets
$79.00
Your little driver will sleep soundly in the city street sheets.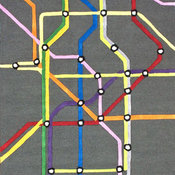 Handmade Luna Kids' Subway Map Wool Rug
$251.99
The NYC subway map makes a surprisingly great playroom rug.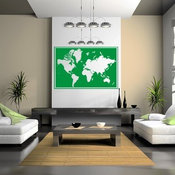 Vinyl Wall Art World Map Wall Mural
$44.95
This is the perfect centerpiece, and it comes in a ton of colors.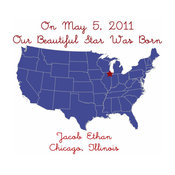 Map Birth Announcement, Navy Blue by Just Bunch Designs
$25.00
This is a great piece for the nursery.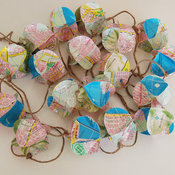 Popcorn Garland Upcycled From a Vintage Map by Granny Panty Designs
$44.00
A map garland using vintage maps would be great for a bon voyage party, or just everyday decor.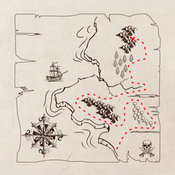 Pirate Treasure Map Removable Wall Decal by Nothin' but Vinyl
$39.99
A treasure map decal is so much better than one showing where you live.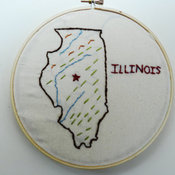 Illinois State Map Wall Art, Hand Embroidery by Blue Leaf Boutique
$30.00
This combines two of my favorite things: embroidery and maps! It's a great way to showcase a summer trip in your home.Next: Expand Your Horizons With Map Wallpaper and Decor