Guest Picks: Decorating With Contemporary Wall Decal Stickers
Would you decorate your home with wall stickers? Gone are the days when decals were purely used for adding interest and character to children's bedrooms or nurseries. Now there are plenty of options for all of the areas in your home, so it's a decorating option well worth exploring. Whether you want funky, stylish, functional, decorative or inspirational, there are some brilliant contemporary wall decals to choose from. Here are some of my favorites.
— Rachel from Fresh Design Blog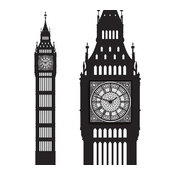 GBP 120.00
This bold wall sticker depicts London's famous Big Ben clock. It even comes with a working clock face, so you can have your very own functioning Big Ben in your home.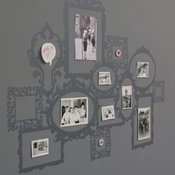 Contemporary Wall Stickers
GBP 28.00
This is a really nice idea and an easy way to create a group of "framed" pictures on a wall without having to buy and hang actual picture frames. It would be good for rental properties in particular, where you can't put nails or picture hooks in the walls.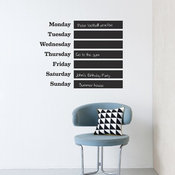 EUR 65.00
This functional wall sticker is made in the form of a chalkboard, complete with space for notes for each day of the week. It would be great in a kitchen for menu planning, in a study for keeping note of work that needs to be completed, or in a hall for noting down plans for each day.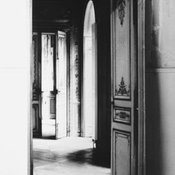 'Typically Open Door' Sticker
GBP 356.00
This shows just how impressive wall stickers can be. This open door with a view down an impressive-looking corridor is a decal like no other. It would be brilliant for opening up smaller rooms and creating an illusion of more space.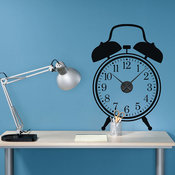 Working Alarm Clock Wall Sticker
GBP 40.00
This alarm clock wall sticker won't wake you up in the morning, but it will tell you what the time is!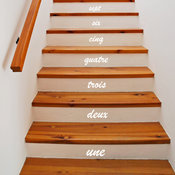 GBP 22.00
Wall stickers that come in small sizes can be used effectively on stairs, as well as on walls. This fun set spells out numbers in French.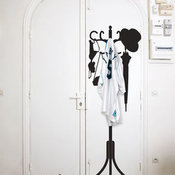 Vynil + Hanger Sticker, Black
GBP 61.90
This design looks realistic enough to be an actual coat stand. The sticker even comes with a hook, making it an effective and eye-catching contemporary piece.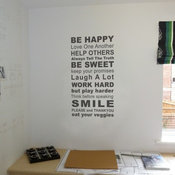 Rules of the House Wall Sticker
$54.59
There are lots of wall decals featuring quotes available. This one outlines the rules of the house and may appeal to families.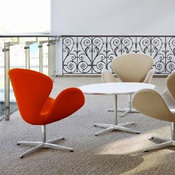 Baroque Balustrade Wall Sticker
GBP 69.99
Wall decals can add architectural detail to your home too. This sticker creates an amazing balustrade effect. It's great for alongside a balcony, patio or deck.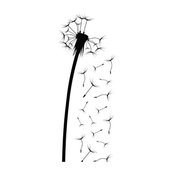 Dandelion Wall Sticker, Large
GBP 31.50
I love the design of this dandelion wall sticker. In addition to the main stem, you get 16 separate seed stickers, so you can be creative and place them wherever you wish.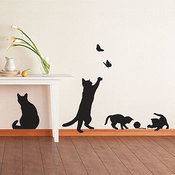 Cats and Kittens Wall Stickers
$46.80
If you can't have pets in a rental property, then maybe cat and kitten stickers are the next best thing?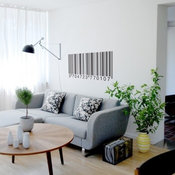 GBP 49.95
The barcode is a big part of modern packaging, and now you can add one to your wall for a funky touch.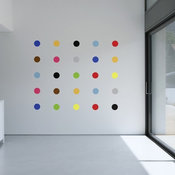 Graphics Art Deco Spots Wall Stickers
GBP 19.99
This colorful wall sticker set allows you to get creative and design your own wall art. Don't they look effective?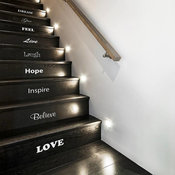 Contemporary Wall Stickers
$41.97
This set of inspirational stickers could be used creatively on a wall, or as the picture illustrates, to create a feature on your stairway.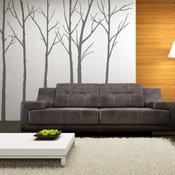 Winter Trees Black Wall Stickers
GBP 89.99
Wall decals can also help you bring a feeling of nature into your home, which is perfect if you aren't blessed with lots of views outside. I love these tree-themed stickers that can bring the feeling of a wood into your home.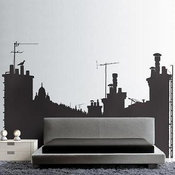 Paris Skyline B Wall Stickers
GBP 109.99
Wishing you had a better view from your apartment? How about adding the Paris skyline to your room?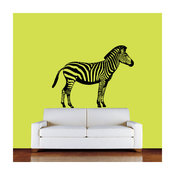 $39.99
Animals feature widely on wall decal designs too. This zebra one is almost life sized!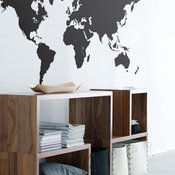 GBP 72.10
If you love maps, why not add a world map wall sticker to your wall instead of more traditional map art?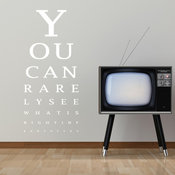 Eye Test Chart Wall Sticker 4
GBP 12.00
Classic eye chart–style designs have been cropping up in wall art over the last few years. And now they're also available in wall decal format. This one carries with it a rather apt message too!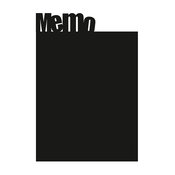 Memo Chalkboard Wall Sticker
GBP 55.00
This chalkboard wall sticker, styled in the form of a memo board, is another great example of how functional wall stickers can be.Next: Steep Your Rental in Color — Without Painting the Walls