Guest Picks: Five Abstract Artists to Consider
Thanks to the Internet, art need not be an unknown (and expensive) world for the "regular" person. So many websites offer a variety of art for every taste, and I find that my personal preference definitely skews toward modern, abstract pieces bursting with color. Since purchasing my home, I've had my eye on many abstract artists as I slowly work to build a collection of pieces to cherish. In this ideabook, I introduce you to five of my current favorite artists who are creating gorgeous pieces across the U.S. (and abroad). And the bonus is that you can actually think about bringing these pieces into your own home because they are accessible for purchase online. Enjoy!
— Daniela from Aesthetic Oiseau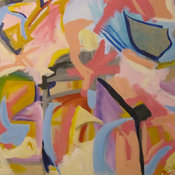 Original Abstract Love Note by Kerry Steele Fine Art
$600.00
Kerry Steele is a local (for me) Fredericksburg, Virginia artist who creates beautiful abstract work with tons of movement. I love the peachy-pink tones of this piece.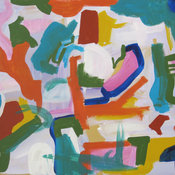 Original Abstract Acrylic on Canvas by Kerry Steele Fine Art
$130.00
This gorgeous piece with vibrant hues of teal, red and orange looks like a dance party.
Original Being There Painting by Kerry Steele Fine Art
$900.00
I see flowers in this one, but what I love most is that Kerry gives each brushstroke so much movement.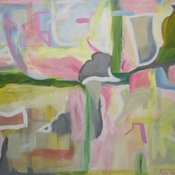 Original Abstract by Kerry Steele Fine Art
$700.00
This is my favorite piece by Kerry; I adore the pastels. This particular work would look awesome in my house!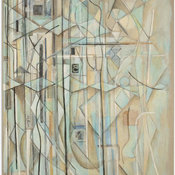 Original Abstract Painting by bangbouh
$350.00
The art of Ohio native Robert Bangbouh struck me for its architectural aesthetic. I love the linear quality to his pieces, and I love how he segments color with his lines. Although varying in tones, his works offer an "organized" approach to abstract art. This piece is a beautiful option for the modern art lover who prefers neutral tones.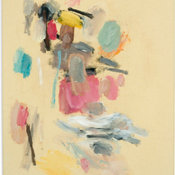 Abstract Painting on Canvas by Bangbouh
$240.00
This piece by Robert shows his less structured style with an absolutely gorgeous color palette. I would love to see this in a skinny black frame over a mantel.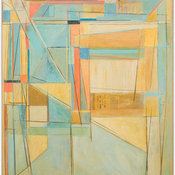 Original Painting Abstract Art by Bangbouh
$350.00
Robert's angular shapes once again take center stage with a beautiful palette of dusty blues and neutrals.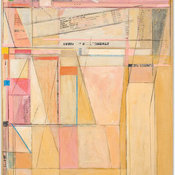 Modern Art Abstract Art by Bangbouh
$250.00
You can likely tell that I adore pink tones in modern art, and this piece is very much up my alley. I like that Robert's work is so versatile that you could hang it in any direction and always get a spectacular effect.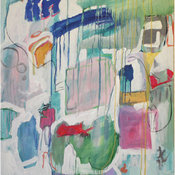 $750.00
Furbish Studio, an amazing home decor shop based in Raleigh, North Carolina, is home to a talented new artist named Keila Marino. Keila is an associate at Furbish, so her keen aesthetic and fantastic style are evident in her pieces. This piece with its gorgeous color combination and drippy textures is my favorite by her.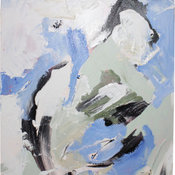 $500.00
Modern art need not be a color explosion. Keila pairs baby blue with neutrals to create a fantastic piece with a more subdued palette.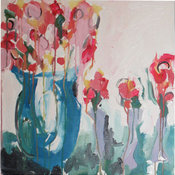 $250.00
Keila keeps these flowers from feeling frilly by bleeding their colors and allowing the drips to add an abstract dimension. This is a feminine piece that's not too sweet.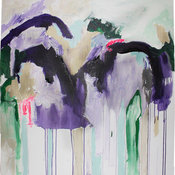 $550.00
I love the touches of bright purple and emerald paired with a very dark (almost black) purple. These regal tones would look great paired with gold furnishings.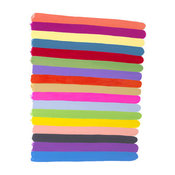 Californian Jessica Snow creates art that is contemporary and colorful. The vibrant hues of her pieces are set against white to create eye-catching displays of color. I really, really love how pieces like this look in an otherwise traditional space. The juxtaposition is often sensational. This stacked piece would look amazing in an elegant library.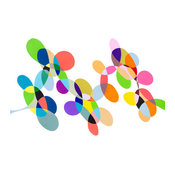 $24.00
OK, I see balloon animals. Anyone else? I'm not sure Jessica's art is really meant to be interpreted into anything real, but that's what's great about art, right? It can be anything you want. And I think these vibrant color tones are gorgeous.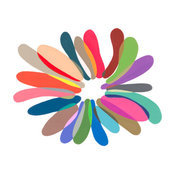 $24.00
I really like the floral quality of this one. Again, I would use it in a traditional setting, perhaps in a bedroom in a large scale over the headboard.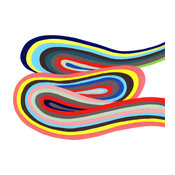 $24.00
Is it ribbon candy or a winding road? Blue and pink also make me think masculine and feminine. I love the movement Jessica has created in this piece.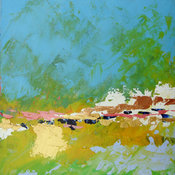 Abstract Landscape Acrylic Painting by Sally Kelly
$40.00
I discovered the work of English artist Sally Kelly when looking for art for my own home. She has a decidedly impressionist take on her pieces, but fresh color palettes make them feel modern. This particular piece reminds me of a small village nestled under a big blue sky.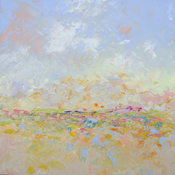 Abstract Landscape Acrylic Painting by Sally Kelly
$80.00
I truly am obsessed with modern art done in pastels, and I adore Sally's dots of color along the horizon of this piece. I get the impression of sky and water, but nothing is outlined so much that my imagination can't take over.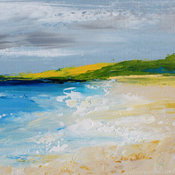 Abstract Seascape 'Embleton Bay' Acrylic Painting by Sally Kelly
$30.00
This seascape is among some of Sally's more "realistic" pieces, but her strokes still evoke movement. My favorite part of this piece is the foam from the waves.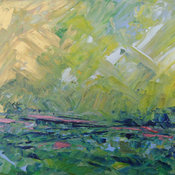 Abstract Landscape Acrylic Painting by Sally Kelly
$45.00
A stormy sea? That's what this piece reminds me of: an angry yellow sky and turbulent water. I really like how the pink tones play off the rest of the color palette.Next: Opposites Attract: Modern Art in Traditional Rooms