Guest Picks: Totally Foxed
It's funny how interior design and home accessory trends start. Wildlife often features, the bird and owl trends have been around for ages, but now it's the fox's turn. I keep spotting brilliant fox designs, from realistic and contemporary to quirky and cute, so here's a roundup of my favorites. Are you a fox fan?
— Rachel from Fresh Design Blog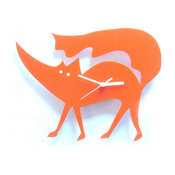 $59.55
I really like this fox wall clock; it's so unusual and quirky. It's made of acrylic and, as an added bonus, is designed to not tick, so it won't keep you awake at night.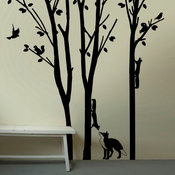 Fox and Squirrels in Woodlands Large Removable Wall Decal by Artitude U & Art
$125.00
This wall sticker features both a fox and squirrels. It is a really striking piece.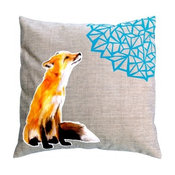 GBP 54.00
The image on this fox cushion is very realistic. The geometric design in the top corner makes this unusual cushion really stand out.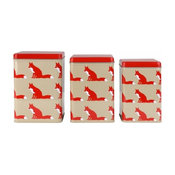 GBP 14.00
These fox-design storage tins are great for a kitchen (think tea bags or coffee), or they could be used in a study or home office for storing stationery items.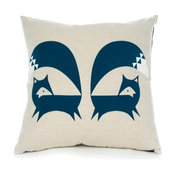 GBP 27.50
This handmade fox cushion has a lovely contemporary feel to it. Although it's also available in a traditionally foxy burnt orange shade, I rather like the contrast of the dark navy blue against the natural linen.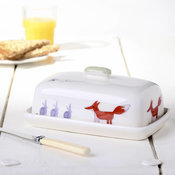 Fox and Rabbit Butter Dish
$42.53
These foxes get everywhere. Here's a lovely design alongside cute rabbits on a hand-decorated butter dish.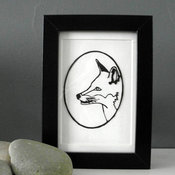 British Wildlife Cameo Papercut
$68.06
This delicate cameo artwork features a lovely fox design. There's brilliant attention to detail, and the black and white design is very striking.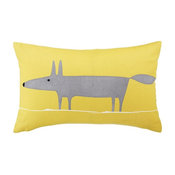 Scion Mr. Fox Cushion, Grey/Yellow
GBP 40.00
These Mr. Fox cushions prove that foxes on home accessories can indeed be warm, fun and friendly.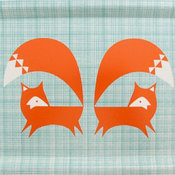 GBP 25.00
This tray complements the design of one of the cushions and features these two crafty foxes.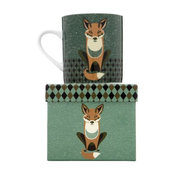 GBP 8.00
I particularly like the colors of this mug. Plus, you get a matching box that you can put to good use for extra storage.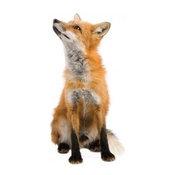 Forest Friends Fox Wall Sticker
GBP 26.95
Isn't this amazingly realistic? This fox wall sticker brings an element of wildlife right into your home.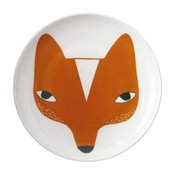 GBP 22.00
How about a sly fox for your dining table? This contemporary fox plate is handmade from bone china and designed by Donna Wilson.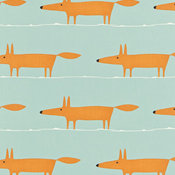 GBP 25.00
If you want fox fabric, this is perfect for turning into cushions or curtains. This collection also offers a fun Mr. Fox design in several colorways.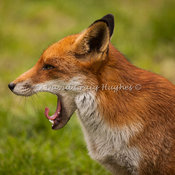 Red Fox Yawning Fine Art Photographic Giclee Print by David Craig Hughes
GBP 10.00
This excellent photographic print captures the true essence of a fox.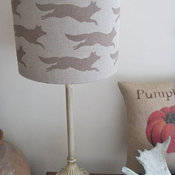 Hand-Printed Flying Fox Irish Linen Lampshade
$81.67
This natural linen lampshade has an air of rustic charm to it. It also features a flying fox design.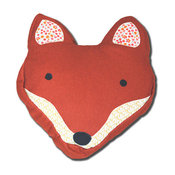 GBP 18.95
This felt cushion is a fun addition — it's shaped like a fox head!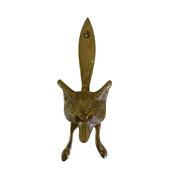 Fox Head Bedroom Door Knocker, Polished Brass
GBP 14.99
This metalwork fox door knocker could liven up the front door.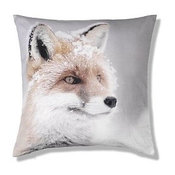 It's nice to find some slightly different fox designs amongst the quirky ones. I love the soft gray colors of this cushion.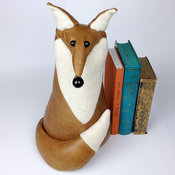 $255.22
This handmade leather fox is full of character. It can be put to good use as a bookend or doorstop.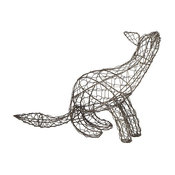 GBP 25.00
Although this looks like a piece that you could grow plants or topiary on, it's actually aimed at being a decorative object for the home. This black wire fox is a great way to bring a fox design into the home.Next: More ways to feel foxy