Guest Picks: Bird-Inspired Nursery Decor
Birds evoke a sense of playfulness and free spirit. Perhaps that's why bird-inspired decor is the perfect addition to any children's room, be it modern or traditional. Here are a few of my favorite bird-themed decor items for kids.
— Andrika from Nursery Notations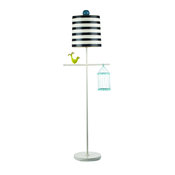 $560.00
This whimsical floor lamp, hand-painted and made by artisans in Mexico, is definitely a statement piece for any child's room.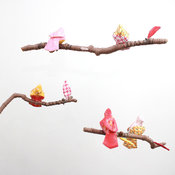 Baby Jives Fabric Bird Mobile
$162.00
This bird mobile was inspired by a mom and her son watching sparrows hop around in their yard, and the unusual shape truly sets it apart from the standard circular design. It also has a wonderful organic feeling, which I love.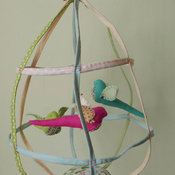 $210.00
I like the handmade, eclectic nature of this mobile, which is actually a piece of art itself. Each design is one of a kind, and this particular design includes three birds in bright blue, hot pink, lime green and light pink.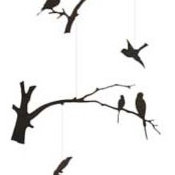 Birds of a Feather Modern Mobile
$65.00
This laser-cut wood mobile will help make that empty space above the crib in your modern nursery stand out.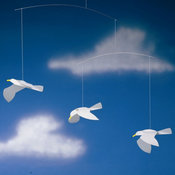 Flensted Soaring Seagulls Mobile
$36.00
Flensted mobiles were designed in the '50s and still have a minimalist charm which is in demand today. These seagulls look as if they're soaring right above the crib.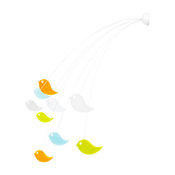 Wall-Mounted Lovebird Mobile
$30.00
This mobile cascades over your baby's crib, lulling him to sleep like a bird in its nest. The unusual shape and hanging nature of this product creates an interesting focal point in the nursery for you and your child.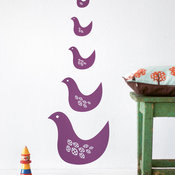 $60.00
Since these are decals, they can safely be displayed over the crib. The modern design is appealing and suitable for any decor, without being overly-feminine or stylized.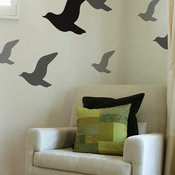 $35.00
All the excitement of bird watching without actually having to watch for birds. These flat, stylized bird decals are available in an array of colors and can be used in a boy's or girl's room.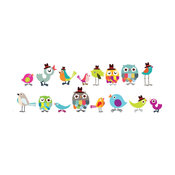 $67.00
These reusable wall decals are playful, colorful and easy to use — perfect to spice up any blank wall.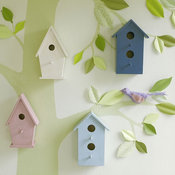 $17.99
Add wooden birdhouses to a painted tree mural or decal to create the illusion of 3-D. It's inexpensive and adorable.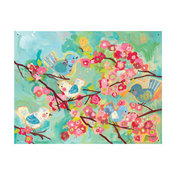 Oopsy Daisy Wall Mural Cherry Blossom Birdies
$126.00
I love the bright colors and playful design of this bird mural banner. Perfect for any child's room, this popular design hangs from grommets, making it safe to hang over a child's bed or crib.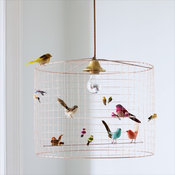 GBP 375.00
Love this contemporary take on a birdcage that also functions as a chandelier.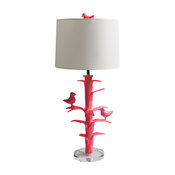 $405.00
Two adorable birds chatter in a papier mache tree. I love the color options available in this lamp, and how it's completely handmade from recycled materials by artisans in Mexico.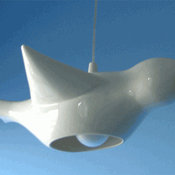 Perch! Early Bird Pendant Light
$190.00
This pendant light has it all: It's minimal, functional, and handmade. A pretty piece to hang above a chair or crib for some vertical visual interest.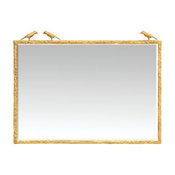 Joelle Rectangular Mirror
$1,600.00
A luxurious mixture of sophistication and fun, this piece is beautiful and timeless — a definite conversation starter. Perfect for a bedroom or powder room.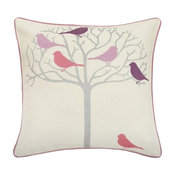 Thomas Paul Tweeter Violet Linen Pillow
$104.00
A simple and sweet bird silhouette pillow with modern flair.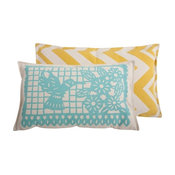 Thomas Paul Banner Aqua Cotton Pillow
$70.00
This lumbar pillow is the perfect size to throw on your glider for a splash of color. I love both sides — the bird and the chevron print.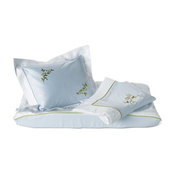 Serena & Lily Crib Bedding Set
$995.00
This is one of my favorite crib bedding sets. It can be used either for a girl's or a gender-neutral nursery. The embroidered details on the bedding truly set it apart.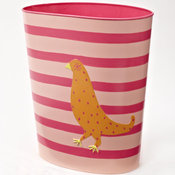 $145.00
A bright and whimsical waste basket — what's not to love? Well, maybe the price, but it's adorable just the same. Definitely put this one out for people to see!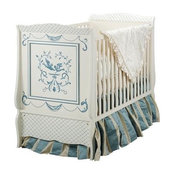 $3,500.00
Beautiful, hand painted, and made in Italy — that's really all you need to say. Added bonus: it's suitable for a boy or girl. Next: More guest blogger product picks