Guest Picks: Fresh White and Sparkling Silver Home Accents
I'm normally a fan of color in home decor and home accessories, but right now I can't get enough of pure white and sparkling silver. They're both fresh, elegant and timeless colors, and paring back the color depth in a room can be surprisingly refreshing. Here are some of my favorite home accents in white and silver.
— Rachel from Fresh Design Blog
Origami Hurricane Candleholder, Small
GBP 15.00
It's the texture and design of this fabulous Japanese-inspired origami effect that appeals to me.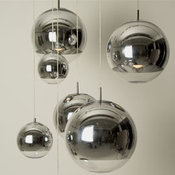 Mirror Ball Silver Pendant Light
GBP 235.00
Sometimes you can't beat a bit of shine, and there's plenty in one of these silver pendant lights by designer Tom Dixon.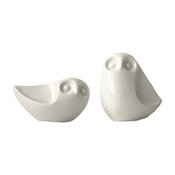 Jonathan Adler Owl Salt and Pepper
GBP 48.00
I adore Jonathan Adler's ceramic designs, and although this pair of birds are designed to be salt and pepper pots, they double up as a great accessory to liven up a shelf.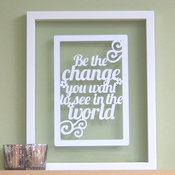 GBP 30.00
This paper wall art is delicately cut and framed and would be inspirational to hang in a hall.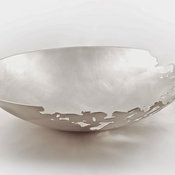 Silver Bowl Aluminium Pierced Spun Bowl
GBP 83.00
This is a lovely handmade aluminum bowl with an unusual pierced design. It would take pride of place in my home.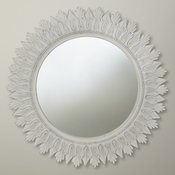 GBP 185.00
I love this design. It's a brilliant statement mirror.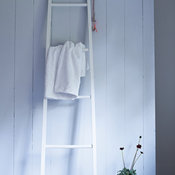 GBP 55.00
This is such an elegant and simple way of hanging towels (white ones, of course) in a bathroom.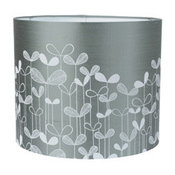 MissPrint Saplings Slate Drum Lampshade
GBP 95.00
I'm a big fan of MissPrint's work and love this Saplings design. The drum lampshade is made from white and silver silk and is a great way of updating a tired lamp.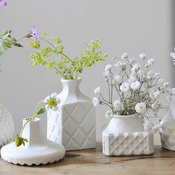 GBP 13.95
These handmade white ceramic vases with interesting textural designs tick all my boxes.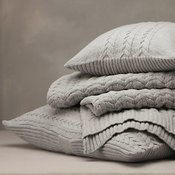 GBP 120.00
This luxury silver throw is the perfect complement to crisp white bedding.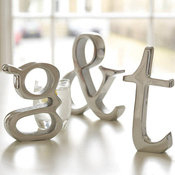 GBP 20.00
These heavy aluminum letters can be used to spell out favorite words (or drink names) and highlight initials.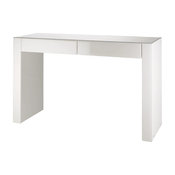 GBP 895.00
You can't go wrong with sleek, uncluttered and classic white bedroom furniture like this dressing table.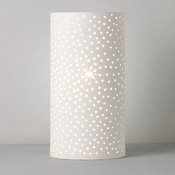 GBP 40.00
This is a nicely designed cutout-style table lamp. It's perfect for ambient lighting.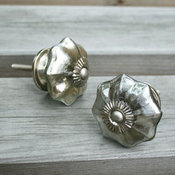 Silver Glass Melon-Shaped Door Knobs
GBP 3.95
Changing drawer handles is an easy way to update the look of a piece of furniture. I love the look of these attractive silver handles.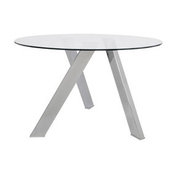 GBP 1,195.00
I like the way this contemporary dining table is constructed. It has an uncluttered design that will provide plenty of function.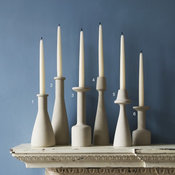 GBP 27.00
These elegant modern candlesticks reflect the true beauty of pure and simple designs.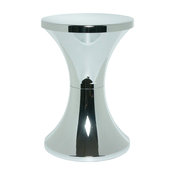 Tam Tam Chromé Low Stool, Silver
GBP 60.90
A design classic, the Tam Tam stool is one of those home essentials that has so many uses: occasional seat, side table, bedside table, garden seat, plant pot holder, etc. I can't resist the gorgeous shiny silver.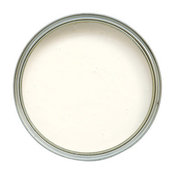 Water-Based Paint, Cotton White
GBP 32.00
Fresh and clean cotton white paint is the perfect way to refresh wall decor.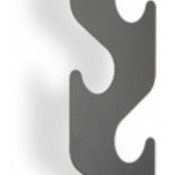 GBP 45.00
Vertical wall-mounted coat stands are a change from the usual horizontal ones, and when free of coats, this one doubles up as a form of wall art.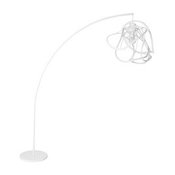 Ligne Roset Bloom White Floor Light Hiroshi Kawano
GBP 491.00
I love large floor lamps, and this funky Japanese design is a little bit different from the norm.Next: Silver Splashes Add Dash to Rooms