Guest Picks: 5 Fresh Looks for Your Thanksgiving Table
So, you're hosting Thanksgiving this year and feeling a little uninspired when it comes to setting your table. Your old plates and glasses just aren't bringin' it like they used to.
Don't worry! I have assembled a list of chic accessories that are sure to breathe some life into your table. I've even separated them into five combos to give you a little direction:
Chinoiserie Blue, Glam Amethyst, Punchy Pink, Earthy Brown and Golden Leaf.
Take your current plates, cups and utensils and pair them up with any of these items. I promise your Thanksgiving table will delight your guests and make you feel warm and fuzzy as you dine with the ones you love. —
Daniela from
Aesthetic Oiseau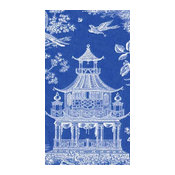 Blue Chinoiserie Toile Pagoda Paper Guest Towels
$7.00
Chinoiserie Blue: This is the perfect napkin for setting a blue and white chinoiserie table! And it's paper, so toss it as you clear the dishes. I personally prefer opting for the guest towel size for dinner napkins; the long rectangular shape looks just right in the middle of a dinner plate.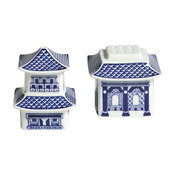 Blue Pagoda Salt & Pepper Shakers
$29.00
Chinoiserie Blue: Continue the pagoda theme of your napkins with these salt and pepper shakers. I would set these atop a small silver tray in the center of your table paired with white carnations in mint julep cups of various sizes.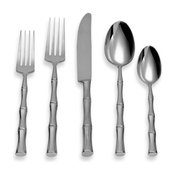 Bamboo Flatware 5-Piece Place Setting
$34.99
Chinoiserie Blue: Bamboo flatware is so, so chic. You'll want to use it as your everyday set once the holidays are over. These have definitely been on my wishlist for a long time — perhaps I need to spring for a set this year.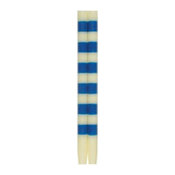 $24.00
Chinoiserie Blue: These striped candles might be my favorite discovery of 2011. They are a genius accent for your table and will look spectacular against the lovely pagodas of the napkin.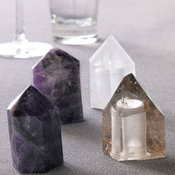 Roost Crystal Salt and Pepper Shakers, Amethyst
$168.00
Glam Amethyst: These totally luxurious gem-like salt and pepper shakers will set the tone for a table that is glamorous and edgy. I could see a very hip single gal setting a table dripping in silver and crystals with these shakers to host her best friends at a swanky Thanksgiving dinner.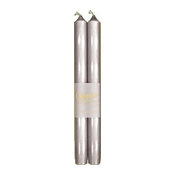 $6.50
Glam Amethyst: You can't get much more glamorous than these metallic candles. Put them inside cut crystal candle holders and your table will twinkle with style.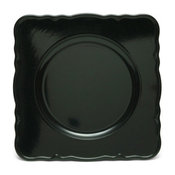 $49.99
Glam Amethyst: I don't adhere to many decorating rules, but there's one to which I hold steadfast: Every room should have a touch of black. In this case, these scalloped chargers bring a gleaming dark tone to your table. Don't forget that you'll use them under a plate, so the large swatch of black won't feel so heavy — it's a layering piece that adds some vampy dimension.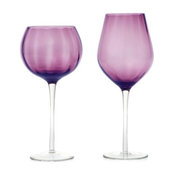 Aubergine Colored Optic Stemware
$35.80
Glam Amethyst: I own these wine glasses and I love them. And they come at a fantastic price! Colored glassware is an instant way to inject some life into your table setting — and paired with the shakers, candles and chargers, your table will definitely be totally glamorous in its amethyst hues.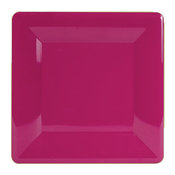 Fuchsia Lacquer Large Square Plate Charger
$9.50
Punchy Pink: Who says Thanksgiving can't be punchy and preppy? This charger creates the perfect foundation for a bright and colorful Thanksgiving table. If you're celebrating the holiday at the beach or in a warmer climate, you should embrace these brighter options instead of the traditional rusty oranges and deep maroons.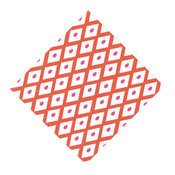 Coral Goldfish Paper Dinner Napkins
$7.00
Punchy Pink: These make the perfect pair for the charger; this fun geometric pattern will look amazing placed in the middle of a crisp white dinner plate. Again, this option is paper, which I love for entertaining since I don't have to do a load of laundry when the guests leave. This paper napkin is also perfect to tuck a little slice of dessert inside to send home with your guests.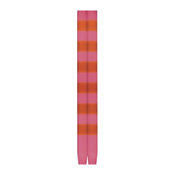 $24.00
Punchy Pink: Stripe candles strike again! I could literally set every single table for every single holiday with these waxy treats. They are so happy. And don't we usually overlook candles and just go with white ones? Switch it up with something unexpected to match the tone of your charger and napkins.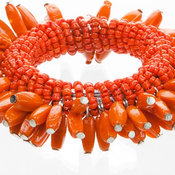 $12.00
Punchy Pink: Remember how I said that the geometric napkin will look pretty on a white plate? Imagine it rolled up inside this funky, beaded napkin ring. It's a great layering piece that will add dimension, color and texture to your table.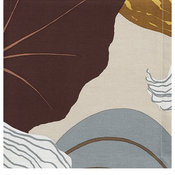 $8.95
Earthy Brown: This lovely napkin has all of our earthy brown tones in it, but I love the small pop of blue. It's a very sophisticated option if your taste leans more toward organic neutrals.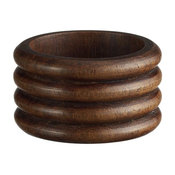 $2.95
Earthy Brown: The clean lines and warm wood tone of this napkin ring make for a very handsome table.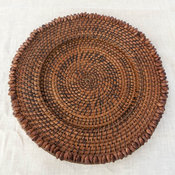 Pearl Dragon Rattan Charger
$30.00
Earthy Brown: I think a rattan charger is really versatile. In this case, it's very warm and earthy. But you can also pair it with bright colors for a summery look or with whimsy toiles for a chinoiserie look. You'll be able to use it year-round.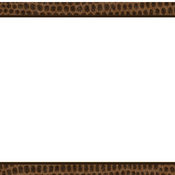 $8.50
Earthy Brown: I love these lizard place cards as a chic option to signal seating arrangements to your guests. Or, perhaps have each guest write down what they are thankful for as they walk in and then use these sentiments instead of names to assign seats. During dinner, each guest can read their card.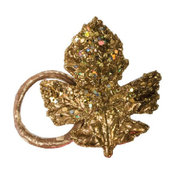 Antique Gold Leaf Napkin Ring
$4.50
Golden Leaf: If you love the classic autumnal motifs of Thanksgiving, these gold leaf napkin rings are the perfect accent for your table.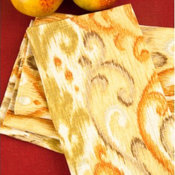 $28.00
Golden Leaf: Ikats and ethnic fabrics are most definitely all the rage in home decor. Perhaps you can't commit to pillows or chair upholstery, but you'd like a little dose of these tribal prints in your home? Napkins are the perfect, non-committal way to introduce a pattern to your table. And the warm tones of this set will look beautiful paired with a variety of dinner plates.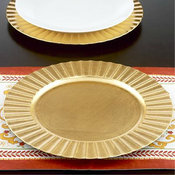 $11.96
Golden Leaf: The golden ridges of this charger will give your table some dimension and frame your dinner plate beautifully with its sun-like rays.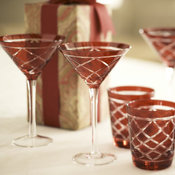 $42.00
Golden Leaf: The cute pattern of these glasses will look spectacular in candlelight. The rich red hue paired with the mustard-tones of the napkins create the most beautiful backdrop of autumnal warmth for your Thanksgiving table.Next: More stylish tabletop pieces