Guest Picks: 20 Stylish Serving Trays
Whether you're serving hot beverages, chilled cocktails or tasty bites, these trays will help you serve your guests this holiday season in a functional and stylish way. I've got you covered in all styles f
rom earthy to glamorous
. There's a tray in here for everyone! — Jami from Imagine Design Blog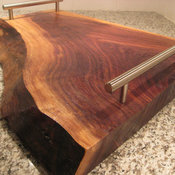 Live Edge Black Walnut Serving Tray by KRW Studios
$85.00
Now this is what I'm talking about — I love this tray. I'd serve up some tasty cured meats, cheeses and fruits on this bad boy and pair them with some Belgian beer.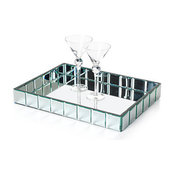 Contemporary Serving Dishes And Platters
$79.95
This one is sparkly, so you can bring out the bling the next time you host. I could totally see this in my home, and I'd use it for the upcoming holiday celebrations!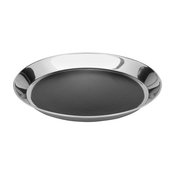 Hourglass 14 Inch Stainless Steel Serving Tray
$35.00
I love this classic little round silver tray. It is a high-quality product (made from stainless steel), but it also has high style. It's simple, sleek and chic.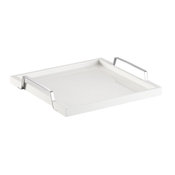 $49.95
This tray is clean, crisp and modern — all things I love. I could imagine serving some Blue Snowflake martinis on it at a holiday party. The handles also make it easy to carry around and serve your guests.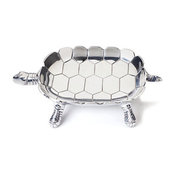 $34.95
I'd love to serve some cocktails at my next get-together on this quirky and cute turtle tray. It's unexpected and a conversation starter. Turtle power!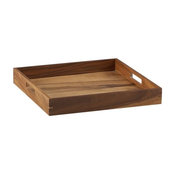 $34.95
Go natural with this little wood specimen. Serve up some hot cocoa or apple cider to your sweetie and snuggle up in front of the fire. This tray adds warmth and texture to any space.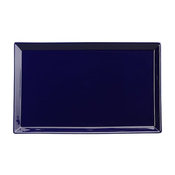 $42.95
I love the shape and color of the Camille Tray. Blue isn't a traditional Christmas color, but I'd love to infuse a bit of this hue into my next holiday color scheme.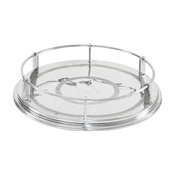 $49.50
I love this circle tray as a gift. You can have it monogrammed with your friend's initials to turn it into a beautiful personalized gift that you can put under the tree.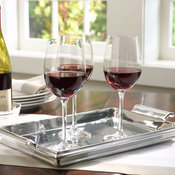 Chancellor Rectangular Tray
This is the perfect tray for serving up some wine or delicious snacks, and it's easy to carry around because of the handles. Plus, it's a nice substantial size so you can place plenty of goodies on it to serve to your guests.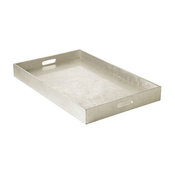 Large Rectangle Lacquer Trays
$59.00
I love the sheen of this tray. It's not too in-your-face shiny, but it provides that perfect amount of shimmer to go with some soft candlelight. Serve up some hot toddies and call it a night.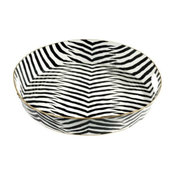 $85.00
Get wild and infuse some animal print into your holiday decor scheme. I just love this zebra print!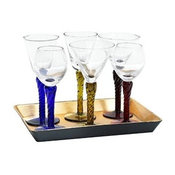 Cordial Stemware with Gold Tray
$25.00
Not only do you get the gold tray, but you also get six cordial stemware too. How perfect is this little setup for some after-dinner port at your next dinner party?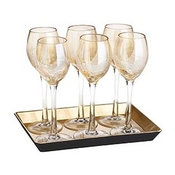 Amber Crackle Cordial Stemware with Tray
$26.95
If you're not into the colored cordial stemware from above, then maybe you'll like this sophisticated set of amber crackle stemware instead. It's a beautiful neutral color that would go well in any setting.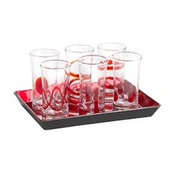 Shot Glasses Set with Red Tray
$24.95
These shot glasses are perfect for that holiday cocktail party you're throwing for yourself and your friends. Cinnamon schnapps shooters, anyone? Bottoms up!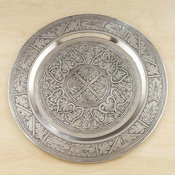 $24.99
Add some global influence to your holiday decor with this Etched Metal Bar Tray. I love the intricate design, and I think it'd be perfect for serving wine and cheese.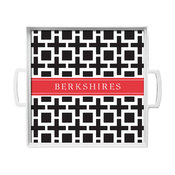 Personalized/Monogram Square Pattern White by Lovey Dovey Creations
$55.00
This would be another perfect personalized gift to bring to your host or hostess. You can have it monogrammed, add a family name or use a favorite phrase.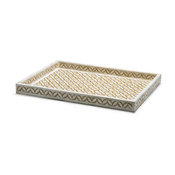 $895.00
This one costs a little more than I'd ever spend on a tray, but it's gorgeous and I just had to share! I love the buff and cream color palette — so chic. Share some tasty treats with this tray or simply put it on display as art.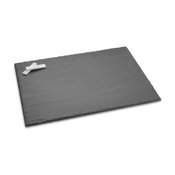 Slate Cheese Serving Board
$31.96
Inform your guests about the cheeses they are being served with a chalk note on this slate tray. Or if you're not serving cheese, maybe do some wine tastings and write the names below.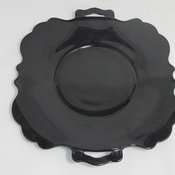 Vintage Black Milk Glass Serving Tray by Tie The Knot Vintage
$55.00
You can't go wrong with black. This is the perfect holiday accessory to serve up some cookies or hors d'oeuvres. I love the shape and color of this tray — vintage and unique.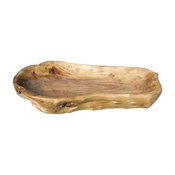 Carved Wood Serving Platter
$20.79
Add a rustic touch to your next Thanksgiving meal. I think this would be the perfect tray for holding a beautiful cornucopia of fruits, nuts and veggies.Next: Serveware in every style