Much bigger than our space but similar dimensions around window with tub. We would not close in shower this much but look at proportions if we did half wall or framed the top.
Another view of previous saved pic.
This is about the size of our shower and same location re: toilet. We will have less space around toilet and door on other side. Also, no room to continue tile out of the shower. This design maximizes light in shower and keeps toilet from feeling too closed in. Need to talk to Harlie about whether we can hinge door on corner with glass.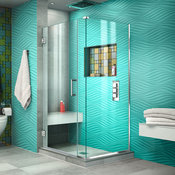 DreamLine Unidoor Plus 33 1/2"x30 3/8"x72" Shower Enclosure, Chrome
$773.70
We do not like this much glass
Example for frameless glass door hinged on glass without top bar.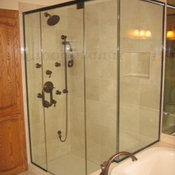 Framless Return Shower Doors with Knee Walls
We do not want a frame like this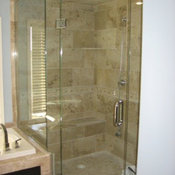 Framless Return Shower Doors with Knee Walls
Neo angle example like Harlie mentioned