Guest Picks: Industrial Chic
What's your favorite home trend? One of my current favorites is the industrial chic look with its strong metallic materials, use of reclaimed and replica furniture, and factory-style influences. Modern and contemporary industrial pieces work so well alongside original, reclaimed and vintage designs. This provides the perfect opportunity to be creative and create your own unique look.
There are so many ways this style can be incorporated into interior design — from furniture and home accessories to wall coverings and funky lighting — and there are great options available for all budgets. Here are some of my favorite picks for creating an industrial chic home.
— Rachel from Fresh Design Blog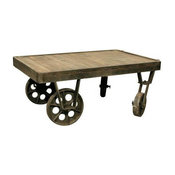 GBP 595.00
This is a great coffee table! It has heaps of character, and it's a great piece to add to an industrial-style interior scheme.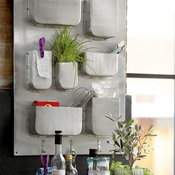 Industrial Wall Storage by House Doctor
GBP 169.99
I love this aluminum metal storage unit because it would work so well in a variety of different rooms. You could hang it on a kitchen wall to store kitchen utensils, in a study for office and desk essentials, or even in a bathroom to use the metal pockets for toothpaste and toothbrushes.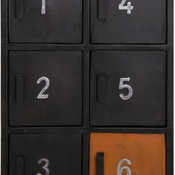 GBP 395.00
Funky and functional, this metal storage cabinet could work really well for storing children's toys. All they'd need to remember is the number of the door where things should be stored.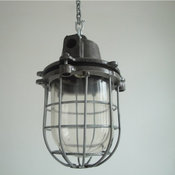 Czechoslovakian Factory Lights (Large)
GBP 340.00
Oozing with true industrial charm, these eye-catching pendant lights were originally from a Czechoslovakian factory. I'd suspend them from my ceiling with steel chains.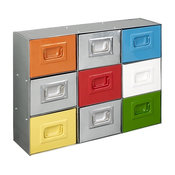 John Lewis Chest, Multi, 9 Drawer
GBP 50.00
This is a perfect little piece of industrial chic. It's great for using on a desk for storing paperclips or rubber bands, or you could put it to use in the kitchen for storing teabags.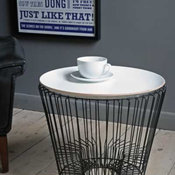 Modern Side Tables & End Tables
GBP 109.00
I love the design of this magazine rack side table. Magazines slot into the wire mesh on the base, keeping everything organized and in one place.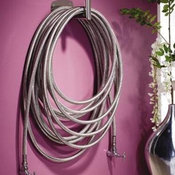 GBP 995.45
What does this look like to you? Amazingly, it's a modern industrial-style radiator, produced in a hose design. It's really unusual and a definite talking point!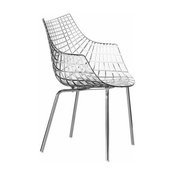 GBP 237.00
This designer chair has a great contemporary feel to it. The criss-cross nature of the chrome steel structure adds interest and character to the design.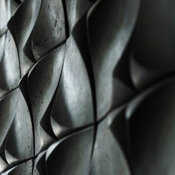 Wow, these tiles are amazing! They're handmade and full of texture — you just want to reach out and touch them. This one has a concrete-like finish, which is perfect to add interest to walls in an industrial chic scheme.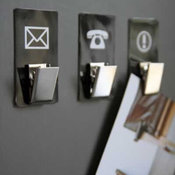 Modern Home Office Products
$10.00
These are so clever. The clips use static to keep them on the wall (so no need to put any DIY skills into action), and they are great for keeping notes and memos handy. The shiny metal of the clips gives them an industrial feel.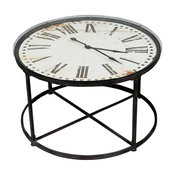 Eclectic Side Tables & End Tables
GBP 295.00
This isn't going to tell the time, but I love the style and design of this table, which incorporates a distressed antique metal clock.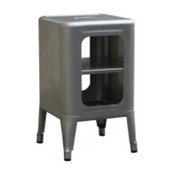 GBP 264.00
Any industrial scheme has to have a piece of Toilx furniture in it. This is a great stool that has multiple functions: it's a seat, it's a bedside table and it's storage.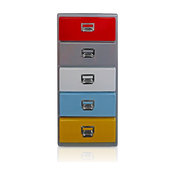 Dulton Five Drawer Storage Chest
GBP 225.00
This adds a wonderful splash of color to a room, while still being super practical. There's space in the chrome-plated handles to add labels, so you'll never forget where you've stashed your paperwork or treasures.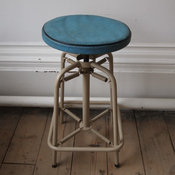 Vintage Industrial Hospital Stool
GBP 65.00
Suitably quirky but also very comfortable, this 1950s industrial stool was originally used in a hospital. The spring construction on the frame adds interesting detail.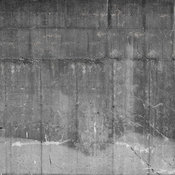 For an urban industrial feel, try adding the look of concrete to your wall. This amazing wallcovering is part of a collection featuring no less than 36 different takes on the material. Who knew concrete could look so good?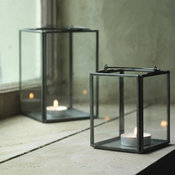 Set of 2 Glass Box Lanterns
GBP 16.95
I like the unfussy design of these glass lanterns. They're a great way to add softer light into a room at night.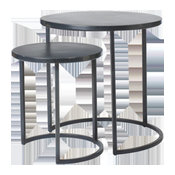 GBP 179.00
This set of iron nesting tables with clean, curved lines would work well within an industrial theme.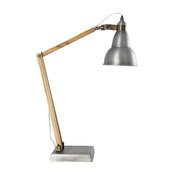 Industrial Table Lamp by House Doctor DK
GBP 195.00
The brushed aluminum of this lamp works so well with the wood. It's a bit softer than some of the other pieces, and it's perfect if you want a touch of industrial style in a room. It would be great for use in a bedroom, study or lounge.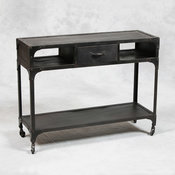 Industrial Style Metal Console Table
GBP 270.00
This metal console table is narrow enough to fit into a hallway. It's also on castors, which makes it so easy to move around.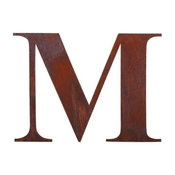 Personalised Rusty Metal Initials, Words or Numbers
$15.60
If you love typography, then these rusty metal letters can be used to create your own wall art or decorations to prop on a mantelpiece. Pick a single letter, initials or a favorite word.Next: Industrious Casters