Understanding Cost Variation In Frameless Shower Doors
We contribute to many trade publications (US Glass, Dwell, CRL) and over and over again, this is the single most popular question we are asked by pros and homeowners a like. We thought our friends here on houzz may enjoy this as well.
Visit our
website
for more about our company
Article By: ATM Mirror and Glass, Westchester County-NY. Phone: 914-941-4230

Frameless shower doors are one of the most popular selling items in a glass shop and/or shower door store. We have more inquiries on frameless shower doors than any other service. And for good reason. Below are some of our most popular requests.
Q: I am getting prices for my shower door. I know I am getting the same thing from each place, please explain why the prices are so different- is one guy trying to rip me off?
This is our single most popular question and the answer is simple- you are not getting the same thing from each place. We cannot stress this enough. Unlike a finished product such as an automobile or brand name product, each fabricator for frameless enclosures has their own system and there is a great deal of leeway regarding what a frameless shower door actually "is" ; not all providers have the same interpretation . Crazy, right? But extremely common. Some places consider "U" channel method of installation frameless, whereas other others, such as us, consider the clamp method as frameless and have re-branded the "u" channel method as semi-frameless. It's very easy to get caught up in industry provided jargon "add ons" and "standards".
First: Is the enclosure being installed with "U" channel or glass clamps at fixed panel locations. Look at your proposal carefully, this method should be clearly defined. If it's not included, ask!!! "U" channel is considerably less expensive because: (a) the aluminum material is much less expensive than the brass construction fittings (typically) used in a fully frameless clamp method system. In addition, there is much less glass processing: installing with "u" channel allows for less accurate glass cutting (entry level technician can process) and no fabrication to house glass clamps. Sometimes you will see the "u" channel being installed at the base sections of fixed panels and a clamp at the wall. A frameless enclosure installed with glass clamps will generally add 20%+ to the cost of the enclosure due to the cost of the fittings as well as the additional glass processing required. This method also requires more precision measuring and installation- you will have a more experienced technician perform this installation. You will often see the term "fully frameless" included in the description when glass clamps are being used.
Homeowner tip: the "u" channel method has been largely phased out by architectural glass standards as a "frameless shower door- preferring the clamp method as a fully frameless shower door. Many higher end glass companies will have re-branded the "u" channel method for installation as a heavy glass semi frameless or similar.
Second: What type of hardware construction is being used? Look for terms such as "brass construction" "anodized construction" and "look-alike". With our frameless enclosures, we only use brass construction fittings - plated with whichever metal finish complements your decor (such as chrome, nickel and the like). These fittings are superior to their aluminum counter-parts and are designed to house proper weight loads of glass- meeting and exceeding structural requirements. Some places will use aluminum fittings standard (using terms such as chrome anodized, brushed nickel anodized) in their frameless enclosures. With an add on option to upgrade to brass. Personally, we feel this isn't a detail that can be compromised as using aluminum fittings (unless in the case of using "u" channel where the entire perimeter of the glass will be secured) will greatly reduce the enclosure's structural integrity. Remember, glass panels using heavy glass can be just that...heavy. And it can be dangerous if not engineered properly. Just because a hinge or clamp looks the "same" as what another company is proposing, do not assume! Methods for securing glass with fittings can be totally different: types of fabrication needed to secure panels can vary greatly- just as the construction can vary. And each clamp has different weight tolerances as a result. Ask for part numbers when possible.
horror story:
A few years back a we received a phone call from a woman we will call Lynne located in New Rochelle, who was referred to us by a neighbor we had done a shower enclosure for. Lynne recently had a frameless shower door installed by another popular company in the area, and although she was pleased with the appearance of the door, the door kept hitting the fixed panel and knew this didn't seem right. She contacted the neighbor to ask if she had similar situations with her door and advised, "no" which was when she contacted us. Lynne stated the company had come out three times to adjust since the installation but it seemed to be an ongoing situation and wanted an alternate opinion. Was there this much maintenance on a frameless shower door? If so, why wasn't she told this?
Our findings: this enclosure was installed with absolutely no safety or engineering making it dangerous and an accident waiting to happen. The enclosure was constructed of 1/2" glass- panel, door, panel configuration. The fixed panels were secured using "U" channel that had been cut into 2" pieces, to resemble clamps- yet requiring no fabrication to house the "clamps". Truthfully, we had never seen anything like this. The "u" channel is not designed to be used this way and was not nearly strong enough to house the 200lbs+ panel. The door was hinged off of this fixed panel (which would also add to the pending failure of this fixed panel). Upon opening and closing the door, the fixed panel flexed horribly- clearly showing the flawed design and installation. Our second finding was the hinges used. Our tech removed the door and removed the hinge. He called into our office with the part number on the hinge and found the glass weight of the door exceeded the hinge's weight capacity by 30lbs. Between the fixed panel flexing and the door glass slipping from the hinges, the door was hitting into the the other fixed panel (also installed with the make-shift glass clamps). We advised Lynne to not use this enclosure at all and advised that it be taken down immediately to avoid any pending injury.
Lynne contacted her contractor who hired the provider of the glass door, she was refunded in full and filed a complaint with the Better Business Bureau.
Lesson: Do not assume that just because someone has a legitimate business, they provide a
legitimate
product.
Other factors that contribute to price change:
*
configuration variations (glass to glass hinging is more expensive than wall mount or pivot hinging)
*
header-less designs are more expensive than with a header. If your enclosure has a return panel, such as a 90 degree or 135 degree, how are these panels being "tied" together? Through the glass clamps are more costly than "sleeve over" clamps that fit over the top of the glass. Through the glass is a higher end look and requires more expensive hardware fittings and additional glass processing.
*
1/2" glass is more expensive than 3/8"- (be sure to find out if you are getting standard clear or more costly low iron products)
*
installer- a senior level technician is more expensive than someone who is at entry level
What to watch for: If you receive a quote that is drastically lower than someone else, chances are you're having a less qualified installer perform the work OR some major corners are being cut. Now when I say drastically lower, I mean your getting prices of $1500.00-$1680.00 from others then a company comes along and gives you a price of $750-800.00 installed. There is a reason why.

You are not getting the deal of a lifetime

. Some of the factors that can cause a price to be significantly lower:
*
Unskilled or entry level installer
*
Company doesn't carry proper insurances
*
Company is using illegitimate workers
*
Improper glass is being used for the shower door.
*
lesser quality hardware or make-shift hardware is being used.
Again, we cannot stress enough- prices from companies that are almost cut in half from others you have been getting should be crossed off your list!!!!
Homeowner- Contractor Tips:
A picture is worth one thousand words. If you have a picture of what you would like, provide that to the estimator, he/she can get a better idea of what you are looking to achieve. They will also be able to advise what elements can possibly be adjusted to have your project more within your budget's range. Some seemingly small details can make a change in cost without altering safety and integrity.
Take one of your mid range proposals and your proposal that is significantly higher and ask them to be compared- in writing. A legitimate company will NOT have any problem specifying part numbers that will be used for the construction of your enclosure with the manufacturer name. Also ask for a layout drawing- so you can see what is being proposed. If both are in par, the more significantly more expensive guy may not have as great of buying power as the lower cost (or might be looking to line his pocket more) . Always always always get details put in writing with a drawing when possible. The much more costly company could be offering a much higher end product- and if that's the case, ask your mid range guy to price the same way. At the end of the day, see where they compare and what details are important to you.
Author: Robin Selesky-Operations Manager, ATM Mirror & Glass, Westchester County, NY
(c) ATM Mirror & Glass: 2012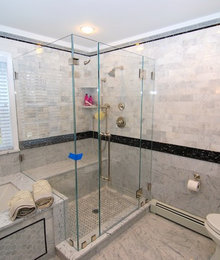 ;
Fully frameless corner enclosure. Showing use of glass to glass hinges, structural glass clamps and 90 degree through the glass corner clamp.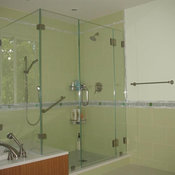 Corner Frameless Glass Shower Enclosures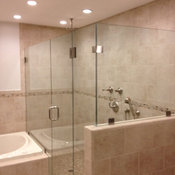 Frameless Shower Enclosure with 90 degree return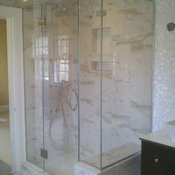 Frameless Shower Enclosure
This shower features a hybrid of styles- U channel at at the base and sections and clamp at 90 degree junction. This enclosure would be about 20% less than the same enclosure using glass clamps and styled as "fully frameless".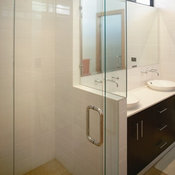 Corner Frameless Shower Enclosure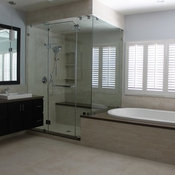 Frameless Shower Doors, Frameless Glass Enclosures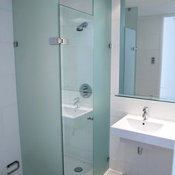 Frameless Shower Doors, Frameless Glass Enclosures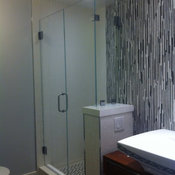 Frameless Shower Doors, Frameless Glass Enclosures
This shower offers a header less design and is installed without "U" channel.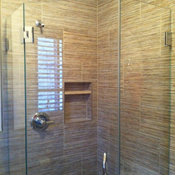 Frameless Shower Doors, Frameless Glass Enclosures