Interiors by Shannon Bieter LLC
Interior Designers & Decorators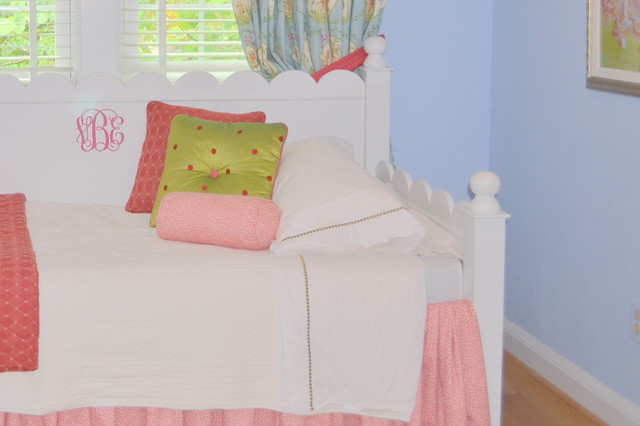 A Room Fit For A Modern Princess
Recently, I had the chance to
decorate a bedroom
for the daughter of my college roommate. Little did we know years ago while attending the University of Arkansas the two of us would end up living in our nation's capital a mile from each other with daughters who had the same initial.
We began working to create a colorful,
whimsical room
. The little girl I was designing for is a modern-day princess who loves soccer, reading, and -- when her big brother isn't looking --plays dress up, too. It was important for me to find unique but quirky items that would make her laugh. We looked through fabrics at the DC Design Center and selected Robert Allen and Kravet fabrics. I began sketching window, bedding and pillow designs for the local sewing room to create. I found a colorful art piece and had it framed for the space. We created a floor plan for the room with a lot of play areas. We then started designing a scalloped daybed for the space and had it monogrammed in a bright color.
I hear parents say kids' furniture looks so mass-produced and offers limited choices. Also, so many wood products coming from Asia are not weathered properly. The wood tends to crack during dry or humid months. But if you do some digging you will find many small US companies dedicated to making quality products with a custom look. Their products will not always be the least expensive, but they will be durable and last for many years.
Here are two of my favorite kids' furniture vendors, which I used in this room: Stray Dogs is a family-owned company out of Tennessee. I came upon this company at High Point market in North Carolina several years ago, and every year I've returned to market I head straight to their charming showroom. They have funky items that aren't mass-produced. All of their designs are handmade by local artisans using quality recycled materials. They also give a portion of every sale to support animal shelters or other charities.
Seabrook Classic is a company I discovered on a trip to Charleston. If you want a custom-designed bed the sky is the limit with this company. They also make custom-size specifications pieces for awkward spaces. All of their furniture is made out of hardwood in the US. The only catch is you need to be patient; this is not a company to order from if you need a bed tomorrow, and most pieces take 12 to 20 weeks. The
scalloped
daybed we ordered for my friend's daughter took 16 weeks due to the summer humidity that hindered the painting stages. The adorable bed was worth the wait and will be with this little girl for a long time.
What Houzzers are commenting on: