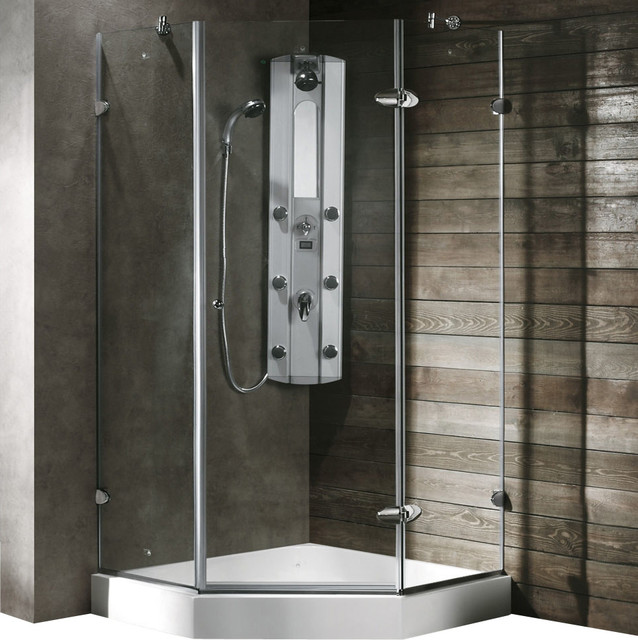 Vigo 38 x 38 Frameless Neo-Angle 3/8in. Clear/Chrome Shower Enclosure with Whit
Quantity:
Out of Stock
Free Shipping!
Only 4 Left!
Both dramatic and space-saving, the Vigo frameless neo-angle shower enclosure creates a beautiful focal point for your bathroom.

Features:
*Shower enclosure installation makes an excellent home improvement project
*Single water deflector redirects water toward the inside of the shower
*Side clear seals keep the door watertight
*Full-length magnetic catch allowing the door adjustment and waterproof protection
*Clear PVC side gasket installs vertically onto door to ensure a water-tight seal between door and side panel when the door is in the closed position
*3/8 Clear tempered glass ANSI Z97.1 certified
*Chrome plated solid brass construction hardware, Vigo lifetime guarantee to never rust
*Hinges made of solid cast brass with all stainless moving parts to ensure superior quality and durability.
*Self closing hinge allows smooth closing of the door.
*Sealed hinges providing functionality and leak-proof protection
*Fixed arm support ensures wall anchoring and reinforces wall stability
*Discrete, round door handles mounted on pre drilled glass
*Reversible left or right swing door
*Central opening for easy access to the shower
*Overall dimensions: 36 1/8in. W x 36 1/8in. L x 73 1/3in. H
*Door swing 24 1/2in.
*Limited Lifetime Warranty
*Shower Tray
*Constructed of acrylic with fiberglass reinforcement, this Vigo shower base features textured bottom for added safety
*Durable cross-linked cast acrylic shell is extremely scratch and stain resistant, yet renewable because the color goes all the way through the material
*Non-porous surface makes cleaning and sanitizing faster and more effective
*Multi-layered backing of thick fiberglass / resin encloses wood reinforcement to prevent flexing of floor pan
*At least 30% thicker and stronger than other makes
*Pre-leveled with integral tile flange on 2 sides to facilitate installation
*Textured bottom for extra safety
*Standard 3 1/2in. pre-drilled drain opening
*Overall dimensions: 38 1/8in. W x 38 1/8in. L x 5 7/8in. H
*Model number: VG6061CHCL38W
*2 Year Limited Warranty
Product Specifications
Manufactured By

Vigo

Sold By

Category

Style
Ready to ship to the Continental U.S. in 3 days.
Product Description
Both dramatic and space-saving, the Vigo frameless neo-angle shower enclosure creates a beautiful focal point for your bathroom.

Features:
*Shower enclosure installation makes an excellent home improvement project
*Single water deflector redirects water toward the inside of the shower
*Side clear seals keep the door watertight
*Full-length magnetic catch allowing the door adjustment and waterproof protection
*Clear PVC side gasket installs vertically onto door to ensure a water-tight seal between door and side panel when the door is in the closed position
*3/8 Clear tempered glass ANSI Z97.1 certified
*Chrome plated solid brass construction hardware, Vigo lifetime guarantee to never rust
*Hinges made of solid cast brass with all stainless moving parts to ensure superior quality and durability.
*Self closing hinge allows smooth closing of the door.
*Sealed hinges providing functionality and leak-proof protection
*Fixed arm support ensures wall anchoring and reinforces wall stability
*Discrete, round door handles mounted on pre drilled glass
*Reversible left or right swing door
*Central opening for easy access to the shower
*Overall dimensions: 36 1/8in. W x 36 1/8in. L x 73 1/3in. H
*Door swing 24 1/2in.
*Limited Lifetime Warranty
*Shower Tray
*Constructed of acrylic with fiberglass reinforcement, this Vigo shower base features textured bottom for added safety
*Durable cross-linked cast acrylic shell is extremely scratch and stain resistant, yet renewable because the color goes all the way through the material
*Non-porous surface makes cleaning and sanitizing faster and more effective
*Multi-layered backing of thick fiberglass / resin encloses wood reinforcement to prevent flexing of floor pan
*At least 30% thicker and stronger than other makes
*Pre-leveled with integral tile flange on 2 sides to facilitate installation
*Textured bottom for extra safety
*Standard 3 1/2in. pre-drilled drain opening
*Overall dimensions: 38 1/8in. W x 38 1/8in. L x 5 7/8in. H
*Model number: VG6061CHCL38W
*2 Year Limited Warranty
Need more info? Ask a question