Living'ROC USA
Tile, Stone & Countertops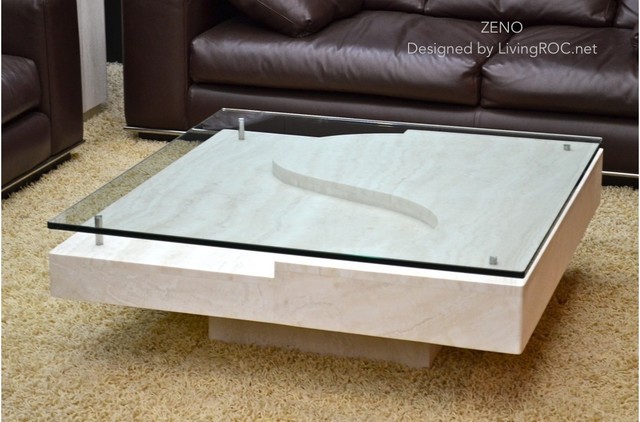 ZENO 39"x39"x14'' MARBLE TRAVERTINE COFFEE TABLE
Reference: CT206 - CT206GLASS
Model: ZENO
US Dimensions: 39-1/3" - 39-1/3" - 13-3/4"
EU Dimensions: 100 x 100 x 35 cm
Shape: Square
Color: Ivory
Weight: 298 lbs - 135 kgs
Coffee table material: Persian travertine - hollow base + tempered glass 5/8" - 15mm
Finish: matted - honed
The natural stone coffee table with tempered glass ZENO is certainly the most pleasant surprise from the new range PIETRA CASALINE. The outstanding opportunity to make your world unique! Let yourself be tempted by the materials and Zen-like atmosphere ZENO brings to your home. Our creation combines subtle tones and soft lines inspired by Zen, Yin, and Yang enhance your home with the stunning lightning that this stone coffee table brings!
It will be no additional costs to this very high
end coffee table
as it comes straight out of our workshop! The use of marble is carefully chosen at LivingRoc due its natural color and low porous structure. Each coffee and dining room table is different because each stone is unique. The slab of marble has an individual color due to the nature of travertine. Persian travertine therefore is perfect if you are looking for an eye catching and unique creation.
You will marvel at its individual grain and the blond tones through the stone that will create a peaceful and welcoming environment. The range PIETRA CASALINE is the creation of a combined group of talented masons dedicated to the idea of creating furniture made from natural material, which are environmentally friendly.