Cornerstone Architects
Architects & Designers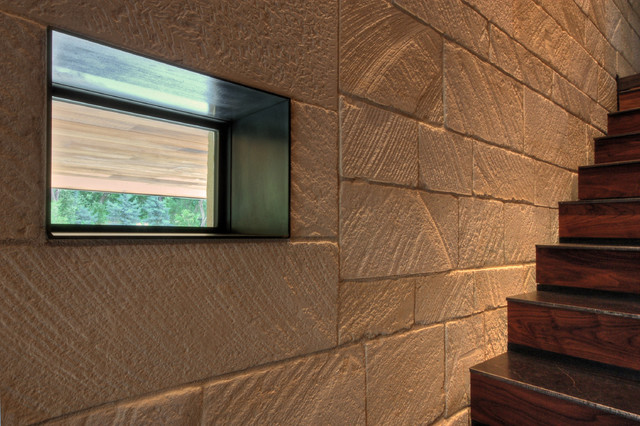 Hill Country Residence
Nestled into sloping topography, the design of this home allows privacy from the street while providing unique vistas throughout the house and to the surrounding hill country and downtown skyline. Layering rooms with each other as well as circulation galleries, insures
seclusion
while allowing stunning downtown views. The owners' goals of creating a home with a contemporary flow and finish while providing a warm setting for daily life was accomplished through mixing warm natural finishes such as stained wood with gray tones in concrete and local limestone. The home's program also hinged around using both passive and active green features. Sustainable elements include geothermal heating/cooling, rainwater harvesting, spray foam insulation, high efficiency glazing, recessing lower spaces into the hillside on the west side, and roof/overhang design to provide passive solar coverage of walls and windows. The resulting design is a sustainably balanced, visually pleasing home which reflects the lifestyle and needs of the clients.
Photography by Adam Steiner
This photo has one question
What Houzz contributors are saying:

The limestone is also used inside, accentuating the monolithic nature of the walls (insulation has most likely been placed between the inside and outside faces, even though the wall looks solid through and through). At this distance a couple of things are apparent: The mortar matches the limestone so well, it disappears at a distance, and the texture of the stone really exhibits the way it was made; one can see via the curved lines how large discs cut through the stone at the quarry.

Lining the opening with steel allows maximum light into the space. The thin profile circumscribes the opening to precisely define the cut in the wall and also to provide a textural counterpoint to the rough-hewn stone. Thin, light and machined against the mottled limestone, the steel defines a logic for spanning openings in stone walls that is carried throughout the project. Many view steel as appropriate only in industrial or ultramodern spaces, but as seen here it can play well with all types of materials. Use steel when you're looking for slender, sleek and thin profiles around your openings.
What Houzzers are commenting on: