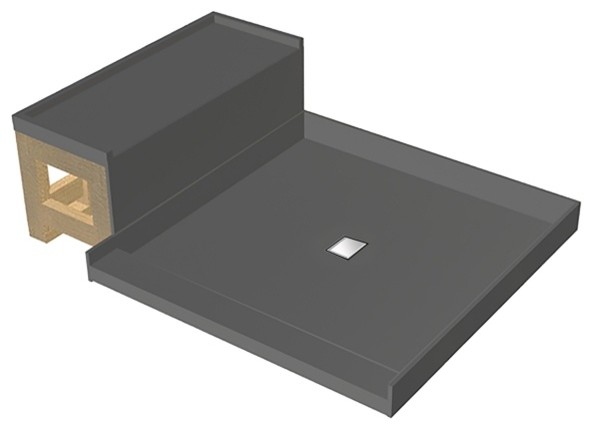 TileRedi WD4248C-RB42-KIT 42x60 Pan and Bench Kit
TileRedi WD4248C-RB42-KIT 42 inch D x 48 inch W, Integrated Center PVC Wonder Drain pan with Redi Bench RB4212 Kit
Tile Redi has taken the stress out of measuring and installing your
shower
with a built-in bench with Base'N Bench Shower Kits! Now you can buy our one-piece, tileable shower pan and shower bench as a set that is pre-measured to fit together within your shower stall size. Available in Redi Trench, WonderFall Trench, Wonder Drain, and Redi Base models for the designer look you prefer. All models offer the top-quality features you expect from Tile Ready brand shower products. Tile Redi shower bases comply with all national and local plumbing codes and are UL listed.
WD4248C-RB42-KIT Features
Kit: Wonder Drain
Center Drain
Single Curb & Redi Bench Shower Seat
Dimensions: 42in. D x 60in. W x 17in. H installed. (Pan: 42in. D x 48in. W; Bench: 38in. D x 12in. W; pan depth measured from the front of the curb to the outside of the back splash wall)
Pan and Bench sized to fit together
One-piece, pre-pitched shower pan with integrated curb, splash walls, and 2" PVC drain
Square Tileable drain top included
Safe, permanent bench installation
Tileable: tile set directly on shower pan surface
Fast and easy installation
Leakproof, and no mold or mildew
Includes Redi Poxy epoxy adhesive
42x60 Pan and Bench Kit Specifications
Brand Name: Base'N Bench
Shape: Rectangular
Opening Size: 60
Drain Location: Center
ADA Compliant: No
Drain Included: Yes
Threshold: Single
Threshold Height in Inches: 4.5
Color: Black
Made In: USA
Product Weight: 27
Product Weight Unit Of Measure: LBS
Product Length: 42
Product Width: 60
Product Height: 17.75
Product Dimensions Unit Of Measure: IN
Item Package Quantity: 1
Packaging Width: 50
Packaging Width Unit Of Measure: IN
Packaging Height: 26
Packaging Height Unit Of Measure: IN
Packaging Depth: 44
Packaging Depth Unit Of Measure: IN
Shipping Weight: 60
Shipping Weight Unit Of Measure: LBS
Product Specifications
Ready to ship to the Continental U.S. in 1 - 3 days.
Product Description
TileRedi WD4248C-RB42-KIT 42 inch D x 48 inch W, Integrated Center PVC Wonder Drain pan with Redi Bench RB4212 Kit
Tile Redi has taken the stress out of measuring and installing your shower with a built-in bench with Base'N Bench Shower Kits! Now you can buy our one-piece, tileable shower pan and shower bench as a set that is pre-measured to fit together within your shower stall size. Available in Redi Trench, WonderFall Trench, Wonder Drain, and Redi Base models for the designer look you prefer. All models offer the top-quality features you expect from Tile Ready brand shower products. Tile Redi shower bases comply with all national and local plumbing codes and are UL listed.

WD4248C-RB42-KIT Features

Kit: Wonder Drain Center Drain Single Curb & Redi Bench Shower Seat
Dimensions: 42in. D x 60in. W x 17in. H installed. (Pan: 42in. D x 48in. W; Bench: 38in. D x 12in. W; pan depth measured from the front of the curb to the outside of the back splash wall)
Pan and Bench sized to fit together
One-piece, pre-pitched shower pan with integrated curb, splash walls, and 2" PVC drain
Square Tileable drain top included
Safe, permanent bench installation
Tileable: tile set directly on shower pan surface
Fast and easy installation
Leakproof, and no mold or mildew
Includes Redi Poxy epoxy adhesive

42x60 Pan and Bench Kit Specifications
Brand Name: Base'N Bench
Shape: Rectangular
Opening Size: 60
Drain Location: Center
ADA Compliant: No
Drain Included: Yes
Threshold: Single
Threshold Height in Inches: 4.5
Color: Black
Made In: USA
Product Weight: 27
Product Weight Unit Of Measure: LBS
Product Length: 42
Product Width: 60
Product Height: 17.75
Product Dimensions Unit Of Measure: IN
Item Package Quantity: 1
Packaging Width: 50
Packaging Width Unit Of Measure: IN
Packaging Height: 26
Packaging Height Unit Of Measure: IN
Packaging Depth: 44
Packaging Depth Unit Of Measure: IN
Shipping Weight: 60
Shipping Weight Unit Of Measure: LBS
Need more info? Ask a question