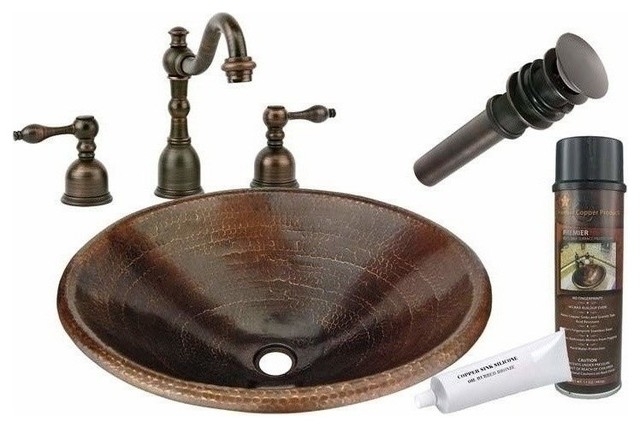 Oval Drop-in Copper Sink w/ORB Faucet
Quantity:
Sold Out
Free Shipping!
Only 3 Left!
BSP2_LO20RDB Premier Copper Products Master Bath Oval Self Rimming Hammered Copper Sink with ORB Widespread Faucet, Matching Drain and Accessories
PACKAGE INCLUDES:
Master Bath Oval Self Rimming Hammered Copper
Bathroom Sink
(LO20RDB)
Widespread
Bathroom Faucet
- Oil Rubbed Bronze (B-WS01ORB)
1.5 Inch Non-Overflow Pop-up Bathroom Sink Drain - Oil
Rubbed Bronze
(D-208ORB)
Copper Sink Wax and Cleaner (W900-WAX)
Copper Sink Installation
Silicone
(C900-ORB)
Care Instructions
Warranty Information
SINK PRODUCT DETAILS:
Configuration: Oval
Design: Hammered Copper Surface
Color: Oil Rubbed Bronze
Inner Dimension 18 x 14 x 7
Outer Dimension: 20 x 16 x 7
Installation Type: Surface-Mount
Rim: 1 Rolled Rim
Countertop Depth Minimum: 19 Front to Back
Material Gauge: (17 Gauge or .0450)
Drain Size: 1.5 Non-Overflow
Faucet Mounting: Counter Deck Mount
Hand Made
100% Recyclable
Composition: 99.7% Pure Recycled Copper
Lead Free (less than .01%)
Patina: Fired
Warranty: Limited Lifetime
CODE / STANDARD COMPLIANCE: IAPMO / cUPC LISTED
UPC: 813584011603
FAUCET PRODUCT
DETAILS:
Solid Brass Construction
Drip Free Ceramic Disc Cartridges
Available Finishes: Oil Rubbed Bronze
For Sinks With or Without Overflow
Overall Height: 9
Overall Width: 14
Spout Height: 5.75
Spout Reach: 6.75
Maximum Deck Thickness: 2.25
Mounting Shank Length: 2.5
Mounting Shank Diameter: 1.25
Number of Handles: 2
Lift Rod: None (use pop up drain to hold and release water in your sink)
Faucet Weight: 5.8 LBS
Flow Rate: 2.2 GPM
Valve Type: Ceramic Disc
Installation Type: Deck-Mount
Faucet Holes: 3
Eschutcheon: None
Connections: Standard US Plumbing Connections
NSF/ANSI, CUPC, ADA, Low Lead Compliant (California AB-1953)
Warranty: Limited Lifetime
UPC: 813584011672
DRAIN PRODUCT DETAILS:
Configuration: Non-Overflow
Design: Push Pop Top
Color: Oil Rubbed Bronze
Down Pipe Width: 1.25
Upper Flange Dimension: 2
Push Pop Cap Dimension: 2.25
Overall Length: 8.625
Thread Length: 2.75
Installation Type: Compression Threaded
Material: Brass
Drain Size: 1.5
UPC Code: 813584010767
WAX DETAILS:
Cleans copper sinks, tubs, accessories, marble, granite, countertops, cabinets, wrought iron, faucets, glass, chrome, appliances, leather and more...
Made From Natural Bee's Wax
No Fingerprints
No Wax Build Up Ever!
Makes Copper Sinks and Granite Tops Acid Resistant
Won't Fingerprint Stainless Steel
Prevents
Bathroom Mirrors
From Fogging
Hard Water Protection
Net Weight: 17oz. (482g)
UPC Code: 813584010842
SILICONE DETAILS:
4.5oz Tube
Neutral Cure Silicone
Matches a Variety of Different Styled Sinks
UPC Code: 813584010835
SHIPPING DETAILS:
Ships in a recycled cardboard box - Bathroom Sink, Faucet, Drain, Color Matched Installation Silicone, and Copper Sink Wax.a. Box Dimensions: 22 x 18 x 12b. Shipping Weight: 16.3 lbs
SUGGESTED ACCESSORIES:
Bathroom Accessories Models: TC11DB, TR7DB, TR10DB, TR18DB, TR24DB, TR30DB, TPHLDRDB
Copper
Switchplates
Models: SO2, SO4, SCOT, SR1-SR4, ST1-ST4, SB1
Copper Tiles Models: T2DBH, T4DBH, T4DBF, T4DBS, T4DBG, T6DBH
Copper Pendant Lights Models: L100DB-L500DB
Product Specifications
Manufactured By

Premier Copper Products

Sold By

Width

20"

Depth

16"

Height

7"

Materials

14-16 Gauge Lead Free Copper, Brass (Faucets)

Category

Style
Ready to ship to the Continental U.S. in 1 - 5 days.
Product Description
BSP2_LO20RDB Premier Copper Products Master Bath Oval Self Rimming Hammered Copper Sink with ORB Widespread Faucet, Matching Drain and Accessories

PACKAGE INCLUDES:
Master Bath Oval Self Rimming Hammered Copper Bathroom Sink (LO20RDB)
Widespread Bathroom Faucet - Oil Rubbed Bronze (B-WS01ORB)
1.5 Inch Non-Overflow Pop-up Bathroom Sink Drain - Oil Rubbed Bronze (D-208ORB)
Copper Sink Wax and Cleaner (W900-WAX)
Copper Sink Installation Silicone (C900-ORB)
Care Instructions
Warranty Information

SINK PRODUCT DETAILS:
Configuration: Oval
Design: Hammered Copper Surface
Color: Oil Rubbed Bronze
Inner Dimension 18 x 14 x 7
Outer Dimension: 20 x 16 x 7
Installation Type: Surface-Mount
Rim: 1 Rolled Rim
Countertop Depth Minimum: 19 Front to Back
Material Gauge: (17 Gauge or .0450)
Drain Size: 1.5 Non-Overflow
Faucet Mounting: Counter Deck Mount
Hand Made
100% Recyclable
Composition: 99.7% Pure Recycled Copper
Lead Free (less than .01%)
Patina: Fired
Warranty: Limited Lifetime
CODE / STANDARD COMPLIANCE: IAPMO / cUPC LISTED
UPC: 813584011603

FAUCET PRODUCT DETAILS:
Solid Brass Construction
Drip Free Ceramic Disc Cartridges
Available Finishes: Oil Rubbed Bronze
For Sinks With or Without Overflow
Overall Height: 9
Overall Width: 14
Spout Height: 5.75
Spout Reach: 6.75
Maximum Deck Thickness: 2.25
Mounting Shank Length: 2.5
Mounting Shank Diameter: 1.25
Number of Handles: 2
Lift Rod: None (use pop up drain to hold and release water in your sink)
Faucet Weight: 5.8 LBS
Flow Rate: 2.2 GPM
Valve Type: Ceramic Disc
Installation Type: Deck-Mount
Faucet Holes: 3
Eschutcheon: None
Connections: Standard US Plumbing Connections
NSF/ANSI, CUPC, ADA, Low Lead Compliant (California AB-1953)
Warranty: Limited Lifetime
UPC: 813584011672

DRAIN PRODUCT DETAILS:
Configuration: Non-Overflow
Design: Push Pop Top
Color: Oil Rubbed Bronze
Down Pipe Width: 1.25
Upper Flange Dimension: 2
Push Pop Cap Dimension: 2.25
Overall Length: 8.625
Thread Length: 2.75
Installation Type: Compression Threaded
Material: Brass
Drain Size: 1.5
UPC Code: 813584010767

WAX DETAILS:
Cleans copper sinks, tubs, accessories, marble, granite, countertops, cabinets, wrought iron, faucets, glass, chrome, appliances, leather and more...
Made From Natural Bee's Wax
No Fingerprints
No Wax Build Up Ever!
Makes Copper Sinks and Granite Tops Acid Resistant
Won't Fingerprint Stainless Steel
Prevents Bathroom Mirrors From Fogging
Hard Water Protection
Net Weight: 17oz. (482g)
UPC Code: 813584010842

SILICONE DETAILS:
4.5oz Tube
Neutral Cure Silicone
Matches a Variety of Different Styled Sinks
UPC Code: 813584010835

SHIPPING DETAILS:

Ships in a recycled cardboard box - Bathroom Sink, Faucet, Drain, Color Matched Installation Silicone, and Copper Sink Wax.a. Box Dimensions: 22 x 18 x 12b. Shipping Weight: 16.3 lbs

SUGGESTED ACCESSORIES:
Bathroom Accessories Models: TC11DB, TR7DB, TR10DB, TR18DB, TR24DB, TR30DB, TPHLDRDB
Copper Switchplates Models: SO2, SO4, SCOT, SR1-SR4, ST1-ST4, SB1
Copper Tiles Models: T2DBH, T4DBH, T4DBF, T4DBS, T4DBG, T6DBH
Copper Pendant Lights Models: L100DB-L500DB
Need more info? Ask a question