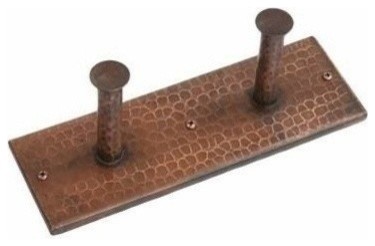 Copper Double Robe Hook
RH2 Premier Copper Products Hand Hammered Copper Double Robe Hook
BRAND: Premier Copper Products
Our Hand Hammered Copper Double Robe Hook is a perfect addition to any bathroom in your home. Premier Copper Products offers a Single, Double, Triple or Quadruple configuration. Constructed from Grade A recycled copper ensures durability that will last a lifetime. These Robe Hooks are hand made by experienced Artisans into a functional work of art that can be seamlessly matched with all Premier Copper Products.
Green Recyclable Products like Copper Accessories are a must have in today's modern home. Our hand made robe hooks are sure to impress your guests.
FEATURES:
Configuration: Double Robe Hook with Rectangle Mounting Plate
Design: Hammered Copper Surface
Color: Oil Rubbed Bronze
Hook Length: 3 Inches
Number of Hooks: 2
Inner Dimension: 3 Inches x 3 Inches x .25 InchesMounting Plate Only
Outer Dimension: 9 Inches x 3 Inches x 3.25 Inches
Installation Type: Wall Mount (2 screws)
Material Gauge: 17
Hand Made
100% Recyclable
Composition: 99.7% Pure Recycled Copper
Lead Free (less than .01%)
Patina: Fired
Packaging: Recycled Cardboard Box
Warranty: Limited Lifetime
INCLUDED:
Mounting Hardware (Dry Wall Anchors and ORB Screws)
Mounting Instructions
Care Instructions
SUGGESTED ACCESSORIES:
Robe Hooks - Model: RH1, RH3, RH4
Tissue
Paper Holder
- Model: TPHLDRDB
Full Size BathTowel Ring - Model: TR10DB
Towel Bars - Models: TR18DB, TR24DB, TR30DB
Hammered Copper
Waste Bin
- Model: TC11DB
Product Specifications
Manufactured By

Premier-Copper-Products

Sold By

Width

9.0"

Depth

0.25"

Height

3.0"

Size

Double

Materials

Premier-Copper-Products

Category

Style
Ready to ship to the Continental U.S. in 1 - 5 days.
Product Description
RH2 Premier Copper Products Hand Hammered Copper Double Robe Hook

BRAND: Premier Copper Products
Our Hand Hammered Copper Double Robe Hook is a perfect addition to any bathroom in your home. Premier Copper Products offers a Single, Double, Triple or Quadruple configuration. Constructed from Grade A recycled copper ensures durability that will last a lifetime. These Robe Hooks are hand made by experienced Artisans into a functional work of art that can be seamlessly matched with all Premier Copper Products.
Green Recyclable Products like Copper Accessories are a must have in today's modern home. Our hand made robe hooks are sure to impress your guests.
FEATURES:

Configuration: Double Robe Hook with Rectangle Mounting Plate

Design: Hammered Copper Surface

Color: Oil Rubbed Bronze

Hook Length: 3 Inches

Number of Hooks: 2

Inner Dimension: 3 Inches x 3 Inches x .25 InchesMounting Plate Only

Outer Dimension: 9 Inches x 3 Inches x 3.25 Inches

Installation Type: Wall Mount (2 screws)

Material Gauge: 17

Hand Made

100% Recyclable

Composition: 99.7% Pure Recycled Copper

Lead Free (less than .01%)

Patina: Fired

Packaging: Recycled Cardboard Box

Warranty: Limited Lifetime
INCLUDED:

Mounting Hardware (Dry Wall Anchors and ORB Screws)

Mounting Instructions

Care Instructions
SUGGESTED ACCESSORIES:

Robe Hooks - Model: RH1, RH3, RH4

Tissue Paper Holder - Model: TPHLDRDB

Full Size BathTowel Ring - Model: TR10DB

Towel Bars - Models: TR18DB, TR24DB, TR30DB

Hammered Copper Waste Bin - Model: TC11DB
Need more info? Ask a question