Shubin + Donaldson Architects, Inc.
Architects & Designers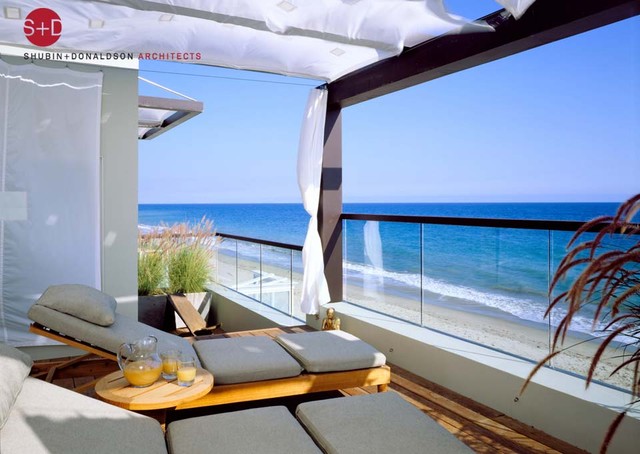 Shubin + Donaldson
URBAN SPA The overarching concept for this 2,900-square-foot beach-side modern house was to transform it into an urban spa-like retreat. The house is perched along Malibu's Pacific Coast Highway, and features access to the beach in the back. A transitional interior entry courtyard, laid with rectangular cement pavers and bordered by smooth river rock and tufted grass, introduces the primary design element of the home—a seamless union between interior and exterior spaces, with crisp linear architecture, ambulating plan, and visual access throughout. The entry courtyard, an original space accented by a white grid of window panes houses the dining room. The graphic grid is echoed by the geometric pattern of the cabinets and shelves that lead into the minimal kitchen. True to the open plan, the kitchen seamlessly overlooks the main living space. The interior design palette of natural woods and limestone, white walls and fabrics, frosted and clear plate-glass creates a crisp and airy environment to appreciate the Pacific Ocean setting. The ground-floor living room and adjacent sitting room offer serene respite from the sunlit terraces beyond, with cool white and dark wood tones in the furniture and materials. Double-paned windows, which open onto the first-level terrace, offer several unrestricted views of the ocean while buffering sound (from the highway). The upstairs rooms continue the overall theme of air, light, and water with repeating materials and colors. The well-dressed master suite faces onto a second large terrace with pocket-glass doors that fold away, converting the stepped upper terrace into a sleeping
porch
reminiscent of designs by Schindler and Neutra. For reclining on the teak chaises, billowing fabrics can be drawn above and alongside the terrace to shield the sun and wind, creating a lullaby of relaxation. Openness and transformation are themes throughout and are most expressive in the master bath.
URL

Category

Patio

Style

Modern

Location

Los Angeles
What Houzz contributors are saying:

If you've got the view, don't cover it up. I love this use of glass as a
deck rail
.

I am often drawn to fabric used as a shade, especially sail-like awnings and flowy fabric like on this porch. I wonder, though, if it's practical to use in a climate where it rains sometimes. And how long does it last?

I want to go to there...right now...and have a big Swede named Sven give me a deep tissue massage...
What Houzzers are commenting on: