Living'ROC USA
Tile, Stone & Countertops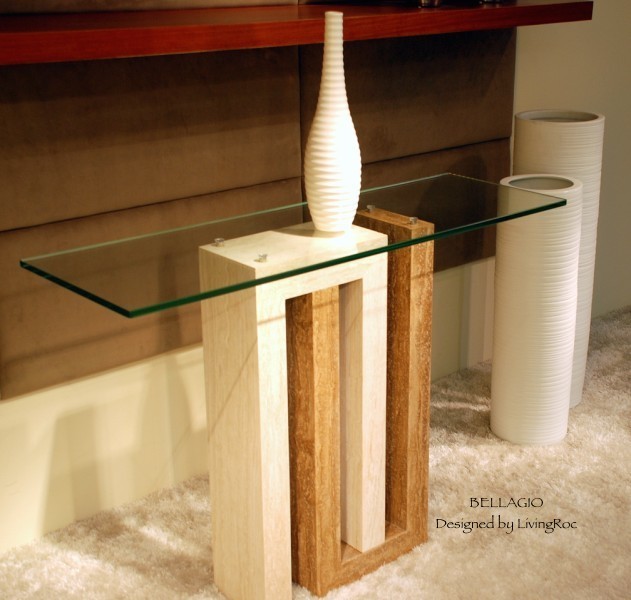 Marble Console Table Travertine and Tempered glass-BELLAGIO
Reference: CO304+CO304GLASS
Model: BELLAGIO
US Top Dimensions: 47-1/4" x 15-3/4" x 33-1/2"
EU Top Dimensions: 120x40x85 (cm)
Shape: Rectangular
Color: Ivory - Brown
Weight: 371 lbs -168 kgs
Material: Persian travertine + tempered glass 5/8" - 15mm
Finish: matted - honed
Our BELLAGIO
marble console table
stone (travertine) with tempered glass console is the revelation of the range stone consoles Pietra Casaline. It is composed of two pieces of Persian travertine and almond beige color, nested to give rise to an asymmetric design with trendy Asian looks. A mix of simple and original worked by talented artisans in 100% natural materials.
Range PIETRA CASALINE is the meeting of travertine (natural stone) and 15mm tempered glass to play without restraint with the harmony of curves and the essence of natural stone. The use of marble is carefully chosen at LivingRoc due its natural color and low porous structure. Each console is different because each stone is unique. The slab of marble has an individual color due to the nature of travertine. Persian travertine therefore is perfect if you are looking for an eye catching and unique creation.
The photos you see online have been taken with extreme care by our Founder CEO - Florent LEPVREAU, because without them we would not be one of the natural stone business key player of the online European continent. Once you have encountered the product in your home you will always have pure happiness for the love of the materials. It will be beyond your expectations because what you see online at livingroc.net is what you will receive. This is why we always guarantee a degree of quality (Grade A) and impeccable finish as can attest with the reviews filed by our customers.
Our creation is delivered without chairs - sofa ... ( not included)
Our Living room - Dining room - Patio Garden items will ship via DHE LTL FREIGHT NATION WIDE directly from our warehouse of LOS ANGELES for US customers and SANDOUVILLE (FRANCE) for European customers and delivered (lift gate) to their curbside or driveways only. For any additional delivery questions or needs, please feel free to call our customer service or online chat. Truck freight and Fedex ground orders require that someone is available to control and accept the delivery. Our carrier (only for LTL freight) will contact you to set up a delivery time, during normal business hours. If our carrier is unable to contact the customer, the customer then will be responsible for any storage fees, freight charges back to our warehouse in addition to the original shipment expense.