Sarah Dorsey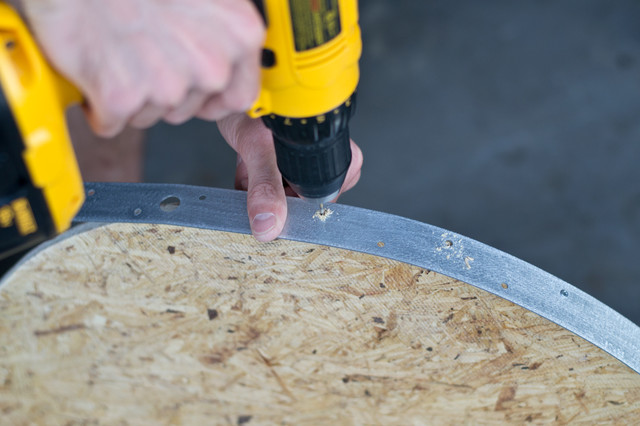 What Houzz contributors are saying:

3. Secure the frame. Starting at the end of the Simpson Strong-Tie, center the hole on the edge of the plywood circle and predrill a hole into the wood. Secure the Simpson Strong-Tie with a screw and begin wrapping it around the circle. Working from the secured end, predrill the plywood and screw through each of the existing holes in the Simpson Strong-Tie. You'll use 24 ⅝-inch screws total.Note: Since I could only get the mirror cut in ¼-inch increments, the two 36-inch Simpson Strong-Ties were a little too long. We trimmed the excess with the jigsaw using a blade designed to cut metal. It could also be overlapped instead, if you prefer not to cut it.

3. Befestigen Sie das Lochband an der Außenkante der runden Holzplatte (siehe Bild). Beginnen Sie dabei mit einem Ende des Lochbands. Positionieren Sie das Band auf der Kante des Holzkreises, bohren Sie das erste Loch im Holz vor und ziehen Sie die Schraube fest.Gehen Sie nun Loch für Loch weiter vor. Lochband umlegen, durch das Lochband das Holz Vorbohren, anschließend schrauben – nächstes Loch; bis das Lochband durch alle Löcher mit der Holzplatte verbunden ist.Tipp: Wir haben das Lochband mit der Stichsäge und einem passenden Sägeblatt für Metall entsprechend gekürzt. Wenn Sie es nicht sägen möchten, können Sie es auch einfach überlappend verschrauben.
What Houzzers are commenting on: