Designs by SKill, LLC.
Kitchen & Bath Designers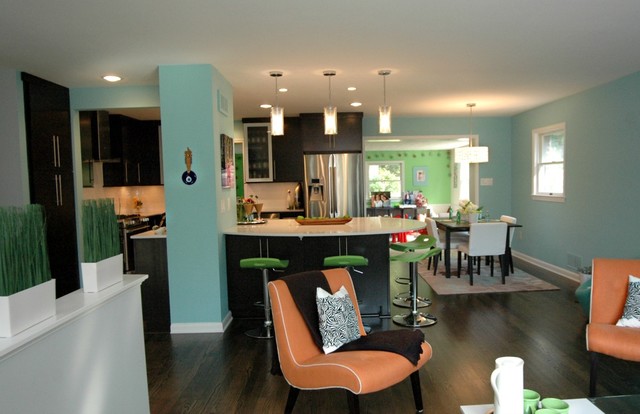 Ultra Modern Bertch Kitchen
This week our Friday Feature is a lovely home in Arlington, VA where we recently completed a full
renovation
of the kitchen and dining room area, and refinished the hardwood floors on the main living level.
Construction: We began by removing most of the walls on the main floor, one of these walls being a major load bearing wall. In order to complete this task, we installed a 15 ft long triple LVL beam in the attic, and hung the joists from the new beam. We also needed to widen the entry into the kitchen. This wall, also being a load carrying segment, also needed to be restructured carefully. With the exception of one wall containing duct work, we were able to eliminate all walls, and open up this room entirely to the living and dining area.
Finished Products: There are a couple of unique features in this kitchen- the first being the
subway backsplash tile
. Notice anything missing? Underneath the wall cabinetry, we installed special outlet receptacles, allowing the backsplash tile to be uninterrupted by outlets, creating a very sleek look. We also incorporated another special outlet in this kitchen. Opposite to the large pantry cabinet with roll-out trays, is an outlet containing two USB ports, for convenient charging of electronics.
The cabinetry in this kitchen is from Bertch; notice the stainless steel finish in the two wall cabinets adjacent to the sink. With frosted glass inserts, these cabinets add a unique flair to the kitchen, and play a part in bringing the appliances together with the rest of the kitchen. Also, a pull out spice rack integrated into the cabinetry next to the sink allows the cook to have all the spices convenient but hidden away.
The amount of workspace is almost endless in this kitchen. The white silestone countertops offer a unique look and contrast with the dark countertops. The egg-shaped island creates a place to eat, craft, and socialize for endless hours.
Originally tile, the new hardwood flooring in this kitchen was pieced into the existing floor throughout the main level of the home. We re-sanded and re-stained the entire floor, to included the stairs to the
main entry
, a dark modern ebony color, getting away from the traditional honey colored flooring and finishing off the sleek look of this Arlington home.
Photo Credit to R.B. Hill Photography, LLC — in Arlington, VA.
What Houzzers are commenting on: