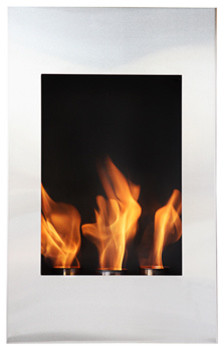 Bioflame Xelo 13" Burner Stainless Steel Wall Mounted 12,000 BTU Fireplace
Quantity:
Sold Out
Free Shipping!
Only 2 Left!
40044001Features:- 12,000BTU or 3.5Kw/h (heats on average 40m2 or 430ft2) - Stainless Steel Firebox Construction - Brushed Stainless Steel Fascia - 13? Burner- H 31.5" (800mm) W 19.7" (500mm) D 9.8" (250mm)FuelWant to know something sweet about the ethanol fuel used in Bio Flame fireplaces? It's all based on sugars!That's right, the Bio Flame ethanol fuel is so environmentally friendly that it is created through a fermentation process of sugars, including those from sugar cane, corn, beets, and potatoes. These natural, all-reable resources work together to create an ethanol fuel source that provides not only heat, but a beautiful, dancing flame, as well.Some of the additional benefits of using the Bio Flame ethanol fuel include:Environmentally friendly. Ethanol fuel is all-natural and made from reable resources. This means that you are not cutting down valuable trees that take much longer to regenerate.Better breathing. There is no air pollution with the Bio Flame ethanol fuel. This means that you, as well as everyone else, help to keep chemicals and toxins from being released into the air. You will breathe better in your home, and everyone else benefits from the reduction of pollutants, as well. There's no odor or smoke to worry about, either, providing you with a safe flame.Cleaner source. Ethanol fuel creates a clean heat source, eliminating the need to worry about cleaning soot or ash. Cleaning the Bio Flame fireplace is a breeze.Super simple. The ethanol fuel used in the Bio Flame fireplace is simple to use. Within seconds, you will have it refilled, never having to worry about spills or trekking out into the cold weather for another log.The Bio Flame environmentally friendly fireplaces use ethanol fuel, because it provides a better heat choice for you, and for everyone else. You never compromise on having a beautiful-looking fireplace, warmth, and a beautiful flame. Ethanol fuel provides all the things you want, and nothing you don't. When it comes to having a fireplace, it doesn't get much sweeter than that!Benefits of an Ethanol Fireplace When it comes to purchasing a fireplace, you have a lot of options available to you. But that doesn't mean they are all going to give you great benefits. Sure, they will all provide you with some heat (or at least should) but, for some fireplaces, that is where the benefits both begin and end. When you choose a Bio Flame environmentally friendly fireplace, you get a list of benefits, some in areas you may not even have thought about! Here are some of the benefits you will get by using a Bio Flame ethanol fuel fireplace:No heat loss. With a traditional fireplace that has a chimney, you will lose 70 percent of the heat, and will only get to warm your home with 30 percent. With a Bio Flame ethanol fuel fireplace, however, your home will get 100 percent of the heat. There is no chimney, so all the heat stays in the home.Reable resources. Ethanol fuel that is used in the Bio Flame fireplace is made from sustainable resources. The ethanol fuel is made from fermenting sugars, including the use of cane sugar, beets, potatoes, and corn. Our oxygen-producing trees never get cut down, just to be burned up.No air pollution. Traditional fireplaces put a lot of pollutants into the air, including chemicals, smoke, and toxins. The Bio Flame ethanol fireplace burns clean, so you never have to worry about any air pollution from it, nor about any ash, soot, or smoke.Beautiful appearance. Many people fall in love with the beautiful, stylish designs in which the Bio Flame ethanol fireplaces are available. They can make any home or office look top-notch.All natural. The ethanol fuel that is used in the Bio Flame environmentally friendly fireplace is all-natural. Made from plant-based materials, it is harmless, and free of toxins.Super easy. Not only is the ethanol fireplace simple to use, but the ethanol fuel takes only seconds to refill. Setting up the ethanol fireplace for the first time is also a breeze, with most people having it ready to use within 30 minutes. Obtaining ethanol fuel is also a much easier process than trying to obtain wood to burn.Custom design options. Bio Flame will consider custom-design options, so if you have something in mind that you want, let them know. Chances are, they can help meet your needs.From retaining more heat to being environmentally friendly and looking great, the ethanol fuel fireplace comes with a host of benefits. These are all things to consider and compare when deciding which fireplace is the right one for you. We are confident that you won't find any other fireplace that comes close to offering all these benefits! 4001b
Product Specifications
Sold By

Width

13"

Depth

14"

Height

15"

Category

Style
Ready to ship to the Continental U.S. in 7 - 10 days.
Product Description
40044001Features:- 12,000BTU or 3.5Kw/h (heats on average 40m2 or 430ft2) - Stainless Steel Firebox Construction - Brushed Stainless Steel Fascia - 13? Burner- H 31.5" (800mm) W 19.7" (500mm) D 9.8" (250mm)FuelWant to know something sweet about the ethanol fuel used in Bio Flame fireplaces? It's all based on sugars!That's right, the Bio Flame ethanol fuel is so environmentally friendly that it is created through a fermentation process of sugars, including those from sugar cane, corn, beets, and potatoes. These natural, all-reable resources work together to create an ethanol fuel source that provides not only heat, but a beautiful, dancing flame, as well.Some of the additional benefits of using the Bio Flame ethanol fuel include:Environmentally friendly. Ethanol fuel is all-natural and made from reable resources. This means that you are not cutting down valuable trees that take much longer to regenerate.Better breathing. There is no air pollution with the Bio Flame ethanol fuel. This means that you, as well as everyone else, help to keep chemicals and toxins from being released into the air. You will breathe better in your home, and everyone else benefits from the reduction of pollutants, as well. There's no odor or smoke to worry about, either, providing you with a safe flame.Cleaner source. Ethanol fuel creates a clean heat source, eliminating the need to worry about cleaning soot or ash. Cleaning the Bio Flame fireplace is a breeze.Super simple. The ethanol fuel used in the Bio Flame fireplace is simple to use. Within seconds, you will have it refilled, never having to worry about spills or trekking out into the cold weather for another log.The Bio Flame environmentally friendly fireplaces use ethanol fuel, because it provides a better heat choice for you, and for everyone else. You never compromise on having a beautiful-looking fireplace, warmth, and a beautiful flame. Ethanol fuel provides all the things you want, and nothing you don't. When it comes to having a fireplace, it doesn't get much sweeter than that!Benefits of an Ethanol Fireplace When it comes to purchasing a fireplace, you have a lot of options available to you. But that doesn't mean they are all going to give you great benefits. Sure, they will all provide you with some heat (or at least should) but, for some fireplaces, that is where the benefits both begin and end. When you choose a Bio Flame environmentally friendly fireplace, you get a list of benefits, some in areas you may not even have thought about! Here are some of the benefits you will get by using a Bio Flame ethanol fuel fireplace:No heat loss. With a traditional fireplace that has a chimney, you will lose 70 percent of the heat, and will only get to warm your home with 30 percent. With a Bio Flame ethanol fuel fireplace, however, your home will get 100 percent of the heat. There is no chimney, so all the heat stays in the home.Reable resources. Ethanol fuel that is used in the Bio Flame fireplace is made from sustainable resources. The ethanol fuel is made from fermenting sugars, including the use of cane sugar, beets, potatoes, and corn. Our oxygen-producing trees never get cut down, just to be burned up.No air pollution. Traditional fireplaces put a lot of pollutants into the air, including chemicals, smoke, and toxins. The Bio Flame ethanol fireplace burns clean, so you never have to worry about any air pollution from it, nor about any ash, soot, or smoke.Beautiful appearance. Many people fall in love with the beautiful, stylish designs in which the Bio Flame ethanol fireplaces are available. They can make any home or office look top-notch.All natural. The ethanol fuel that is used in the Bio Flame environmentally friendly fireplace is all-natural. Made from plant-based materials, it is harmless, and free of toxins.Super easy. Not only is the ethanol fireplace simple to use, but the ethanol fuel takes only seconds to refill. Setting up the ethanol fireplace for the first time is also a breeze, with most people having it ready to use within 30 minutes. Obtaining ethanol fuel is also a much easier process than trying to obtain wood to burn.Custom design options. Bio Flame will consider custom-design options, so if you have something in mind that you want, let them know. Chances are, they can help meet your needs.From retaining more heat to being environmentally friendly and looking great, the ethanol fuel fireplace comes with a host of benefits. These are all things to consider and compare when deciding which fireplace is the right one for you. We are confident that you won't find any other fireplace that comes close to offering all these benefits! 4001b
Need more info? Ask a question