Latera Architectural Surfaces / Dorado Stone
Tile, Stone & Countertops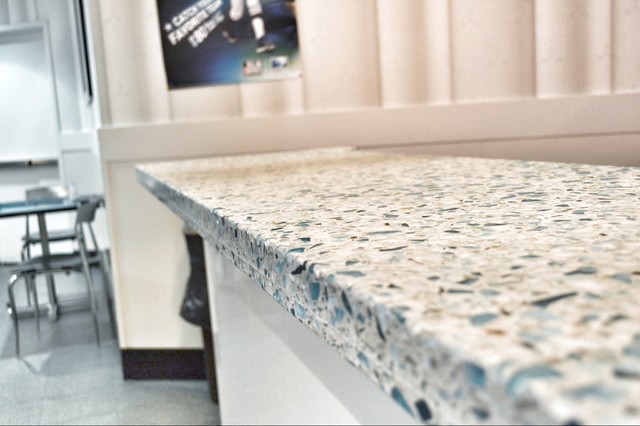 Vetrazzo, Floating Blue
Floating Blue
Description

In the city, the soft, blue sky is punctuated by buildings that appear to be made entirely of glass. Aptly named, this mix features the distinctive blue float glass often used in these lofty spaces.

Glass source story
Inevitably, manufacturing glass produces waste. Too often, that waste ends up in the landfill. We like to keep this peaceful color out of the waste stream. You see it here, floating freely in this Vetrazzo mix.
This photo has 2 questions
What Houzz contributors are saying:

Advantages: On their own, glass and cement are stout materials, so when combined, they become a durable duo with a life expectancy of 50 years or more. The material resists both heat and scratches. Some manufacturers, such as Vetrazzo, offer ultimate style flexibility, allowing you to choose the pigments and glass for a custom counter uniquely tailored to your kitchen. These are guilt-free counters, as more than 75 percent of the content is from post-consumer recycled content, which keeps waste out of landfills.

Recycled Glass and Cement Kitchen CountersAlthough it's expensive ($100 to $160 per square foot installed), this unique combination of glass and cement is a surefire way to add character to your kitchen.
Ecofriendly
, durable and customizable, this countertop material is a top choice for a "forever home."Guide: Pros and cons of recycled glass and cement counters

Considerations: Glass chip-based products rely on concrete or a resin-binding material. The recycled content of these blended work surfaces ranges from 70 to 85 percent.Environmentally, it takes a lot of energy to extract the raw materials and produce the cement. Resin, in most cases, is a petrochemical product derived from a nonrenewable resource (unless it's formulated from plant-based sources). For concrete mixes, look for recycled concrete. However, transportation costs for this heavy material can be high, both environmentally and financially.
What Houzzers are commenting on: