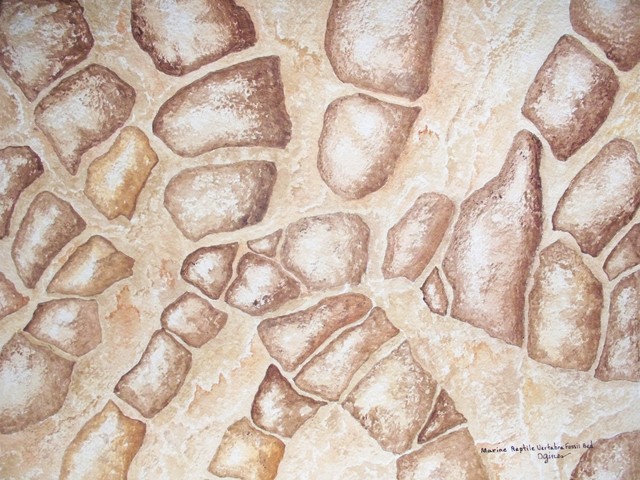 "Marine Reptile Vertebra Fossil Bed" Artwork
Quantity:
Out of Stock
Free Shipping!
Only 1 Left!
Watercolor painting of a museum specimen marine reptile vertebra fossil bed on 300 lb cold press paper. i volunteer as a fossil preparator at an amazing natural history museum. like many people, i am fascinated by dinosaurs and other ancient animals, and beyond that, i was surprised to feel a strong and comforting connection with paleontology--fossils are messages from the deep past and our future. fossils are also visually interesting and my painting focused over the years to encourage others to develop a sense of continuity and connection with the earth and our lives in the universe. among the many wonderful aspects of utah is it's unique place in fossil exploration and study, with millions of acres of the perfect desert terrain for preserving and allowing access to fossil beds. utah is also home to a world class natural history museum where this legacy is on show. i use watercolor to focus on the beauty and diversity of fossils, combining the science of paleontology with visual exploration of fossils. i work in a paleontology lab at the museum, and also at quarry sites throughout utah where i have collected charcoal matrix which is removed from around the bones. i mix watercolor paint with the ground charcoal, so that the subjects of the paintings are truly millions of years old.

-Style: Still Life
-Framed: No
-Year Created: 2014
-Signed: Yes
-Signature Location: Lower Right
Product Specifications
Sold By

Width

13.0"

Depth

0.2"

Height

10.0"

Materials

Painting, Watercolor on Paper

Designer

Deon Gines

Category

Style
Ready to ship to the Continental U.S. in 5 days.
Product Description
Watercolor painting of a museum specimen marine reptile vertebra fossil bed on 300 lb cold press paper. i volunteer as a fossil preparator at an amazing natural history museum. like many people, i am fascinated by dinosaurs and other ancient animals, and beyond that, i was surprised to feel a strong and comforting connection with paleontology--fossils are messages from the deep past and our future. fossils are also visually interesting and my painting focused over the years to encourage others to develop a sense of continuity and connection with the earth and our lives in the universe. among the many wonderful aspects of utah is it's unique place in fossil exploration and study, with millions of acres of the perfect desert terrain for preserving and allowing access to fossil beds. utah is also home to a world class natural history museum where this legacy is on show. i use watercolor to focus on the beauty and diversity of fossils, combining the science of paleontology with visual exploration of fossils. i work in a paleontology lab at the museum, and also at quarry sites throughout utah where i have collected charcoal matrix which is removed from around the bones. i mix watercolor paint with the ground charcoal, so that the subjects of the paintings are truly millions of years old.

-Style: Still Life
-Framed: No
-Year Created: 2014
-Signed: Yes
-Signature Location: Lower Right
Need more info? Ask a question