Cindy Aplanalp-Yates & Chairma Design Group
Architects & Designers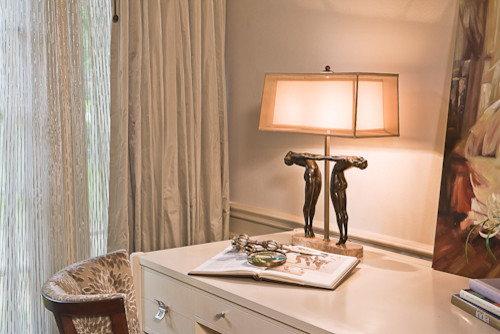 Quiet Sophisticated Master Bedroom
I have been working with this client for over a year now and
her
home as really been transformed! She went from a very tradition space to a vibrant and contemporary one. The living room got a complete facelift with all new furniture, accessories and lighting. The master bedroom is one of my favorite rooms with the custom bench, refurbished bed and beautiful one-of-a-kind artwork by Justin Garcia. The dining room is so elegant, chic and just sparkles with the hand painted artwork by the client that adds light and bright colors to the space. The game area of the family room is the perfect place to play cards. I updated the space by adding bright colors and mixing some contemporary pieces of furniture with traditional ones.
I love this home because it speaks to the homeowner's sense of style; she is a modern sophisticated woman who has a very well developed sense of style cultivated from living on both coasts and traveling the world. Her home is very traditional and she has traditional values- a great sense of family, there is always some
yummy
smell wafting from the kitchen. Very often she's running her two darling daughters around to their various activities or getting her hands dirty working in her extensive garden. And yet, she longs for a sense of glamour, elegance and to be surrounded by beauty. I think this room really tells her story well. It is completely glamorous, sophisticated, eclectic, comforting, unique, timeless, ageless and beautiful.
Special thanks to Brad Carr with B-
Rad
Studios for the stunning photographs, McCullum's Upholstery and Melody Krugler with Home Fashions by MK for the exquisite work. Laurie Lopez with Decorative Finishes by L and Schar West with For All Occasions, as always, beautiful job!
B-Rad Studio
What Houzzers are commenting on: