Barbara Pintozzi
Landscape Architects & Designers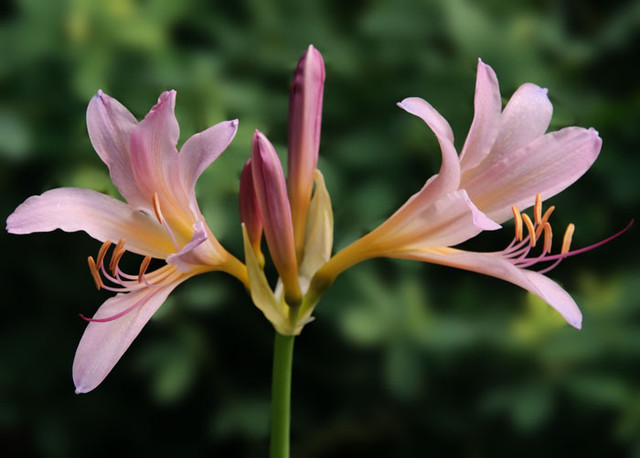 Lycoris squamigera
Lycoris squamigera beginning to bloom taken by Barbara Pintozzi
What Houzz contributors are saying:

August blooms. While so much of the garden is looking tired, Lycoris squamigera is popping up to freshen the scene. This popular bulb has many common names, from the sacred (resurrection lilies) to the profane (naked ladies). My favorite common name for it is surprise lily, names because it is grown among plants with foliage that hides the empty space during dormancy, so it isn't visible when sprouting. Suddenly one day you turn around and there it is, blooming. Lycoris squamigera is the only one of the beautiful Lycoris tribe that is reliably hardy in the Great Lakes area. While it prefers full sun, it will bloom in partial shade. For some gardeners, it is an easy bloomer and multiplier. I've tried it in half a dozen locations around my garden, and it grows in only one, but it grows very well there. So try it in several places to determine where it wants to be. The place Lycoris squamigera prefers in my garden is with the prairie plants.

Resurrection Lily, Naked Lady Lily, Surprise LilyLycoris squamigeraBlooming after its leaves have withered and disappeared, this trumpet-shaped flower rises from dormancy to make a dramatic late-summer showing. Plant these long-lived members of the amaryllis family in borders or in
woodland gardens
where they can naturalize. USDA zones: 5 to 9 Sun requirement: Full sun to part shadeHeight: Up to 2 feetBloom time: August and SeptemberPlanting tips: Bulbs do not like being disturbed and may need a full season to adjust before they bloom.

Divide bulbs. It's time to dig up and divide 'Naked Ladies' (Amaryllis) and other fall bulbs that have become crowded. Lift, divide and replant after the bloom is done but before the leaves appear.
What Houzzers are commenting on: