elizabethjames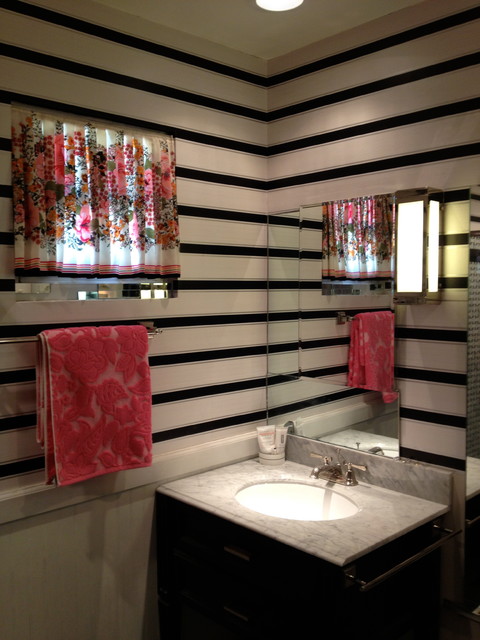 elizabeth james
This project began with finding the basketweave tile on ebay. Then I found several out of work tile guys who were willing to work inexpensively just to have the business. They were also willing to follow my somewhat intricate requests! Don't know that I would select black galaxy marble for the flooring again…it shows everything. Then I hung the wallpaper horizontally instead of vertically to give the room a sense of space. The lighting is from Restoration Hardware and I was willing to pay full price for those. The matching vanities were from Lowes and the carrera marble tops were from
Home Depot
. Or perhaps the other way around? The nickel faucets were a find at Home Depot as nickel isn't found on a budget but these were very reasonable and the only nickel faucets they carried. Still need to do something with the windows as the skirt I turned into a curtain really isn't long enough to cover the full opening on the bottom. I just absolutely love the floral with the stripes though!
What Houzzers are commenting on:

I am not a
paper hanger
so at some point in the process of hanging this stripe I discovered I was supposed to be using a liner. Since this was only evident in certain spots where the plaster walls were less than perfect I decided to deceive rather than tear it down. I replaced the bulbs in the recessed lighting with spots that only had a narrow beam straight down. Par 20 or 10. This way the light did not bounce off the walls and the imperfections are way less obvious.