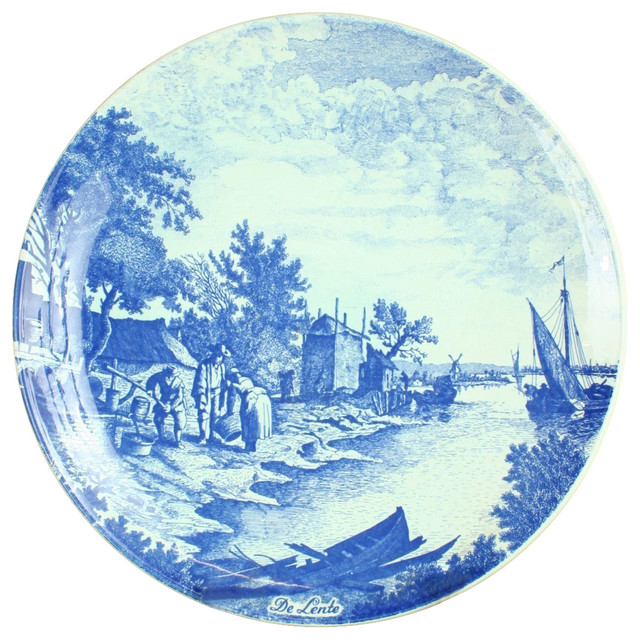 Consigned Vintage Blue Delft Plate Charger Spring
Quantity:
Out of Stock
Free Shipping!
Only 1 Left!
Product Details
Item #: 11-80-0
Dimensions (inches): 13.25H x 13.25W x 1.25D
Comment: A beautiful design for your blue and white collection! De Lente means Springtime in Dutch.
Origin: Holland
Date: 1970
Material: CERAMIC
The word ceramic originates from the ancient Greek word keramikos, meaning potteres clay. The practice of making ceramics has been in existence for nearly 30,000 years. Clay, the primary ingredient for any ceramic, is primarily made of aluminum silicate, which is a malleable soil from crumbling rocks. Ceramics can be grouped according to the type of clay used, the temperature at which the clay is fired, and the duration of the firing.
Misc: Transferware TRANSFERWARE
Transfer printing was developed in England during the 1750s as part of the Industrial Revolution as a way to speed up the mass production process, and thereby lower the price of the goods. An image is first engraved on a copper plate, which is then inked and stamped on a piece of paper or fabric. The paper or fabric is then laid on the unglazed piece after its initial firing, much like applying a decal. The object is then glazed and fired, which permanently transfers the image to the ceramic. The manufacturer Wedgwood is generally credited with the widespread popularity of this decoration process. Flow Blue, Staffordshire, Blue Willow and some Delftware are created by use of the transfer printing process.
Availability: Available for Immediate Shipment.
Condition
Condition: VERY GOOD
In overall very good condition. Antique and vintage items by their very nature show normal wear to finish and miscellaneous scratches, nicks, and dings due to age and use. As we define 'very good condition' relative to the stated age of the piece, we would expect to see 'character marks' consistent with that age and could include minor nicks or dings to a wooden, metal, enamel or chalkware object, minor wear to a painted surface, minor speckling on a mirror, light crazing, wear to gilding, or small manufacturing glaze skips in ceramic finish, or slight wear to a label. If ceramic/porcelain restoration has been done, it is of museum-quality so that it is hardly discernible and would be specifically mentioned in the listing. 'Very good condition' would not include chips or cracks in any glass or ceramic item, but could include very minor fleabite chips to the edges of a marble item.
Item Specifics: Shows crazing due to age and use.
Shipping
This Item Ships Free within the Contiguous 48 United States and this item will be shipped via a Ground shipping service (UPS or FedEx), approximate 1-6 business day shipping time. EuroLux may ship some packages via USPS Parcel Post, approximately 2-9 business day delivery time, at its sole discretion. All shipments include insurance.
Additional Information
Mark: Chemkefa (1969 e today)
Chemkefa is the abbreviated name of Chemisch Keramisch Fabriek, which was started by the former Sphinx employee Leendert Zwikker when the Sphinx factory closed in 1969. Located in Maastricht, Chemkefa specializes in screenprinted blue & white decorative Delftware chargers with traditional Dutch scenes, including landscapes, seascapes, and scenes from life. Perhaps the most popular design is that of a wedding couple in a horse-drawn carriage, based on a painting by Eerelman from 1839. Chemkefa also produces its own designs, including a set of four seasons plates. Following in Sphinxes footsteps, Chemkefa uses a very dark blue paint, however Chemkefa avoids the use of borders around the edges in order to simplify the transfer printing process. Chemkefaes printed mark includes the words Delfts Blauw Chemkefa made in Holland Maastricht and features a crown, a flower, a triangle, and a flask.
Reference: Van Hook, Stephen J., Discovering Dutch Delftware: Modern Delft and Makkum Pottery (Alexandria, VA: Glen Park Press, 1998).
Subject: De Lente
Subject Keywords: De Lente
Style: Delft DELFTWARE
The European craze for blue and white Chinese export porcelain in the 17th century lead to the development of the Dutch East India Company, which imported millions of pieces of Chinese porcelain as well as other Chinese wares. In 1620, the death of Wan-Li (Ming Dynasty) interrupted the flow of goods to Europe. Dutch potters from the city of Delft quickly filled the gap in the market with their own production of blue and white ceramics that duplicated the look of Chinese export porcelain by using the tin-glazing technique learned from the Italians. The Delft potters were the first northerners to imitate the tin-glazed earthenware pottery of Italian majolica, or faience. Production of Delftware proliferated and by 1700 there were more than 30 factories in production of high-quality pieces in the city of Delft.
Delftware drew on Chinese designs for inspiration, but also developed European patterns. Decorative plates were made in abundance and featured native Dutch scenes with windmills and fishing boats, hunting scenes, landscapes, seascapes, and scenes of people in daily life. When Chinese exports re-entered the European market by 1685, they came back in color, especially in greens and pinks. This sparked the production of Polychrome Delft, which refers to the use of colors other than blue and white. Besides the popular cobalt blue on a white background, Delft potters had a full color range that consisted of yellow, orange, brown, green, purple, dark red, and black.
Despite the huge success of Delftware manufacturers, the market for Delftware eroded through the 18th century until eventually only one factory in Delft remained in existence. Joost Thooft bought the last remaining Delftware factory, De Porceleyne Fles, in 1876. Since that time, over one hundred potteries have come back into existence producing what is known as modern Delftware, which no longer uses the tin glazing method of majolica.
In the period from 1876 to 1940, many high-quality, beautiful pieces of Delftware were produced. The transfer printing process was also brought back at this time. After World War II, tourism began to play a larger role in the Dutch economy. More Delftware companies opened in the 1950s to 1970s, specializing in pieces made for the tourist trade. Delftware has been produced in Holland, Belgium, Germany, England, Japan, and the US, and is still in production today.
Object: Plate
Product Specifications
Manufactured By

Chemkefa

Sold By

Width

13.25"

Depth

1.25"

Height

13.25"

Materials

Ceramic

Category

Style
Ready to ship to the Continental U.S. in 1 - 6 weeks.
Product Description
Product Details
Item #: 11-80-0
Dimensions (inches): 13.25H x 13.25W x 1.25D
Comment: A beautiful design for your blue and white collection! De Lente means Springtime in Dutch.
Origin: Holland
Date: 1970
Material: CERAMIC
The word ceramic originates from the ancient Greek word keramikos, meaning potteres clay. The practice of making ceramics has been in existence for nearly 30,000 years. Clay, the primary ingredient for any ceramic, is primarily made of aluminum silicate, which is a malleable soil from crumbling rocks. Ceramics can be grouped according to the type of clay used, the temperature at which the clay is fired, and the duration of the firing.
Misc: Transferware TRANSFERWARE
Transfer printing was developed in England during the 1750s as part of the Industrial Revolution as a way to speed up the mass production process, and thereby lower the price of the goods. An image is first engraved on a copper plate, which is then inked and stamped on a piece of paper or fabric. The paper or fabric is then laid on the unglazed piece after its initial firing, much like applying a decal. The object is then glazed and fired, which permanently transfers the image to the ceramic. The manufacturer Wedgwood is generally credited with the widespread popularity of this decoration process. Flow Blue, Staffordshire, Blue Willow and some Delftware are created by use of the transfer printing process.
Availability: Available for Immediate Shipment.
Condition
Condition: VERY GOOD
In overall very good condition. Antique and vintage items by their very nature show normal wear to finish and miscellaneous scratches, nicks, and dings due to age and use. As we define 'very good condition' relative to the stated age of the piece, we would expect to see 'character marks' consistent with that age and could include minor nicks or dings to a wooden, metal, enamel or chalkware object, minor wear to a painted surface, minor speckling on a mirror, light crazing, wear to gilding, or small manufacturing glaze skips in ceramic finish, or slight wear to a label. If ceramic/porcelain restoration has been done, it is of museum-quality so that it is hardly discernible and would be specifically mentioned in the listing. 'Very good condition' would not include chips or cracks in any glass or ceramic item, but could include very minor fleabite chips to the edges of a marble item.
Item Specifics: Shows crazing due to age and use.
Shipping
This Item Ships Free within the Contiguous 48 United States and this item will be shipped via a Ground shipping service (UPS or FedEx), approximate 1-6 business day shipping time. EuroLux may ship some packages via USPS Parcel Post, approximately 2-9 business day delivery time, at its sole discretion. All shipments include insurance.
Additional Information
Mark: Chemkefa (1969 e today)
Chemkefa is the abbreviated name of Chemisch Keramisch Fabriek, which was started by the former Sphinx employee Leendert Zwikker when the Sphinx factory closed in 1969. Located in Maastricht, Chemkefa specializes in screenprinted blue & white decorative Delftware chargers with traditional Dutch scenes, including landscapes, seascapes, and scenes from life. Perhaps the most popular design is that of a wedding couple in a horse-drawn carriage, based on a painting by Eerelman from 1839. Chemkefa also produces its own designs, including a set of four seasons plates. Following in Sphinxes footsteps, Chemkefa uses a very dark blue paint, however Chemkefa avoids the use of borders around the edges in order to simplify the transfer printing process. Chemkefaes printed mark includes the words Delfts Blauw Chemkefa made in Holland Maastricht and features a crown, a flower, a triangle, and a flask.
Reference: Van Hook, Stephen J., Discovering Dutch Delftware: Modern Delft and Makkum Pottery (Alexandria, VA: Glen Park Press, 1998).
Subject: De Lente
Subject Keywords: De Lente
Style: Delft DELFTWARE
The European craze for blue and white Chinese export porcelain in the 17th century lead to the development of the Dutch East India Company, which imported millions of pieces of Chinese porcelain as well as other Chinese wares. In 1620, the death of Wan-Li (Ming Dynasty) interrupted the flow of goods to Europe. Dutch potters from the city of Delft quickly filled the gap in the market with their own production of blue and white ceramics that duplicated the look of Chinese export porcelain by using the tin-glazing technique learned from the Italians. The Delft potters were the first northerners to imitate the tin-glazed earthenware pottery of Italian majolica, or faience. Production of Delftware proliferated and by 1700 there were more than 30 factories in production of high-quality pieces in the city of Delft.
Delftware drew on Chinese designs for inspiration, but also developed European patterns. Decorative plates were made in abundance and featured native Dutch scenes with windmills and fishing boats, hunting scenes, landscapes, seascapes, and scenes of people in daily life. When Chinese exports re-entered the European market by 1685, they came back in color, especially in greens and pinks. This sparked the production of Polychrome Delft, which refers to the use of colors other than blue and white. Besides the popular cobalt blue on a white background, Delft potters had a full color range that consisted of yellow, orange, brown, green, purple, dark red, and black.
Despite the huge success of Delftware manufacturers, the market for Delftware eroded through the 18th century until eventually only one factory in Delft remained in existence. Joost Thooft bought the last remaining Delftware factory, De Porceleyne Fles, in 1876. Since that time, over one hundred potteries have come back into existence producing what is known as modern Delftware, which no longer uses the tin glazing method of majolica.
In the period from 1876 to 1940, many high-quality, beautiful pieces of Delftware were produced. The transfer printing process was also brought back at this time. After World War II, tourism began to play a larger role in the Dutch economy. More Delftware companies opened in the 1950s to 1970s, specializing in pieces made for the tourist trade. Delftware has been produced in Holland, Belgium, Germany, England, Japan, and the US, and is still in production today.
Object: Plate
Need more info? Ask a question