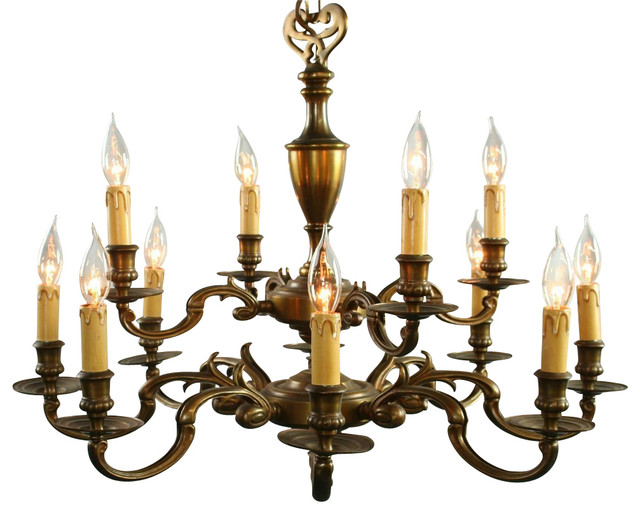 Large Consigned Vintage French Art Nouveau Style
Quantity:
Out of Stock
Free Shipping!
Only 1 Left!
Product Details
Item #: 15-260
Dimensions (inches): 22H x 29W x 29D
From Ceiling 11H
Comment: Combining stateliness with romanticism, this vintage French Art Nouveau style chandelier impresses with two tiers and 12 total arms! A stylized entwined heart medallion at top leads onto a vase-like centerpiece from which the vining arms reach out. Crafted circa 1950 of bronze-like metal, this romantic piece will add splendor to your dining area or foyer. You could even hang this large, 29 inch diameter light fixture in a large master bath. The refined lines of this beautiful vintage French chandelier will bring you joy every time you see it.
Origin: France
Date: 1950
Material: METAL
As it is often difficult to determine the exact composition of metal objects due to the prevalent use of metal plating and alloys, EuroLux Antiques uses the term metal rather than the more specific terms copper, brass, aluminum, steel, etc. for its listings in order to avoid confusion.
Bulb Included: 0
Bulb Quantity: 10
Availability: Available for Immediate Shipment.
Condition
Condition: GOOD
In overall good condition. Antique and vintage items by their very nature show normal wear to finish and miscellaneous scratches, nicks, and dings due to age and use. As we define 'good condition' relative to the stated age of the piece, we would expect to see 'character marks' consistent with that age and could include nicks or dings to a wooden, metal, enamel, or chalkware object, wear to a painted surface, speckling on a mirror, crazing, wear to gilding, or manufacturing glaze skips in ceramic finish, wear to a label, and some original decorative trim may be missing. If ceramic/porcelain restoration has been done, it is of museum-quality so that it is hardly discernible and would be specifically mentioned in the listing. 'Good condition' could include very small fleabite chips or very small hairline cracks in any glass, ceramic, or marble item, but these would be specifically mentioned in the listing.
Item Specifics: Shows normal wear to the finish and miscellaneous nicks and dings due to age and use.
Shipping
This Item Ships Free within the Contiguous 48 United States and this item will be shipped via Greyhound Bus. Shipments via Greyhound generally take between 1-3 weeks, as they are shipped space available by Greyhound Package Express.
If this timeframe exceeds your expectations or shipping requirements, please do not purchase this item. Shipments made via Greyhound Bus measure less than (inches) 30 x 47 x 84 and weigh less than 100 lbs per box. Shipments using Greyhound will require the customer to pick up the piece at their nearest Greyhound Bus Station. Please be sure that you are willing to pick the item up at the nearest Greyhound Station, as the nearest Greyhound Station may be a considerable distance from your home.
Items not picked up at the Greyhound Bus Station within 48 hours after arrival may be subject to a storage fee, which varies from station to station. EuroLux will be happy to help you locate the nearest Greyhound Station. All shipments include Insurance.
Upgraded shipping to your home via a Ground Shipping Service (UPS or FedEx, our choice) is available for an additional $83.77.
Additional Information
Mark: EuroLux Home
Style: Art Nouveau ART NOUVEAU STYLE
The free-flowing Art Nouveau style has its roots in two significant influences that were popular at the end of the 19th century in Europe: the focus on hand-craftsmanship from the Arts and Crafts movement and a fascination with the decorative arts from Japan, known as Japonisme. Eventually the name for the decorative arts produced during this brief period of time from roughly 1890 to 1920 came to be known as the Art Nouveau style, which had a large sweeping influence across Europe and the US.
Hallmarks of the opulent and sensuous Art Nouveau style are swirling, fluid, curvilinear lines used rhythmically and repetitively and a great emphasis on natural, organic forms and motifs, such as vines, tendrils, roses, tulips, poppies, peonies, and wisteria. This style was born out of an emphasis on hand-craftsmanship and Art Nouveau designs required highly skilled artists, which resulted in significantly higher price tags. As the middle classes were enamored with the Revival styles, the very wealthy desired a new, modern style that was only available to those with significant disposable income.
Perhaps the most famous Art Nouveau artist is the American Louis Comfort Tiffany, whose father, Charles Tiffany, opened a swanky jewelry store in Manhattan in 1834. Louis Tiffany traveled to Europe and was greatly impressed with the modern Art Nouveau style, but was equally fascinated with the mosaic art he saw in Italy. His stained glass creations, including window panels and lamps (beautiful lampshades were needed to shade the new invention, the light bulb), have become known as Tiffany glass and carry phenomenal prices today. The iridescent poor manes version of Tiffany glass became known as Carnival glass.
Object: Chandelier
Product Specifications
Manufactured By

EuroLux Home

Sold By

Width

29.0"

Depth

29.0"

Height

22.0"

Size

12-Arm Double Tier

Materials

Metal

Category

Style
Ready to ship to the Continental U.S. in 1 - 6 weeks.
Product Description
Product Details
Item #: 15-260
Dimensions (inches): 22H x 29W x 29D
From Ceiling 11H
Comment: Combining stateliness with romanticism, this vintage French Art Nouveau style chandelier impresses with two tiers and 12 total arms! A stylized entwined heart medallion at top leads onto a vase-like centerpiece from which the vining arms reach out. Crafted circa 1950 of bronze-like metal, this romantic piece will add splendor to your dining area or foyer. You could even hang this large, 29 inch diameter light fixture in a large master bath. The refined lines of this beautiful vintage French chandelier will bring you joy every time you see it.
Origin: France
Date: 1950
Material: METAL
As it is often difficult to determine the exact composition of metal objects due to the prevalent use of metal plating and alloys, EuroLux Antiques uses the term metal rather than the more specific terms copper, brass, aluminum, steel, etc. for its listings in order to avoid confusion.
Bulb Included: 0
Bulb Quantity: 10
Availability: Available for Immediate Shipment.
Condition
Condition: GOOD
In overall good condition. Antique and vintage items by their very nature show normal wear to finish and miscellaneous scratches, nicks, and dings due to age and use. As we define 'good condition' relative to the stated age of the piece, we would expect to see 'character marks' consistent with that age and could include nicks or dings to a wooden, metal, enamel, or chalkware object, wear to a painted surface, speckling on a mirror, crazing, wear to gilding, or manufacturing glaze skips in ceramic finish, wear to a label, and some original decorative trim may be missing. If ceramic/porcelain restoration has been done, it is of museum-quality so that it is hardly discernible and would be specifically mentioned in the listing. 'Good condition' could include very small fleabite chips or very small hairline cracks in any glass, ceramic, or marble item, but these would be specifically mentioned in the listing.
Item Specifics: Shows normal wear to the finish and miscellaneous nicks and dings due to age and use.
Shipping
This Item Ships Free within the Contiguous 48 United States and this item will be shipped via Greyhound Bus. Shipments via Greyhound generally take between 1-3 weeks, as they are shipped space available by Greyhound Package Express.
If this timeframe exceeds your expectations or shipping requirements, please do not purchase this item. Shipments made via Greyhound Bus measure less than (inches) 30 x 47 x 84 and weigh less than 100 lbs per box. Shipments using Greyhound will require the customer to pick up the piece at their nearest Greyhound Bus Station. Please be sure that you are willing to pick the item up at the nearest Greyhound Station, as the nearest Greyhound Station may be a considerable distance from your home.
Items not picked up at the Greyhound Bus Station within 48 hours after arrival may be subject to a storage fee, which varies from station to station. EuroLux will be happy to help you locate the nearest Greyhound Station. All shipments include Insurance.
Upgraded shipping to your home via a Ground Shipping Service (UPS or FedEx, our choice) is available for an additional $83.77.
Additional Information
Mark: EuroLux Home
Style: Art Nouveau ART NOUVEAU STYLE
The free-flowing Art Nouveau style has its roots in two significant influences that were popular at the end of the 19th century in Europe: the focus on hand-craftsmanship from the Arts and Crafts movement and a fascination with the decorative arts from Japan, known as Japonisme. Eventually the name for the decorative arts produced during this brief period of time from roughly 1890 to 1920 came to be known as the Art Nouveau style, which had a large sweeping influence across Europe and the US.
Hallmarks of the opulent and sensuous Art Nouveau style are swirling, fluid, curvilinear lines used rhythmically and repetitively and a great emphasis on natural, organic forms and motifs, such as vines, tendrils, roses, tulips, poppies, peonies, and wisteria. This style was born out of an emphasis on hand-craftsmanship and Art Nouveau designs required highly skilled artists, which resulted in significantly higher price tags. As the middle classes were enamored with the Revival styles, the very wealthy desired a new, modern style that was only available to those with significant disposable income.
Perhaps the most famous Art Nouveau artist is the American Louis Comfort Tiffany, whose father, Charles Tiffany, opened a swanky jewelry store in Manhattan in 1834. Louis Tiffany traveled to Europe and was greatly impressed with the modern Art Nouveau style, but was equally fascinated with the mosaic art he saw in Italy. His stained glass creations, including window panels and lamps (beautiful lampshades were needed to shade the new invention, the light bulb), have become known as Tiffany glass and carry phenomenal prices today. The iridescent poor manes version of Tiffany glass became known as Carnival glass.
Object: Chandelier
Need more info? Ask a question