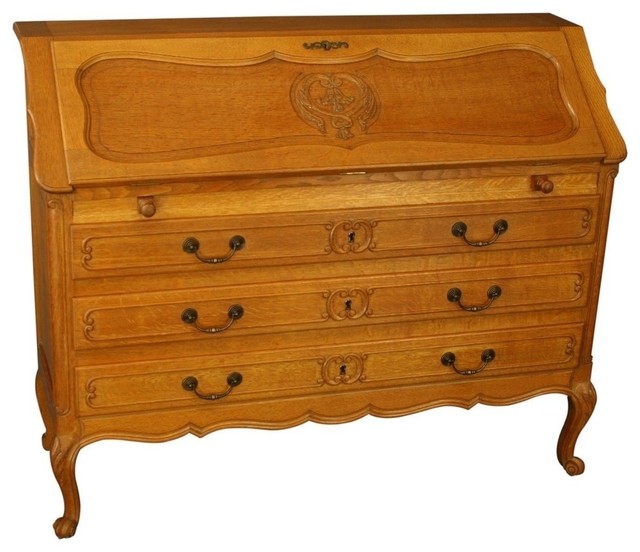 Consigned Vintage French Secretary Desk Quartersawn
Quantity:
Sold Out
Free Shipping!
Only 1 Left!
Product Details
Item #: 15-59
Dimensions (inches): 38H x 47W x 17D
Open 28D
Comment: This quartersawn oak secretary from France boasts a lovely woodgrain and golden finish. Dating to 1950, this Louis XV style desk features exceptional, delicate carvings in order to allow the oak to do all the talking. Inside, you'll find a pair of drawers and multiple shelves for storing office supplies. At just 28 inches deep when open, this vintage secretary would make an ideal accent piece in the master bedroom, where you could stash your electronic reader, paperbacks and cellphone. Use the three drawers to hold extra sheets and a blanket. As useful as it is beautiful, this petite vintage secretary would make a sensational showpiece at your cabin or cottage!
Origin: France
Date: 1950
Material: Oak
Availability: Available for Immediate Shipment.
Condition
Condition: GOOD
In overall good condition. Antique and vintage items by their very nature show normal wear to finish and miscellaneous scratches, nicks, and dings due to age and use. As we define 'good condition' relative to the stated age of the piece, we would expect to see 'character marks' consistent with that age and could include nicks or dings on a piece of furniture, normal separation at joints in wood due to expansion and contraction over time, minor damage to veneer has been stabilized, most locks functioning, most drawers and doors open or slide easily, some original trim may be missing or has been replaced with genuine period-correct substitutes or new reproductions, and there may be one or more splits in the wood due to age and use. If there has been a break in the marble, it has been repaired and the repair may be visible. There may be minor restoration that is visible. Chairs considered 'good condition' may have professional structural repairs but are considered to be structurally sound. These types of repairs may be visible upon close inspection. Upholstered items may show wear consistent with age and use and may need to be reupholstered. EuroLux Antiques makes no representation regarding the comfort of chairs or useability for the customer's particular application.
Item Specifics: Shows normal wear to the finish, especially on the writing surface, and miscellaneous nicks, dings, and scratches due to age and use. There is a dark ring on the right shelf and surface rust on the right hinge.
Shipping
This Item Ships Free within the Contiguous 48 United States and this item will be shipped via Vanline. Vanline shipments generally take between 4-8 business weeks after being picked up by the vanline at the EuroLux Gallery. Delivery times may vary depending on your exact location and the current schedule of our preferred vanline.

Additional Information
Mark: EuroLux Home
Style: Rococo LOUIS XV AND THE ROCOCO REVIVAL STYLE The nephew of Napoleon, Napoleon III (1852 e 1870), Emperor of the Second Empire, has the unusual distinction of being both the last monarch of France and the first President of the French Republic. Napoleon III married the beautiful Spanish Countess, Eugenie de Montijo, whose aristocratic extravagance in dress and jewels reflected her ornate personal taste in furniture and decorative arts, and influenced French furniture makers to reach back to the designs from the glorious court of Louis XV (1715 e 1774) at Versailles for inspiration, creating the Rococo Revival style.
The extreme level of exuberant extravagance that blossomed under the reign of Louis XV and his favorite mistress, Madame du Pompadour, is known as the Rococo style. The word Rococo is thought to be a combination of the French rocaille, or shell, and the Italian barocco, or Baroque style. The rounded extravagance of the Rococo Revival style, enormously popular in the 19th century, was based on the original 18th century style. Hallmarks of this style, also known as the Louis XV style, include detailed carvings of birds, flowers (especially roses) and leaves, fruit, and shells. Furniture overflowed with massive carvings and grandiose S and C curves. The cabriole leg, which means a knee leg with concave rounded ankle, was very popular and is also a trademark of the Louis XV style. Rosewood and walnut were popularly used in the Rococo Revival style, along with a great interest in white marble for vanities, nightstands, and parlor tables.
As the middle class rose in status and wealth with the advent of the Industrial Revolution in the 19th century, more people were able to afford furniture. This flattening of society in combination with technological advancements created a surge of furniture production. Improved transportation meant a greater variety of wood was available at lower costs. For the first time, furniture became accessible and affordable to the common man. From the 1830s to the end of the 19th century, furniture makers reached back to earlier historical styles, and reinterpreted them with a great deal of creativity and experimentation. Although machines were used to increase speed and productivity, most of the carvings were still done by hand. As furniture began to be created cooperatively in workshops, the practice of signing pieces (required by law from 1743 to 1789) was not as prevalent. Most French pieces from the 19th century do not have makeres marks or signatures.
Object: Desk
Product Specifications
Manufactured By

EuroLux Home

Sold By

Width

47"

Depth

17"

Height

38"

Materials

Oak

Category

Style
Ready to ship to the Continental U.S. in 1 - 5 days.
Product Description
Product Details
Item #: 15-59
Dimensions (inches): 38H x 47W x 17D
Open 28D
Comment: This quartersawn oak secretary from France boasts a lovely woodgrain and golden finish. Dating to 1950, this Louis XV style desk features exceptional, delicate carvings in order to allow the oak to do all the talking. Inside, you'll find a pair of drawers and multiple shelves for storing office supplies. At just 28 inches deep when open, this vintage secretary would make an ideal accent piece in the master bedroom, where you could stash your electronic reader, paperbacks and cellphone. Use the three drawers to hold extra sheets and a blanket. As useful as it is beautiful, this petite vintage secretary would make a sensational showpiece at your cabin or cottage!
Origin: France
Date: 1950
Material: Oak
Availability: Available for Immediate Shipment.
Condition
Condition: GOOD
In overall good condition. Antique and vintage items by their very nature show normal wear to finish and miscellaneous scratches, nicks, and dings due to age and use. As we define 'good condition' relative to the stated age of the piece, we would expect to see 'character marks' consistent with that age and could include nicks or dings on a piece of furniture, normal separation at joints in wood due to expansion and contraction over time, minor damage to veneer has been stabilized, most locks functioning, most drawers and doors open or slide easily, some original trim may be missing or has been replaced with genuine period-correct substitutes or new reproductions, and there may be one or more splits in the wood due to age and use. If there has been a break in the marble, it has been repaired and the repair may be visible. There may be minor restoration that is visible. Chairs considered 'good condition' may have professional structural repairs but are considered to be structurally sound. These types of repairs may be visible upon close inspection. Upholstered items may show wear consistent with age and use and may need to be reupholstered. EuroLux Antiques makes no representation regarding the comfort of chairs or useability for the customer's particular application.
Item Specifics: Shows normal wear to the finish, especially on the writing surface, and miscellaneous nicks, dings, and scratches due to age and use. There is a dark ring on the right shelf and surface rust on the right hinge.
Shipping
This Item Ships Free within the Contiguous 48 United States and this item will be shipped via Vanline. Vanline shipments generally take between 4-8 business weeks after being picked up by the vanline at the EuroLux Gallery. Delivery times may vary depending on your exact location and the current schedule of our preferred vanline.

Additional Information
Mark: EuroLux Home
Style: Rococo LOUIS XV AND THE ROCOCO REVIVAL STYLE The nephew of Napoleon, Napoleon III (1852 e 1870), Emperor of the Second Empire, has the unusual distinction of being both the last monarch of France and the first President of the French Republic. Napoleon III married the beautiful Spanish Countess, Eugenie de Montijo, whose aristocratic extravagance in dress and jewels reflected her ornate personal taste in furniture and decorative arts, and influenced French furniture makers to reach back to the designs from the glorious court of Louis XV (1715 e 1774) at Versailles for inspiration, creating the Rococo Revival style.
The extreme level of exuberant extravagance that blossomed under the reign of Louis XV and his favorite mistress, Madame du Pompadour, is known as the Rococo style. The word Rococo is thought to be a combination of the French rocaille, or shell, and the Italian barocco, or Baroque style. The rounded extravagance of the Rococo Revival style, enormously popular in the 19th century, was based on the original 18th century style. Hallmarks of this style, also known as the Louis XV style, include detailed carvings of birds, flowers (especially roses) and leaves, fruit, and shells. Furniture overflowed with massive carvings and grandiose S and C curves. The cabriole leg, which means a knee leg with concave rounded ankle, was very popular and is also a trademark of the Louis XV style. Rosewood and walnut were popularly used in the Rococo Revival style, along with a great interest in white marble for vanities, nightstands, and parlor tables.
As the middle class rose in status and wealth with the advent of the Industrial Revolution in the 19th century, more people were able to afford furniture. This flattening of society in combination with technological advancements created a surge of furniture production. Improved transportation meant a greater variety of wood was available at lower costs. For the first time, furniture became accessible and affordable to the common man. From the 1830s to the end of the 19th century, furniture makers reached back to earlier historical styles, and reinterpreted them with a great deal of creativity and experimentation. Although machines were used to increase speed and productivity, most of the carvings were still done by hand. As furniture began to be created cooperatively in workshops, the practice of signing pieces (required by law from 1743 to 1789) was not as prevalent. Most French pieces from the 19th century do not have makeres marks or signatures.
Object: Desk
Need more info? Ask a question