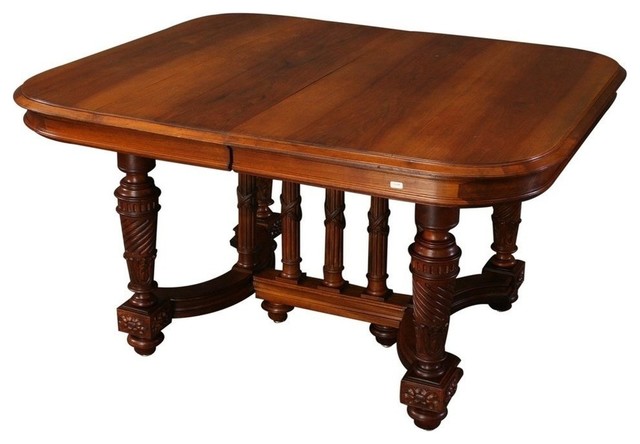 What Houzzers are commenting on:
Consigned Antique French Table Louis XVI Walnut
Quantity:
Sold Out
Free Shipping!
Only 1 Left!
Product Details
Item #: 16-60B
Dimensions (inches): 28.75H x 51.50W x 44.50D
Comment: This fine antique French table dates to 1920s France and the beautiful light walnut wood is nicely carved in the Louis XVI style. The table's tapered legs are richly carved with diagonal fluting and floral motifs, and the stretcher boasts yet more decorative carving on the fluted spindles. The beveled rectangular top is finished off with elegantly curved corners. This antique French table measures 28.75 inches high, 51.5 inches wide, and 44.5 inches deep.
Origin: France
Date: 1920
Material: Walnut
Color: WalnutLight Walnut
Misc: CarvedCarved
Availability: Available for Immediate Shipment.
Condition
Condition: GOOD
In overall good condition. Antique and vintage items by their very nature show normal wear to finish and miscellaneous scratches, nicks, and dings due to age and use. As we define 'good condition' relative to the stated age of the piece, we would expect to see 'character marks' consistent with that age and could include nicks or dings on a piece of furniture, normal separation at joints in wood due to expansion and contraction over time, minor damage to veneer has been stabilized, most locks functioning, most drawers and doors open or slide easily, some original trim may be missing or has been replaced with genuine period-correct substitutes or new reproductions, and there may be one or more splits in the wood due to age and use. If there has been a break in the marble, it has been repaired and the repair may be visible. There may be minor restoration that is visible. Chairs considered 'good condition' may have professional structural repairs but are considered to be structurally sound. These types of repairs may be visible upon close inspection. Upholstered items may show wear consistent with age and use and may need to be reupholstered. EuroLux Antiques makes no representation regarding the comfort of chairs or useability for the customer's particular application.
Item Specifics: Shows normal wear to the finish and miscellaneous nicks, dings, and scratches due to age and use. There is joint separation on the side apron and on the top of the table due to age. The original leaves are not available.
Shipping
This Item Ships Free within the Contiguous 48 United States and this item will be shipped via Vanline. Vanline shipments generally take between 4-8 business weeks after being picked up by the vanline at the EuroLux Gallery. Delivery times may vary depending on your exact location and the current schedule of our preferred vanline.

Additional Information
Mark: EuroLux Home
Style: French LOUIS XVI AND THE NEO-CLASSICAL STYLE
Louis XVI (1774 e 1792) married Marie Antoinette of Austria when he was fifteen and she was just fourteen. The arranged marriage was a political alliance between the youngest daughter of the Holy Roman Emperor and the Empress Maria Theresa and the grandson of Louis XV, the King of France. Louis XVI ascended the throne upon his grandfatheres death at the age of 20. As Marie Antoinette began to commission furniture and decorative arts for her rooms at Versailles, a style quite different from the previous Louis XV style was chosen.
In 1748, the unexpected discovery of the ruins of Pompeii and Herculaneum caused a tremendous impact on the history of furniture and the decorative arts. The cities of Pompeii and Herculaneum, at the foot of Mount Vesuvius in Italy, were buried under ash in 79 AD when the volcano erupted. The ensuing excavations of the perfectly preserved cities led to a frenzied interest in all things Greek and Roman. This new interest in the Classical world (Neo-Classicism) led to the inclusion of classical decorative motifs in furniture production, such as carved pillars, brass columns, rosettes (paterae) and mythological figures. In France, this style is known as the Louis XVI style and its hallmark is a return to straight lines and symmetry in opposition to the dramatic curves and asymmetry of the Louis XV style. The cabriole leg was supplanted by the straight spindle shaped and fluted leg. Carvings of baskets of flowers, especially roses, and flowing ribbons were in abundance.
The reign of Louis XVI came to a sudden end with the French Revolution. An angry mob, disillusioned with the excessive spending and inefficiency of the royal family, captured and beheaded Louis XVI and Marie Antoinette. However, the Louis XVI style has endured. The style enjoyed a resurgence in the first quarter of the twentieth century and is still considered to be a classic today.
Object: Table
Product Specifications
Manufactured By

EuroLux Home

Sold By

Width

51.5"

Depth

44.5"

Height

28.75"

Color

Walnut

Size

Pub

Materials

Walnut

Category

Style
Ready to ship to the Continental U.S. in 1 - 5 days.
Product Description
Product Details
Item #: 16-60B
Dimensions (inches): 28.75H x 51.50W x 44.50D
Comment: This fine antique French table dates to 1920s France and the beautiful light walnut wood is nicely carved in the Louis XVI style. The table's tapered legs are richly carved with diagonal fluting and floral motifs, and the stretcher boasts yet more decorative carving on the fluted spindles. The beveled rectangular top is finished off with elegantly curved corners. This antique French table measures 28.75 inches high, 51.5 inches wide, and 44.5 inches deep.
Origin: France
Date: 1920
Material: Walnut
Color: WalnutLight Walnut
Misc: CarvedCarved
Availability: Available for Immediate Shipment.
Condition
Condition: GOOD
In overall good condition. Antique and vintage items by their very nature show normal wear to finish and miscellaneous scratches, nicks, and dings due to age and use. As we define 'good condition' relative to the stated age of the piece, we would expect to see 'character marks' consistent with that age and could include nicks or dings on a piece of furniture, normal separation at joints in wood due to expansion and contraction over time, minor damage to veneer has been stabilized, most locks functioning, most drawers and doors open or slide easily, some original trim may be missing or has been replaced with genuine period-correct substitutes or new reproductions, and there may be one or more splits in the wood due to age and use. If there has been a break in the marble, it has been repaired and the repair may be visible. There may be minor restoration that is visible. Chairs considered 'good condition' may have professional structural repairs but are considered to be structurally sound. These types of repairs may be visible upon close inspection. Upholstered items may show wear consistent with age and use and may need to be reupholstered. EuroLux Antiques makes no representation regarding the comfort of chairs or useability for the customer's particular application.
Item Specifics: Shows normal wear to the finish and miscellaneous nicks, dings, and scratches due to age and use. There is joint separation on the side apron and on the top of the table due to age. The original leaves are not available.
Shipping
This Item Ships Free within the Contiguous 48 United States and this item will be shipped via Vanline. Vanline shipments generally take between 4-8 business weeks after being picked up by the vanline at the EuroLux Gallery. Delivery times may vary depending on your exact location and the current schedule of our preferred vanline.

Additional Information
Mark: EuroLux Home
Style: French LOUIS XVI AND THE NEO-CLASSICAL STYLE
Louis XVI (1774 e 1792) married Marie Antoinette of Austria when he was fifteen and she was just fourteen. The arranged marriage was a political alliance between the youngest daughter of the Holy Roman Emperor and the Empress Maria Theresa and the grandson of Louis XV, the King of France. Louis XVI ascended the throne upon his grandfatheres death at the age of 20. As Marie Antoinette began to commission furniture and decorative arts for her rooms at Versailles, a style quite different from the previous Louis XV style was chosen.
In 1748, the unexpected discovery of the ruins of Pompeii and Herculaneum caused a tremendous impact on the history of furniture and the decorative arts. The cities of Pompeii and Herculaneum, at the foot of Mount Vesuvius in Italy, were buried under ash in 79 AD when the volcano erupted. The ensuing excavations of the perfectly preserved cities led to a frenzied interest in all things Greek and Roman. This new interest in the Classical world (Neo-Classicism) led to the inclusion of classical decorative motifs in furniture production, such as carved pillars, brass columns, rosettes (paterae) and mythological figures. In France, this style is known as the Louis XVI style and its hallmark is a return to straight lines and symmetry in opposition to the dramatic curves and asymmetry of the Louis XV style. The cabriole leg was supplanted by the straight spindle shaped and fluted leg. Carvings of baskets of flowers, especially roses, and flowing ribbons were in abundance.
The reign of Louis XVI came to a sudden end with the French Revolution. An angry mob, disillusioned with the excessive spending and inefficiency of the royal family, captured and beheaded Louis XVI and Marie Antoinette. However, the Louis XVI style has endured. The style enjoyed a resurgence in the first quarter of the twentieth century and is still considered to be a classic today.
Object: Table
Need more info? Ask a question