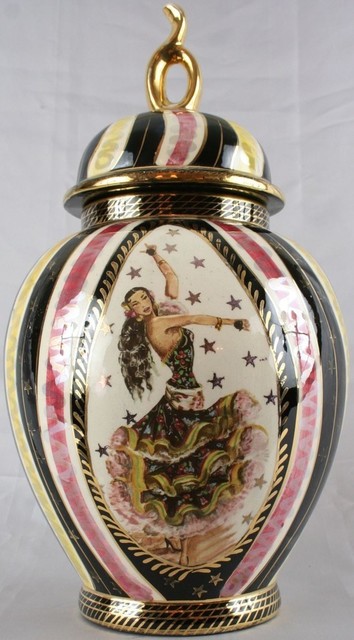 Consigned Vintage Painted Vase Ginger Jar Flamenco
Quantity:
Out of Stock
Free Shipping!
Only 1 Left!
Product Details
Item #: 5-641-0
Dimensions (inches): 14.75H x 8W x 8D
Comment: This charming piece of vintage Belgian Majolica has vibrant colors and is stamped by Bequet.
Origin: Belgium
Date: 1950
Material: CERAMIC
The word ceramic originates from the ancient Greek word keramikos, meaning potteres clay. The practice of making ceramics has been in existence for nearly 30,000 years. Clay, the primary ingredient for any ceramic, is primarily made of aluminum silicate, which is a malleable soil from crumbling rocks. Ceramics can be grouped according to the type of clay used, the temperature at which the clay is fired, and the duration of the firing.
Misc: Painted
Availability: Available for Immediate Shipment.
Condition
Condition: AVERAGE
In overall average condition. Antique and vintage items by their very nature show normal wear to finish and miscellaneous scratches, nicks, and dings due to age and use. As we define 'average condition' relative the stated age of the piece, we would expect to see quite a few 'character marks' consistent with that age and could include significant nicks or dings to a wooden, metal, enamel, or chalkware object, significant wear to a painted surface, speckling on a mirror, crazing, wear to gilding, or manufacturing glaze skips in ceramic finish, significant wear to a label, and original decorative trim may be missing. If ceramic/porcelain restoration has been done, it is of museum-quality so that it is hardly discernible and would be mentioned in the listing. Average condition may also include chips or cracks in ceramic or marble, which may or may not be specifically noted in the listing.
Item Specifics: Top ornament has been broken off and reglued and there is wear to the gilding due to age and use.
Shipping
This Item Ships Free within the Contiguous 48 United States and this item will be shipped via a Ground shipping service (UPS or FedEx), approximate 1-6 business day shipping time. EuroLux may ship some packages via USPS Parcel Post, approximately 2-9 business day delivery time, at its sole discretion. All shipments include insurance.
Additional Information
Mark: BEQUET
In 1926, Hubert Bequet began working at the Belgian ceramics manufacturer Auguste Mouzin et Cie (AMC), later renamed La Faencerie de Wasmuel, which operated from 1878 to 1951 in the southwest coal-mining region of Belgium (the Borinage). AMC produced fine quality majolica pieces and in 1910 began mass production of ceramic mantle clocks.
Bequet took the lessons he had learned at AMC and opened his own ceramics production house in 1934 in Quaregnon. The factory reached the pinnacle of success in 1963 with 150 workers, but eventually closed its doors in April 1985. Bequet was known for colorful, creative high quality ceramic pieces, which were mass produced, often with gold rims and decoration. Early pieces were either unsigned or imprinted with Belgium and a model number. Later pieces are marked with Made In Belgium H. Bequet Quaregnon.
Style: Bequet
Object: Vase
Product Specifications
Manufactured By

Bequet

Sold By

Width

8.0"

Depth

8.0"

Height

14.75"

Materials

Ceramic

Category

Style
Ready to ship to the Continental U.S. in 1 - 6 weeks.
Product Description
Product Details
Item #: 5-641-0
Dimensions (inches): 14.75H x 8W x 8D
Comment: This charming piece of vintage Belgian Majolica has vibrant colors and is stamped by Bequet.
Origin: Belgium
Date: 1950
Material: CERAMIC
The word ceramic originates from the ancient Greek word keramikos, meaning potteres clay. The practice of making ceramics has been in existence for nearly 30,000 years. Clay, the primary ingredient for any ceramic, is primarily made of aluminum silicate, which is a malleable soil from crumbling rocks. Ceramics can be grouped according to the type of clay used, the temperature at which the clay is fired, and the duration of the firing.
Misc: Painted
Availability: Available for Immediate Shipment.
Condition
Condition: AVERAGE
In overall average condition. Antique and vintage items by their very nature show normal wear to finish and miscellaneous scratches, nicks, and dings due to age and use. As we define 'average condition' relative the stated age of the piece, we would expect to see quite a few 'character marks' consistent with that age and could include significant nicks or dings to a wooden, metal, enamel, or chalkware object, significant wear to a painted surface, speckling on a mirror, crazing, wear to gilding, or manufacturing glaze skips in ceramic finish, significant wear to a label, and original decorative trim may be missing. If ceramic/porcelain restoration has been done, it is of museum-quality so that it is hardly discernible and would be mentioned in the listing. Average condition may also include chips or cracks in ceramic or marble, which may or may not be specifically noted in the listing.
Item Specifics: Top ornament has been broken off and reglued and there is wear to the gilding due to age and use.
Shipping
This Item Ships Free within the Contiguous 48 United States and this item will be shipped via a Ground shipping service (UPS or FedEx), approximate 1-6 business day shipping time. EuroLux may ship some packages via USPS Parcel Post, approximately 2-9 business day delivery time, at its sole discretion. All shipments include insurance.
Additional Information
Mark: BEQUET
In 1926, Hubert Bequet began working at the Belgian ceramics manufacturer Auguste Mouzin et Cie (AMC), later renamed La Faencerie de Wasmuel, which operated from 1878 to 1951 in the southwest coal-mining region of Belgium (the Borinage). AMC produced fine quality majolica pieces and in 1910 began mass production of ceramic mantle clocks.
Bequet took the lessons he had learned at AMC and opened his own ceramics production house in 1934 in Quaregnon. The factory reached the pinnacle of success in 1963 with 150 workers, but eventually closed its doors in April 1985. Bequet was known for colorful, creative high quality ceramic pieces, which were mass produced, often with gold rims and decoration. Early pieces were either unsigned or imprinted with Belgium and a model number. Later pieces are marked with Made In Belgium H. Bequet Quaregnon.
Style: Bequet
Object: Vase
Need more info? Ask a question