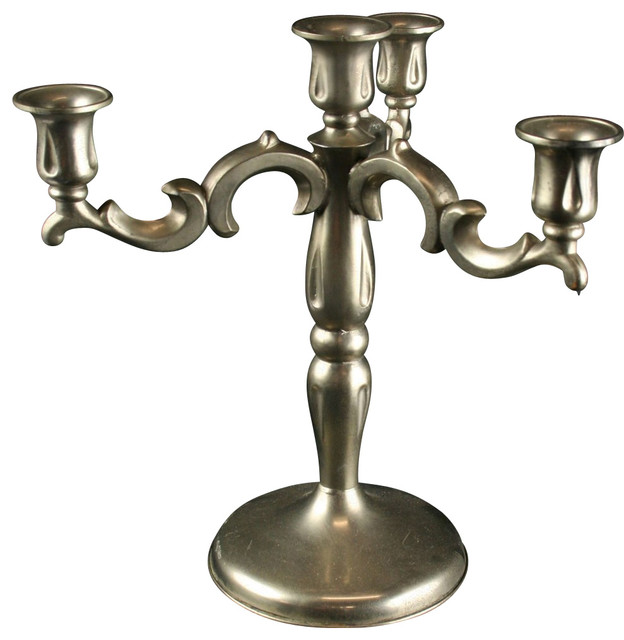 Consigned Vintage French Rococo Candelabra 3-Arm
Quantity:
Sold Out
Free Shipping!
Only 1 Left!
Product Details
Item #: 5-840-0
Dimensions (inches): 10.25H x 9.25W x 9.25D
Comment: A simple yet elegant design makes this the vintage candelabra for which you've been searching! The curvy design on the three arms of this vintage French Rococo Candelabra will catch your eye, while the silver nickel finish adds a classic charm. Dating to the 1950s and found at a street market in France, this handsome vintage candelabra will add a little romance to your next dinner party!
Origin: France
Date: 1950
Bulb Included: 0
Availability: Available for Immediate Shipment.
Condition
Condition: GOOD
In overall good condition. Antique and vintage items by their very nature show normal wear to finish and miscellaneous scratches, nicks, and dings due to age and use. As we define 'good condition' relative to the stated age of the piece, we would expect to see 'character marks' consistent with that age and could include nicks or dings to a wooden, metal, enamel, or chalkware object, wear to a painted surface, speckling on a mirror, crazing, wear to gilding, or manufacturing glaze skips in ceramic finish, wear to a label, and some original decorative trim may be missing. If ceramic/porcelain restoration has been done, it is of museum-quality so that it is hardly discernible and would be specifically mentioned in the listing. 'Good condition' could include very small fleabite chips or very small hairline cracks in any glass, ceramic, or marble item, but these would be specifically mentioned in the listing.
Item Specifics: Shows normal wear to the finish and miscellaneous nicks, dings, and scratches due to age and use.
Shipping
This Item Ships Free within the Contiguous 48 United States and this item will be shipped via a Ground shipping service (UPS or FedEx), approximate 1-6 business day shipping time. EuroLux may ship some packages via USPS Parcel Post, approximately 2-9 business day delivery time, at its sole discretion. All shipments include insurance.
Additional Information
Mark: EuroLux Home
Style: Decorative DECORATIVE
The decorative arts are traditionally defined as ornamental and functional works in ceramic, wood, glass, metal, or textile. The field includes ceramics, glass, furniture, furnishings, interior design, and architecture. Decorative items are used to make onees home more beautiful and to bring joy to daily life.
Object: Candlestick
Product Specifications
Manufactured By

EuroLux Home

Sold By

Width

9.25"

Depth

9.25"

Height

10.25"

Category

Style
Ready to ship to the Continental U.S. in 1 - 5 days.
Product Description
Product Details
Item #: 5-840-0
Dimensions (inches): 10.25H x 9.25W x 9.25D
Comment: A simple yet elegant design makes this the vintage candelabra for which you've been searching! The curvy design on the three arms of this vintage French Rococo Candelabra will catch your eye, while the silver nickel finish adds a classic charm. Dating to the 1950s and found at a street market in France, this handsome vintage candelabra will add a little romance to your next dinner party!
Origin: France
Date: 1950
Bulb Included: 0
Availability: Available for Immediate Shipment.
Condition
Condition: GOOD
In overall good condition. Antique and vintage items by their very nature show normal wear to finish and miscellaneous scratches, nicks, and dings due to age and use. As we define 'good condition' relative to the stated age of the piece, we would expect to see 'character marks' consistent with that age and could include nicks or dings to a wooden, metal, enamel, or chalkware object, wear to a painted surface, speckling on a mirror, crazing, wear to gilding, or manufacturing glaze skips in ceramic finish, wear to a label, and some original decorative trim may be missing. If ceramic/porcelain restoration has been done, it is of museum-quality so that it is hardly discernible and would be specifically mentioned in the listing. 'Good condition' could include very small fleabite chips or very small hairline cracks in any glass, ceramic, or marble item, but these would be specifically mentioned in the listing.
Item Specifics: Shows normal wear to the finish and miscellaneous nicks, dings, and scratches due to age and use.
Shipping
This Item Ships Free within the Contiguous 48 United States and this item will be shipped via a Ground shipping service (UPS or FedEx), approximate 1-6 business day shipping time. EuroLux may ship some packages via USPS Parcel Post, approximately 2-9 business day delivery time, at its sole discretion. All shipments include insurance.
Additional Information
Mark: EuroLux Home
Style: Decorative DECORATIVE
The decorative arts are traditionally defined as ornamental and functional works in ceramic, wood, glass, metal, or textile. The field includes ceramics, glass, furniture, furnishings, interior design, and architecture. Decorative items are used to make onees home more beautiful and to bring joy to daily life.
Object: Candlestick
Need more info? Ask a question